Designed by Neil Rocher, Luangwa Safari Lodge is situated 1 km from Robin Pope's Nkwali Camp. Built on the edge of a seasonal lagoon, with the Chindeni Hills as a backdrop, the lodge possesses good views of giraffe and elephant feeding and watering throughout the day.
Overview
Traditional looking, once inside each room is modern and individual in style. The living room of Luangwa Safari House is dominated by a huge marble dining table and comfy sofas. The height of the room impressively stretches two stories to the thatched roof. Multi-wooden staircases take you up to the bedrooms. A huge hand-made thirty lamp metal chandelier is an artistic addition, and many of the other fittings are created by local artisans.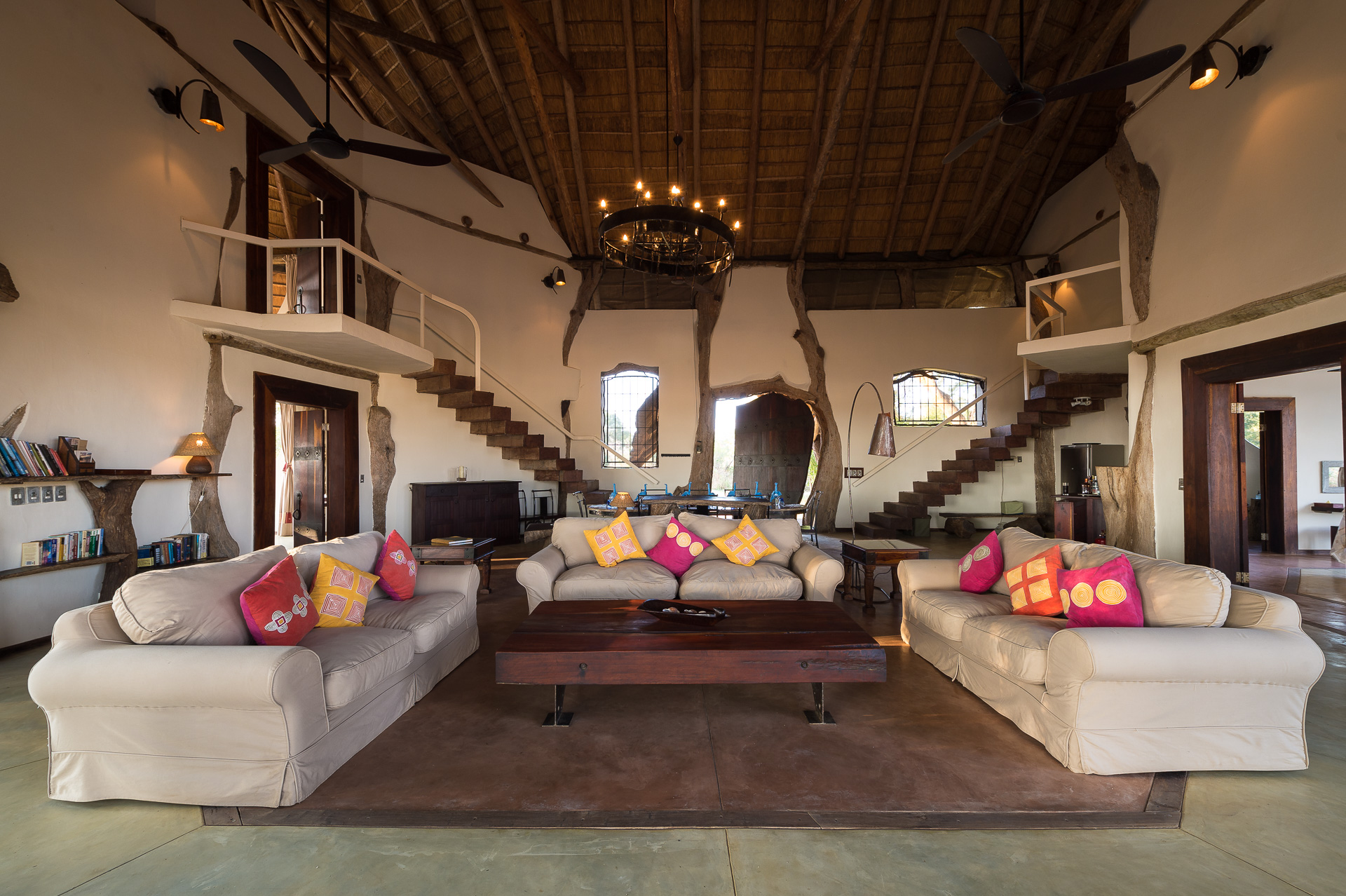 Food & service
The food – a mix of fresh fruits, vegetables, salads, alongside a fish or meat dish – is a delight, while the service is attentive and discrete.
Rooms
The four bedrooms have extra large individually designed beds, fitting both king-size or twin beds under one mosquito net, along with ceiling fans. You might even find a two poster bed, or a bed suspended by chains from the roof. The upstairs rooms of Luangwa Safari House have suspended wooden balconies. The downstairs bedrooms each have a private tiled veranda, with large Morris chairs for quiet moments.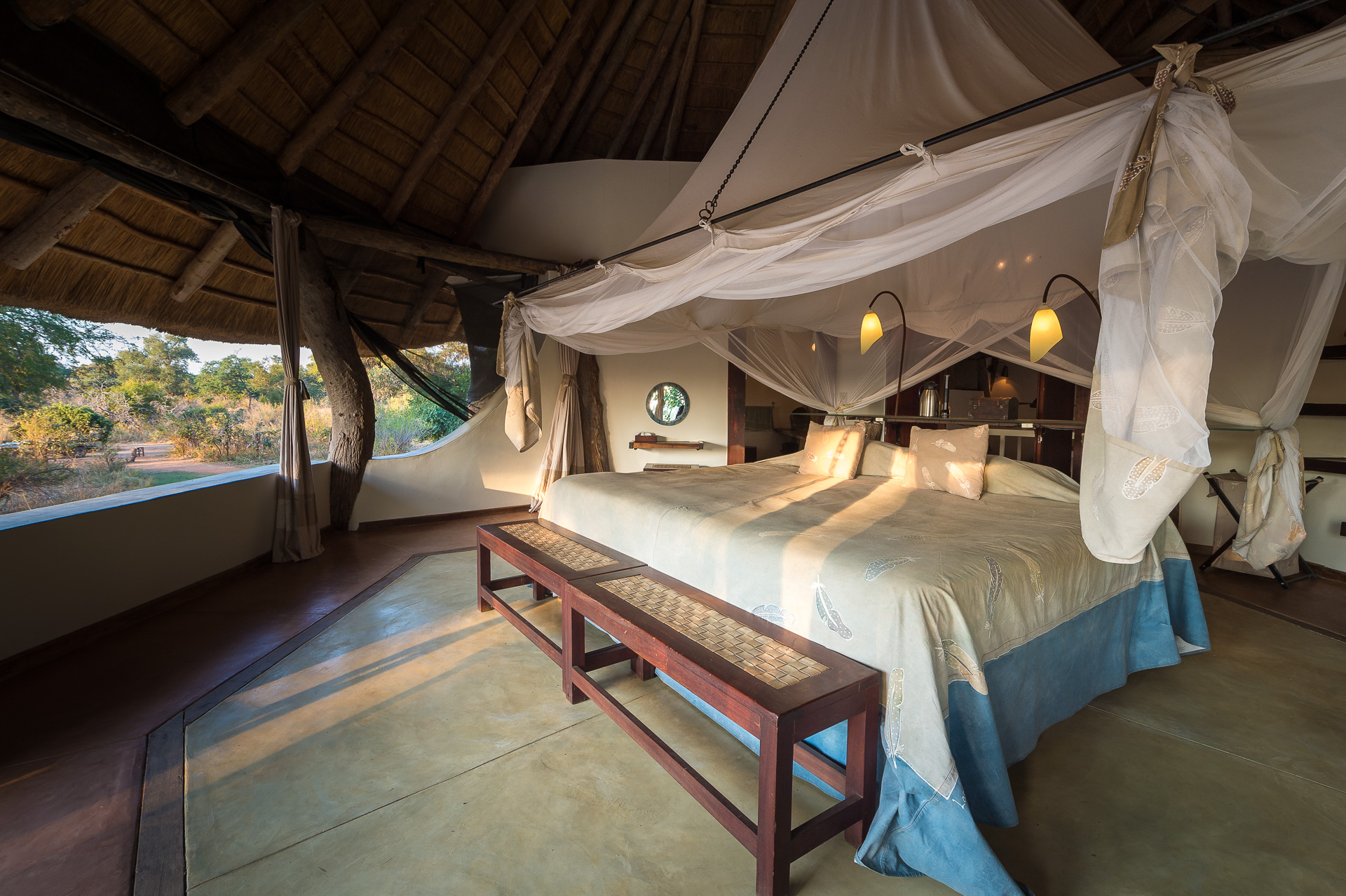 Activities
Activities at Luangwa Safari House include night and day wildlife drives, guided walks, boat trips, cultural excursions, massage, textile workshops and visiting the Chipembele Wildlife Education Centre.
Impact
Conservation
Robin Pope Safaris take their responsibilities towards the human and physical environments in which they operate very seriously and are critically aware of the negative impacts that tourism can potentially have on the environment, wildlife and local communities neighbouring their properties.
In Zambia, they financially support the vital anti-poaching activities of South Luangwa Conservation Society (SLCS) in order to keep South Luangwa's wildlife safe from poachers. SLCS is the only body in South Luangwa equipped and skilled to immobilize, treat and rehabilitate snared and other wounded animals. SLCS has darted and treated elephants, lion, hyena, giraffe, wild dog, leopard and many other species, and is able to respond to all cases of injured wildlife in South Luangwa.
Commerce
The company has also set up and manages the first authentic cultural village tourism enterprise in Zambia. Trade with Kawaza Village has been encouraged and this community enterprise now provides employment for 10 village members, financially supports orphans and elderly people in the community and provides their local primary school with textbooks and learning aids.
Community
Robin Pope Safaris have been very pro-active in working with their local neighbours to bring about sustainable development initiatives in the community. The Kawaza School Fund has become one of the biggest success stories in the Luangwa Valley, and has inspired both guests and other safari operators in the area to work together to change lives through improved education provision. It has not only improved the standards of school buildings in the area, but also access to educational materials.