12°
11'
31.26'' S
34°
42'
5.55'' E

Located in the Manda Wilderness, in the Lake Malawi area, Nkwichi Lodge lies on the Mozambique shoreline, at one of the most beautiful points on the lake. With room for just 14, and carefully designed to provide maximum comfort and privacy, the lodge offers guests the highest levels of service – in an atmosphere both relaxed and peaceful.
OVERVIEW
Nkwichi Lodge's private beach, with its fine, white sand, is the central feature around which the Nkwichi has been built. A 2 storey building, thatched and constructed entirely from local materials, the main lodge's rest, recuperation and wallow area is upstairs, where there is a lounge, dining room and bar. There's a shop downstairs, outdoor seating and thatched shade on the beach.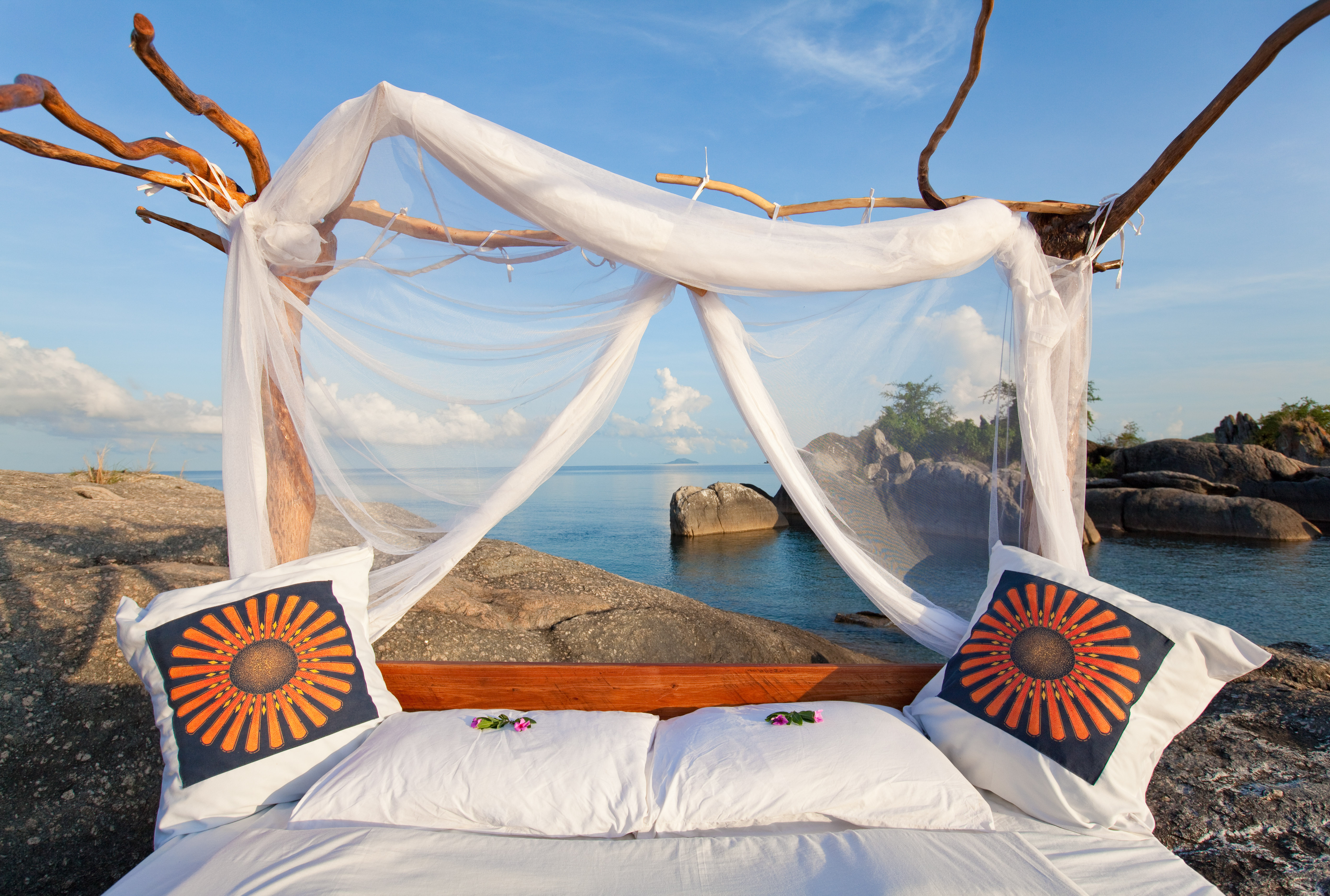 FOOD AND SERVICE
The food – buffet or table dining – is excellent, and given enough warning lodge caters for all diets. In addition to this, there is a fig tree platform built amongst the enormous granite boulders on the lake's shore – another popular spot for guests of Nkwichi Lodge to dine or relax. Feedback consistently mentions the high standard of service, and the ease with which guests slip into day-to-day routines.
ACCOMMODATION
Each of the 7 chalets is cleverly tucked into the trees along the lake shoreline. Depending on their setting, the chalets all vary in size and design. Each room includes a hand carved four poster double/twin bed, hand made storage furniture, enough room to change in, a sitting room, veranda and separate bathroom. Beautifully kept, the bathroom – stone-set tub, sink and shower – is to the rear, through a backdoor.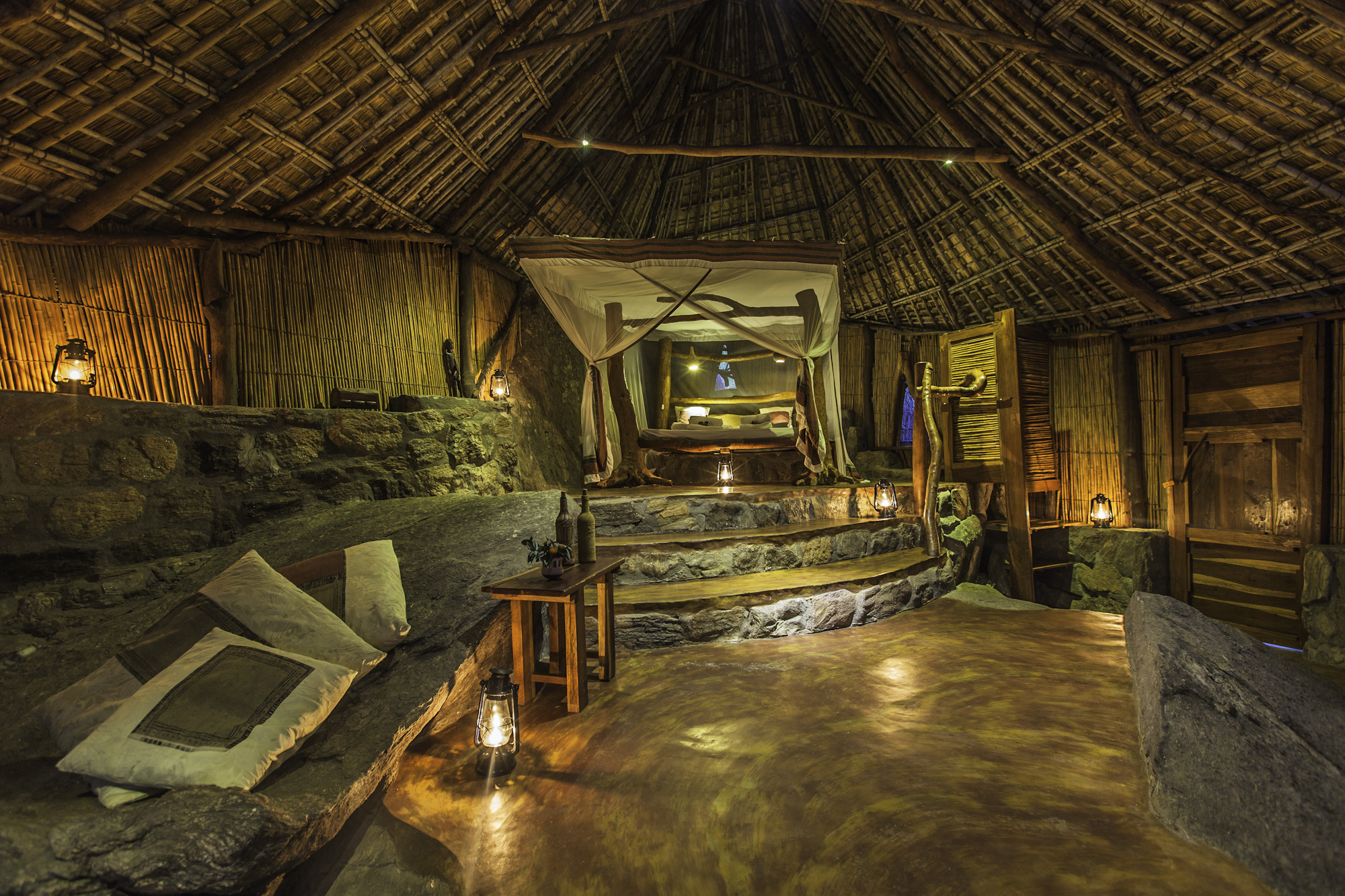 ACTIVITIES
Activities include diving, snorkelling, bird watching, cultural visits and nature walks.
ETHICS
Nkwichi prides itself on practising responsible methods of tourism development. By coming to stay at the lodge guests are contributing to nature and the community development. Staying at Nkwichi Lodge provides wages for up to 50 local members of staff. Their salaries support up to 15 members of their direct families. This means that by staying at the lodge you will have an impact on the lives of 750 people.
The Manda Wilderness Project
The Manda Wilderness Project is the name of a far-reaching bid to help people in the area around Nkwichi Lodge enjoy the benefits of modern development, including the results of tourism. The Project is rooted in what is known as "Responsible Tourism."  This combines 'eco-tourism' (or ecologically-friendly tourism) with nature conservation and long-term community development. It aims to cut back any harmful effects that development may have on local people, and make the most of the positive benefits that carefully-planned tourism can have on both communities and the environment.
A portion of the revenue from each booking goes to support the conservation projects and promote development in the area. Efforts have been made to minimise energy consumption at the lodge. Our main source of power comes from solar panels. We also have a small wind turbine, and in the future we hope to reduce petrol emissions from our boats by using electric engines. The lodge works hard to reduce waste and recycle as much as possible. Each building in the Lodge is constructed from local stone, wood and thatch, all put together by local craftsmen. All activities at the lodge leave no carbon footprint. 'Grey' water is processed through sand filters and used to irrigate the surrounding natural bush during the dry season.
Conservation
The Manda Project has successfully protected the lodge area of 650 hectares from poaching and uncontrolled fires. As a result zebra, warthog, kudu and otter are starting to return to the area.
Community Development
So far six communities have chosen to build schools while Cobue has opted for a maize grinding mill and a new maternity clinic.
All projects are managed as a partnership between the community committees and Manda Wilderness. Both sides contribute to the project. For example, in the construction of a school, Manda Wilderness provides roofing sheets and cement, while the communities make bricks and take responsibility for the building construction. In this way the development programme gets active community participation and provides people with better skills. Other projects include furniture for the classrooms, construction of more schools in the other villages within the Manda Wilderness Area, teachers' houses and water wells (particularly for some of the villages inland) and a jetty in Cobué.
The current number of staff employed by Nkwichi Lodge stands at 58 with expatriate staff numbering 3, meaning that 96% of staff are from local surrounding communities. Accommodation is provided for all staff who live more than one hour's walk away.  Employees have 30 days holiday per year, plus free transport to hospital if needed. Training is an integral part of working at Nkwichi Lodge. From carpentry workshops to English classes, sewing lessons to chef training, all staff at Nkwichi are given the chance to achieve their potential and develop new skills.