Located in the eastern sector of Queen Elizabeth National Park, the Rwenzori Mountains in view, Kyambura Gorge Lodge is fast becoming one of Uganda's finest luxury lodges.
Overview
Essentially a mountain lodge, its relatively low lying position no guarantee against chilly nights, Kyambura Gorge Lodge is a wood, stone, corrugated iron and thatch build consisting of a main lodge and 6 sleeping rooms.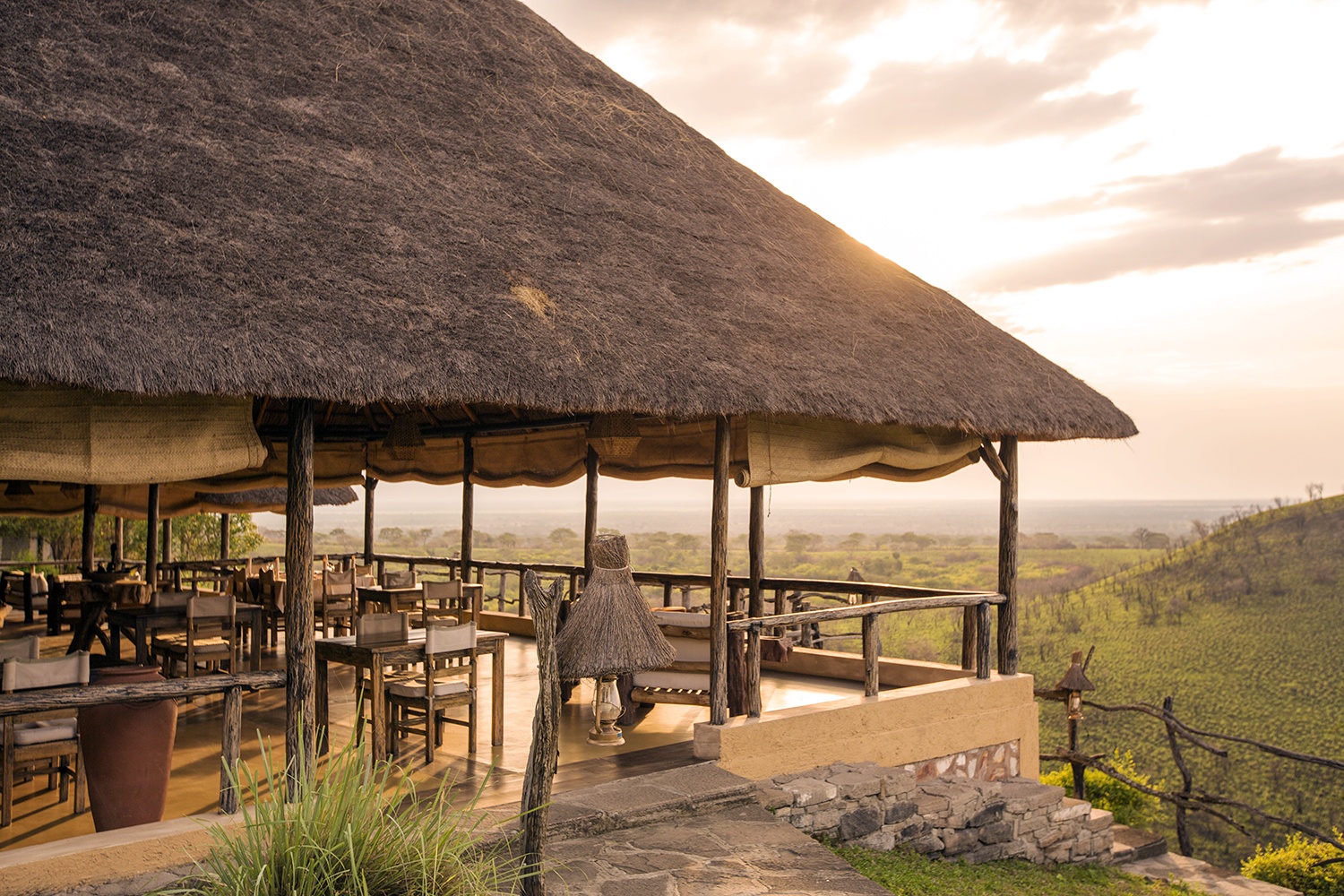 Initially a coffee plantation store and processing plant, the main lodge includes a lounge, dining area, bar, extensive decking and pool. Beautifully converted, its colonial form wonderfully utilised, the old store forms the hull of the main lodge. The lounge and dining room are characterised by white and blue walls, tiled and wooden floors, plenty of space, great square windows and one or two stunning pieces of art.
Most attractive is the sense that the design hasn't just been bought in, lock, stock and barrel (or if it has, then it's been done very well): different types of chairs circle the main dining table, a huge found wood sculpture hangs from the ceiling, and the mix of eco-minimalist wood features and crazy paving make for a delightful contrast. It's lovely, touching and great fun.
Food & service
The food is delicious and plentiful, while the staff are very friendly and accommodating.
Rooms
While the sleeping rooms – bandas – at Kyambura Gorge Lodge are all similarly different, each is purpose built, and as such very coherent design-wise, the external thatch and/or corrugated cottage-like feel giving way to deep brown floorboards, a mix of bare brick, white and curved walls and exposed beams.
Each room comes with an enormous four poster double/twin bed, en suite bathroom, seating area and private veranda. Everything about the look – the mix of window sizes, the simple and carefully chosen pieces of furniture – is designed to make the most of the light, which is extraordinary, particularly early morning and evening. Wi-Fi and charging stations are available in the main area of the lodge.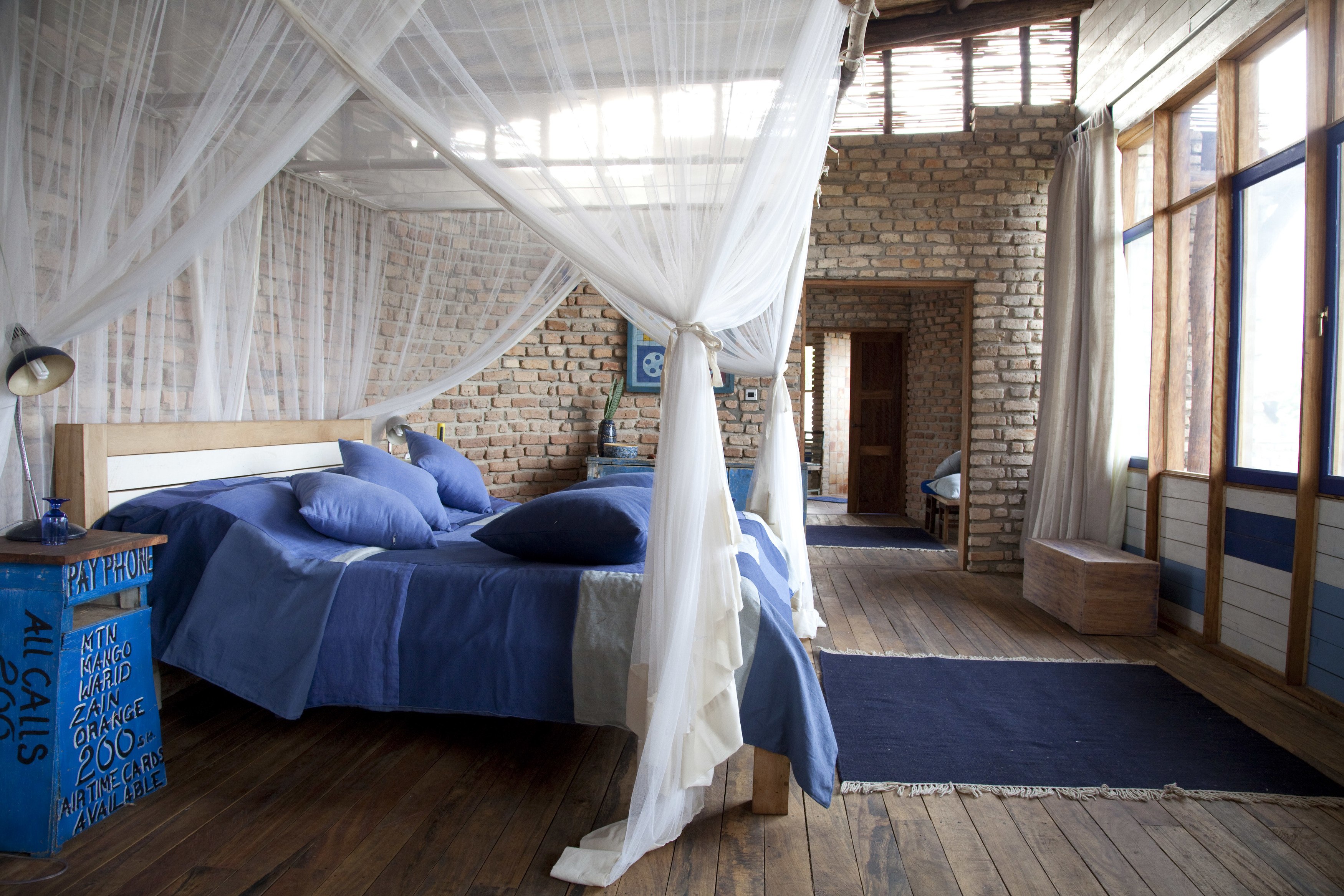 Activities
Activities at Kyambura Gorge Lodge are centred round a resident cartload (yes, quite, and perfectly true) of chimpanzees. Other activities include boat trips on the Kazinga Channel, visiting the Blue Lake and Maramagambo Bat Cave, cultural visits, spa treatment and bird watching.
Impact
Conservation
The Volcanoes Safaris Partnership Trust (VSPT) as part of its push for conservation, secured 30-acres of wetland south of Kyambura Gorge Lodge. The wetland has now regenrated almost back to its natural state having previously been used as an illegal brick works. The wetlands now attract over 100 species of birds and the area is used to train members of the community in birding and guiding. Moreover 500 indigenous trees have also been replanted along the banks of the Kyambura River.
The VSPT, in partnership with the Mvule Trust, is also constructing a tree nursery and conservation outreach program in the Kyambura area. The tree nursery aims to establish 400,000 indigenous trees on VSPT land adjacent to the national park. The young trees will be handed out to community members living in the National Park and also planted in the VSPT 100 acre restoration area along the Kyambura Gorge.
Commerce
The Omwani Women's Coffee Cooperative is a community-based initiative designed to provide vocational training to women and an alternative, but sustainable, source of income. Eleven local women and their families are actively involved in the cooperative. They tend to over 1,500 Arabica and Robusta coffee plants in 100 acres of rejuvenated VSPT land, and process the coffee by hand at a communal processing plant. The coffee is then sold to Volcanoes Safaris and served in all of their luxury African Safari lodges.
In January 2012 the VSPT, in association with Malaika Honey, organised beekeeping training. The course provided apiary management, care and harvesting information to fifteen members of the Omumashaka Bee Keepers Co-Operative, who have been producing honey in Kyambura since 2006. Sales of honey and fees paid by international visitors help make the project sustainable and increase the livelihoods of local people.
Community
In 2011, the VSPT partnered with Kyambura Gorge Lodge to provide new roofs for families in the Kyambura area. The project provided five family homes and one primary school with new roofs between June and December 2011. In March 2012 Kirungu and Kichiwamba primary schools and a mosque in Kyenzaza were also re-roofed. The new roofs will help keep the families dry and healthy during the rainy seasons, improving their welfare through VSPT support.