Located on the island of Sainte-Marie off the eastern coast of Madagascar, Princesse Bora Lodge is a wonderful boutique hotel.
Overview
Princesse Bora Lodge is made up of a main area and 20 villas, all situated along the beach. The shared area includes a restaurant and main bar, and overlooks the beach and ocean, it's north-west facing position making it ideal for sunsets. As well as the main bar, there are two other superbly atmospheric bars, the first a converted canoe on the beach, and the second a converted seaplane that floats on the water. There is also a wooden jetty with deck chairs and parasols. The lodge itself is designed by Sophie Démichilis, who was a graduate of the Architecture School of Paris La Villette in 1996, and has since specialised in African architecture. She designed Princesse Bora Lodge with barefoot luxury in mind.
Food & service
The service at Princesse Bora is of a very high standard. The Beach Grille Restaurant specialises in a blend of Malagasy and Creole dishes and can include anything from curried fish and chargrilled lobster to wood-fired pizza and zebu steak. The dessert menu offers a selection of locally sourced fruit salads and homemade ice-creams. Each bar serves cocktails and specialises in locally distilled rum, and includes South African, French, South American and Malagasy wines.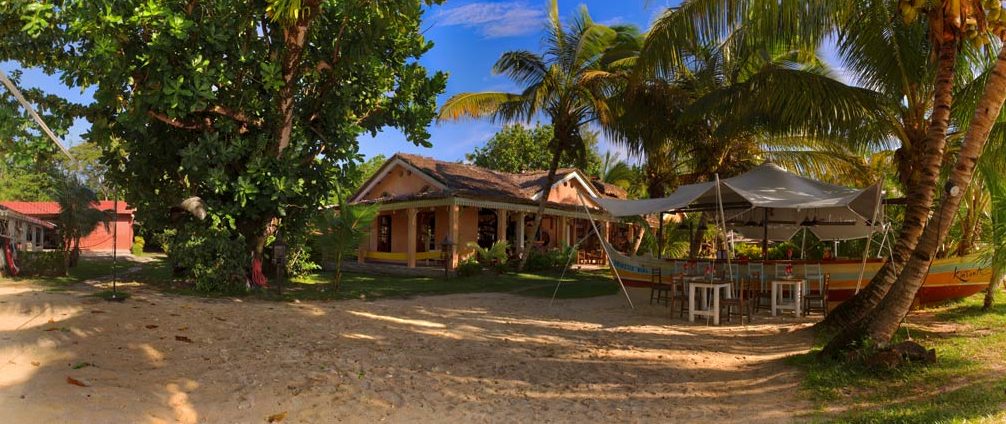 Rooms
The 20 villas come in three sizes: Executive, Luxury and Charm. All are built from natural rosewood, local stone, and traditional rooftops made from dry leaves. Charm has a capacity for two guests and features a double or twin bed and an en-suite shower room and toilet. The terrace features a hammock under the shadow of age-old-trees. Luxury is more spacious and comes with a second room with twin beds and an extra bathroom, making it ideal for families. Executive is the most spacious, and includes a king-size bed with views over the lagoon, a large stone bath, and the option of another single bed for an extra guest.
Activities
Water sports on the island include diving sites with qualified PADI instructors, snorkelling, kite surfing, wakeboarding and fishing. During the winter months, humpback whales migrate from Antarctica to warmer waters. The channel of Sainte-Marie is an ideal spot for watching this phenomenon. Saint-Marie Island itself can be explored via a number of different ways, including 4x4s, quad or motorbike, and mountain bike, allowing access to wild beaches, mangroves, villages and vanilla crops.
Impact
Conservation 
CétaMada is a Malagasy association for marine mammals protection in Indian Ocean. It leads scientific research programs and tourists and local population raising sensitisation. Between July and September, the humpback whales return to their place of birth, in the warm water of Madagascar, to give birth and reproduction, after feeding in the Antarctic Ocean.
Every year, Princesse Bora Lodge and Spa, in partnership with CétaMada, offers the unique opportunity to meet these cetaceans. An eco-guide, a whale specialist, stays for the season in the Lodge to supervise expeditions, collect scientific data and lead conferences. Through participation and donations, guests actively contribute to the protection of these giants of the seas, financing the NGO and increasing the scientific database.
Commerce
The Anjaranay centre is a partnership between the Malagasy association CétaMada and the Swiss association Solférino whose main objective is the structures and programs setup to support the local development of local communities in order to improve the living conditions of people of Sainte-Marie. Throughout the year, Princesse Bora Lodge and Spa joins the centre to offer coastal populations alternatives to fishing by training in crafts, agriculture, apiculture and aquaculture, in order to limit the increasing pressure on the various marine habitats.