19°
18'
26.17" S
22°
36'
5.98" E
Designed by an Italian architect, located in Botswana's Okavango Delta, on the Jao reserve, and considered by many the most luxurious camp in the delta area, Jao Camp is another of Wilderness Safari's outstanding properties.
overview
Situated along the shoreline of a delta island, and protected by a mixed wood of wild mangosteen, ebony and leadwood, Jao Camp occupies 1.5 kilometres of the Jao flats – an area known for its beauty. The camp is a wood and thatch build consisting of a main lodge, or longhouse, and 9 sleeping rooms. The shared areas include a bar, spa, lounge, dining room, balcony, shop, two pools and a library.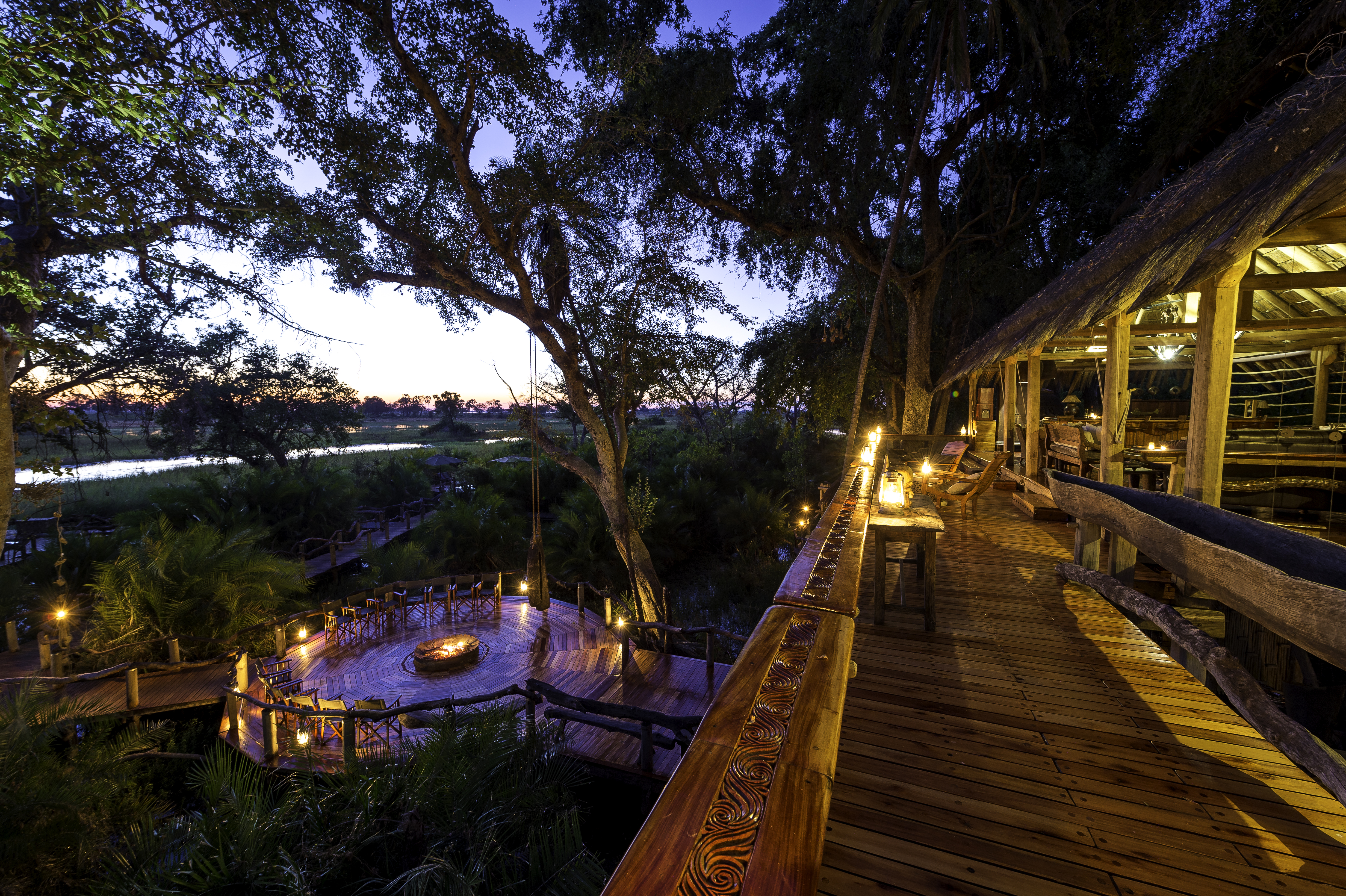 Much remarked upon, the 2 story lodge is a beautiful building. Characterised by its own designer thatch, and by extraordinarily polished floors, angled tree trunks, comfortable, one-off seats and low lighting, the downstairs lounge is as inviting as it is interesting.
food and service
Upstairs, guests eat communally around a hand-made rosewood table and usually make the best of Jao Camp's extensive wine cellars. The food is good, the service excellent.
accommodation
Secreted about the property, the 9 sleeping rooms are superbly appointed. Built on stilts, overlooking the flats, and accessed by way of wooden walkways, each tented room possesses an enormous double/twin bed, seating area, balcony, changing area and separate bathroom. Designed to create discreet spaces, the rooms are vast, naturally lit and beautifully finished.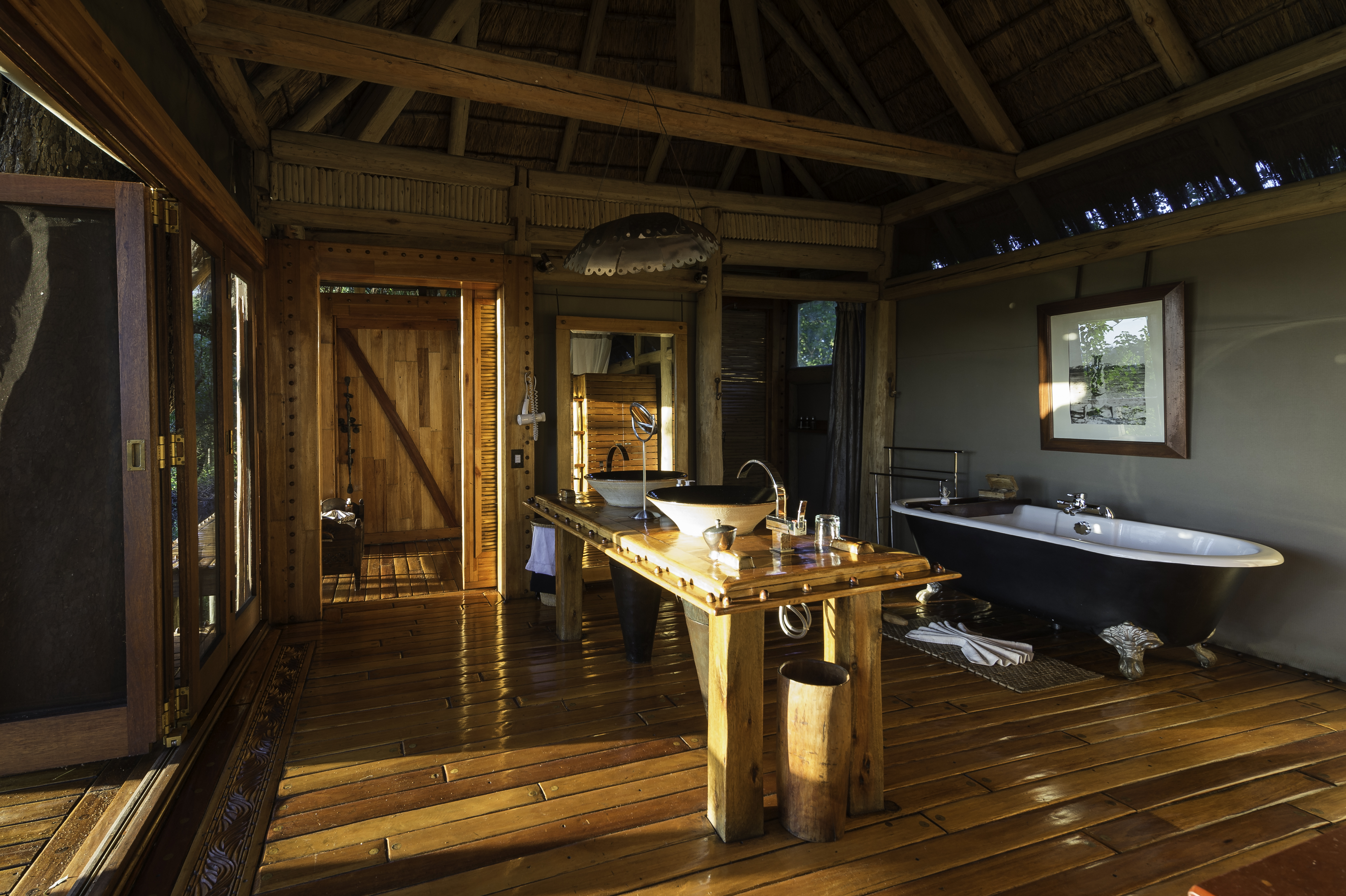 The attention to detail is phenomenal: the floors, for example, are fixed by dowels and studs, and the bathroom – stand-alone bath, centrally placed twin sinks, shower, flush toilet – is contiguous with the rest of the room, such is the consistency of style, the intelligent use of space. The view is fabulous and maximised by balcony doors that fold in on themselves. Wi-Fi is available across the camp but please note that speeds do vary.
activities
Activities include mokoro trips, guided walks, wildlife drives, bird watching, sundowners and massage.
Please be advised that Jao Camp is spread over a large area, and that some of the rooms are a reasonably long way away from the main lodge, resulting in guests spending more time in their rooms than the lodge itself. Feedback suggests that the feel of the place is less cosy than other lodges.
Ethics
Conservation
To encourage greater cooperation between local communities and the region, the Jao Concession and the University of Botswana formed a committee to help tackle the prominent issues of over-fishing and poaching.
The camp itself is 100% solar powered, treats waste water in an above ground sewage plant, and utilises reverse osmosis filtration to save both plastic and water.
Commerce
85% of the camp's staff are from rural communities, trained through vital self-funded regional programmes.
Community
Wilderness Safaris supports Children in the Wilderness, a programme which provides educational life skills and environmental awareness for children who live in villages close to conservation areas. At this moment in time (2018) CITW has benefited over 10,000 children from seven African countries.