Part of And Beyond, a wild accommodation company that operates lodges and camps throughout Africa, And Beyond Under Canvas offers two semi-permanent camps in Chobe National Park – one by Chobe River, the other in Savute Reserve.
Set and struck every five to six days, Under Canvas is neither fully fixed nor fully mobile, and as such fosters a sense of belonging. Given the length of time spent in any one location, a great deal of thought goes into creating spaces that are tranquil, cool and private.
Consisting of 6 Hemmingway safari tents, And Beyond Under Canvas can accommodate up to twelve guests. Each tent boasts a double bed, flush toilet and veranda; the en-suite bathroom possesses a hot shower, a simple arrangement of washing amenities, and fresh towels; the bedroom furniture / lighting is practical, clean and adaptable. Significantly, and most welcome after a day spent walking the bush, the beds are sumptuous and made-up with high quality linen.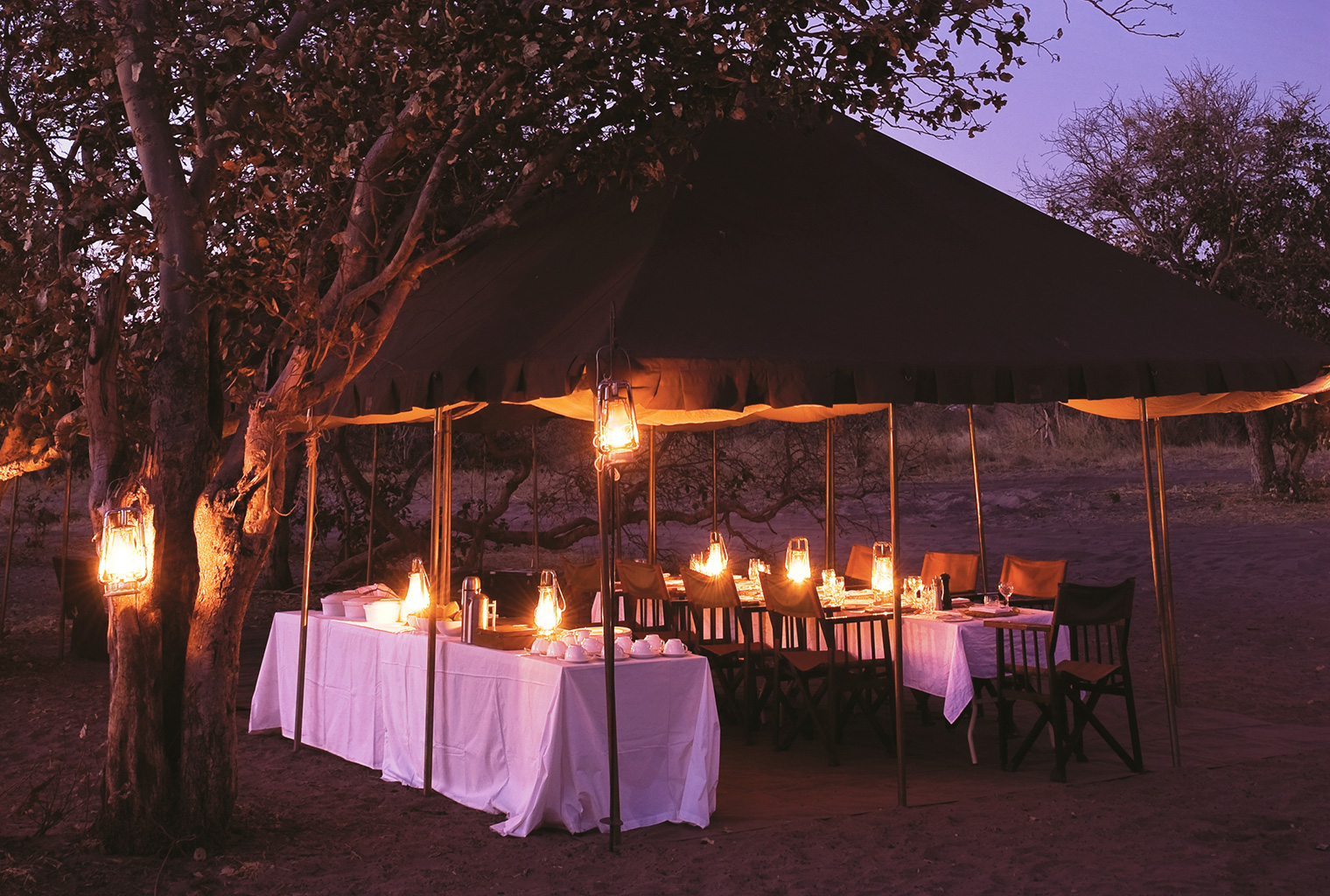 Away from the sleeping areas, the dining tent holds a table large enough for all the camp's guests, and there is a small seating area – sofas and chairs – where drinks are served. Guests of And Beyond Under Canvas are guaranteed round-the-clock attention: there is a private butler service; food and drink are available night or day. The cuisine is African, and comes both as silver service and bush tucker.
Activities include game drives, nature walks, tracking, boat cruises and bird watching.
Please be advised that – due to an emphasis on tracking and anticipating the movements of animals – locations do not always meet individual expectations. The flora here thrives in semi-arid conditions, and dust comes with the territory.
Ethical Information
At &Beyond we believe in taking a shared responsibility for our futures and those of our children. You may be surprised to know that we have a small physical footprint in terms of
buildings and guests. Our entire group of lodges comprises less than 800 beds, smaller than a medium-sized city hotel, but we have a disproportionately large positive impact on the more than 3.5 million hectares (8.5 million acres) of wildlife areas we help sustain, and the communities whose lives are interwoven with our business.
Our values are and always have been: "Care of the land. Care of the wildlife. Care of the people."  They have become an intuitive part of the way we operate and are increasingly part of the reasons why our guests find their experience with us so rewarding.
We believe that all business can "take less" and "give more", and we apply this philosophy every day through actions big and small at the group's 46 lodges. Whether it's pioneering the re-introduction of an endangered species such as black rhino, facilitating the establishment of an income producing sewing co-operative in a local community or simply managing the vegetable peelings from our kitchens, we consciously look for ways to leave a positive legacy.
Started in 1999, the BOCAIP (Botswana Christian Aids Intervention Programme) and Motse wa Tsholofelo Day Care Centre in Maun were established to support orphans and their extended families through nutrition, counselling and material assistance.
Education helps to break the cycle of poverty, allowing communities and individuals the opportunity to enhance the quality of their lives. Investing in the building of schools and classrooms, training, bursaries and adult education are all key focus areas of the Foundation.
The rangers at &Beyond's four Botswana lodges host an average of 12 conservation lessons a year for schoolchildren and their teachers.
A preventative health programme, Positive Health trains staff members to become counsellors on health, nutrition and psychological wellbeing, and caregivers for people living with life threatening illnesses such as HIV/Aids. It includes practical elements such as the dissemination of information on affordable home remedies and the promotion of nutrition through the establishment of vegetable gardens.
Two wellness programmes, Goal is Life and Sing for Life, were subsequently developed under the Positive Health banner.  Both help keep staff members motivated and healthy.
In 2008 &Beyond introduced an innovative environmental strategy, the Measurement of Eco Overheads, a drive to manage eco overhead costs in the same way the company tracks other
fnancial overheads in order to reduce the negative impact of our operations on the environment.
Fields that are measured include: petrol, diesel, generator fuel, electricity, gas, paraffn, wood, charcoal, water waste, recycled water and recycled waste.