Another of Wilderness Safaris' flagship wild accommodations, and located on the Linyanti Wildlife Reserve, Duma Tau is a top-drawer luxury eco-lodge.
Overview
Recently moved, rebuilt and extended, the lodge is set between two major elephant corridors, overlooking the now in flood Savute Channel. A wood, canvas and thatch build, Duma Tau consists of a main lodge and 10 sleeping rooms. The shared areas include a lounge, bar (the marvellously named Dung & Beetle), dining area, decking, pool, fire-pit and rest areas.
Raised, with open sides and a cavernous ceiling, the main lodge is characterised by great cool spaces, a long communal dining table, and an assortment of beautiful antique-looking armchair seating, sofas and side tables, the overall feel natural, airy and deeply comfortable.
Food & service
The service is excellent, the food is always good and the African dinner evening is always one of the stay's most popular dining experiences.
Rooms
The new sleeping rooms at Duma Tau are equally fine. There are 8 twin and 2 family rooms. Accessed by means of a raised walkway, secreted away among the trees, each room includes a four-poster bed, seating, an en suite bathroom, veranda, sala and outdoor showers. As thoughtfully designed as the main building, the preponderance of wood and thatch over canvas gives the room a sturdy, lived-in look, the quality of workmanship (the floors are particularly well done) a sense that guests are buying into something more than your standard wild fare.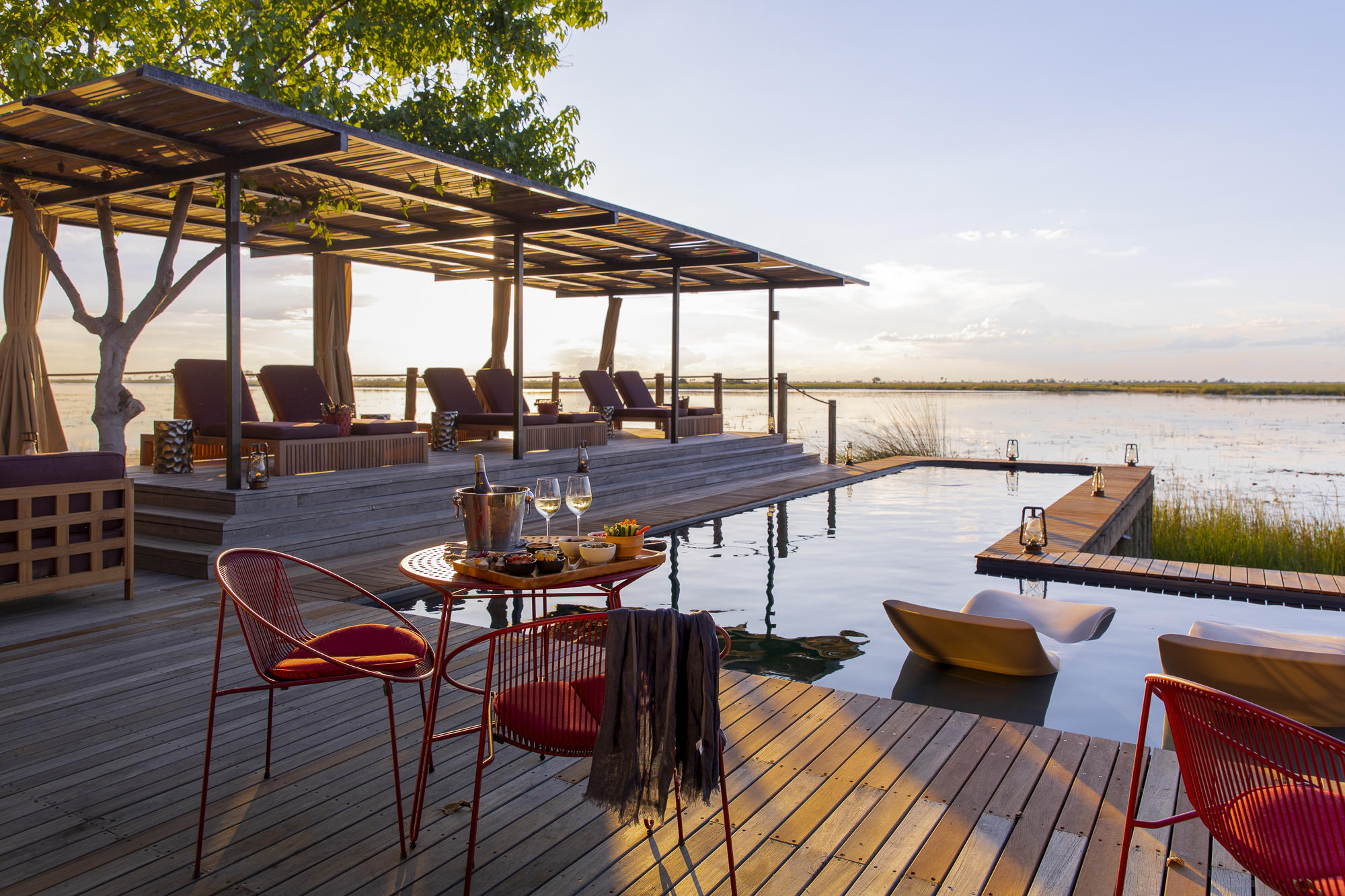 Marked by a simple selection of stressed seating, compact side tables and low night lighting, the rooms are romantic at night – the sala lookout actually built into the swamp – while, during the day, the interiors are lit by floor-to-ceiling glass doors and frontage. Please note there is no Wi-Fi available at the camp.
Activities
Activities at Duma Tau include wildlife drives (there are loads of hides where guests can enjoy wildlife viewing close up and away from a vehicle), guided walks, canoe/boat trips, sundowners and bird watching.
Impact
Conservation
Duma Tau works alongside the local government to help safeguard wildlife local to the area. The camp carries out targeted research, focusing especially on species on the International Union for Conservation of Nature's Red List, including roan antelope, elephant and African wild dog.
The camp is also 100% solar powered – inverters and solar panels are the source of all hot water and electricity – and treats all water before letting it enter the surrounding environment.
Community 
Duma Tau is a Long Run Alliance member, demonstrating its commitment to sustainable tourism, conservation and community development.