The Tswalu home of Nicky and Strilli Oppenheimer, located on the 100,000 hectare malaria-free Tswalu Kalahari Reserve, Tswalu Kalahari's Tswalu Tarkuni is a truly stunning private property perfect for multi-generational families or an intimate gathering of friends.
Overview
Situated some way from the area's main lodge in a desert valley of its own, Tswalu Tarkuni is a thatch and stone build; another smart Boyd Ferguson redesign. The property consists of a main house with a lounge, kitchen, pool, veranda, and dining room, and five suites.
With accommodation for up to 10 guests, separate and self-sufficient, the house comes with its own chef, guide, house manager and private wildlife viewing vehicle, and is styled in much the same way as Motse. Its signature red clays, enormous and centrally placed chimney stack, cavernous ceilings, unfinished stone walls, snug little landings and numerous outdoor seating areas all main lodge motifs, create a distinctive look beautiful perfectly suited to the Kalahari's colours.
Please note that Tswalu Tarkuni is available on an exclusive basis.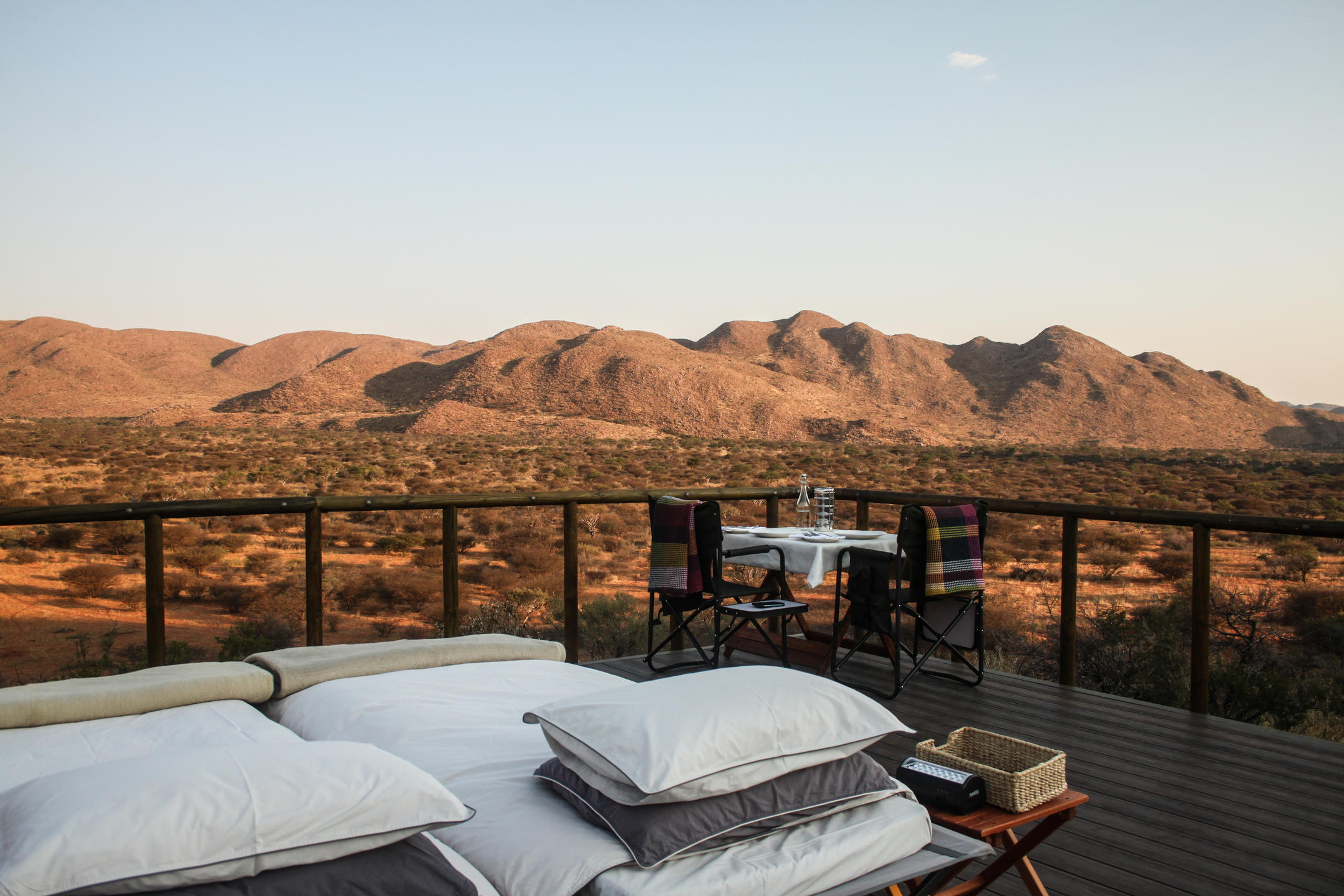 Food & service
While obviously all private, cooked on site, and tailored to dietary needs, the food is very much a main lodge affair. The Theresa Fehrson trained kitchen are able to conjure up anything from gourmet bush picnics to five-course silver service dinners.
Rooms
Like the main house at Tswalu Tarkuni, the en-suite bedrooms are large, open-plan and possess fantastic views across the Kalahari. Again, the style point here is unashamedly desert-chic, the former represented in each room's carefully choreographed run of colours, the latter in the craftsmanship of the bed frames, the chairs, the roll-top baths, the quality of fittings. Beautifully thought through, it's a very comfortable stay. There is WiFi in the main area and bedrooms.
Activities
Activities at Tswalu Tarkuni include horse riding, guided walks, wildlife drives, rock art trips, educational and cultural visits, star-bed sleep-outs and. Horse riding is offered to all, with horses and trails for beginner, intermediate and experienced riders. Children are welcome on all wildlife drives, irrespective of age.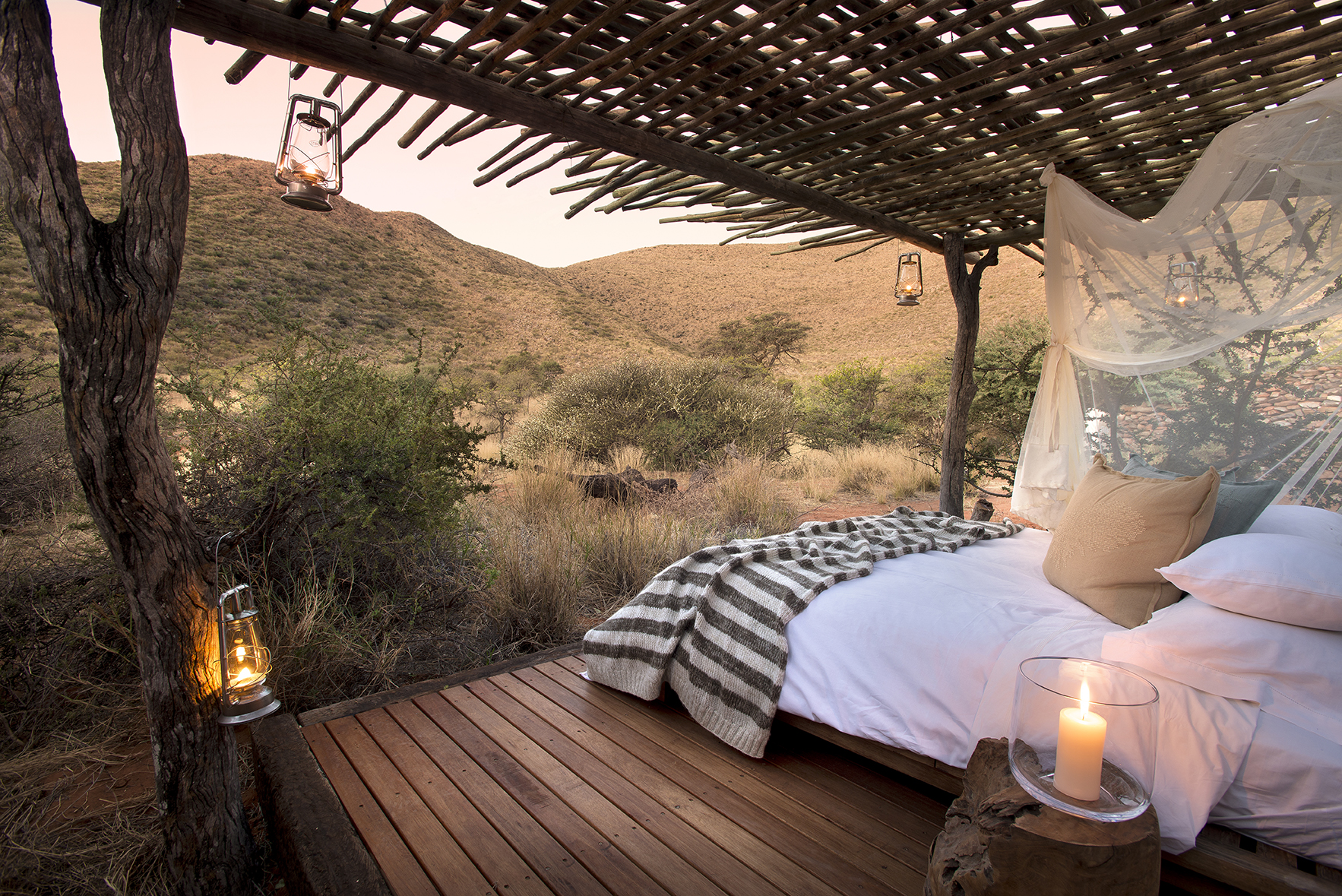 Impact
Conservation
Tswalu Kalahari Reserve is a momentous conservation project which provides vital protection for numerous endangered species of mammals, birds, reptiles and sensitive vegetation. A dedicated Research Centre –  funded and run by the Tswalu Foundation – facilitates projects designed to understand the impact of climate change on species and ecosystem processes. Tswalu also supports a Tracker Academy which seeks to keep the dying art of tracking alive and ensure that tracking skills are formally recognised.
Commerce
Tswalu employs nearly 200 people, most of whom are local, and provides crucial opportunities, skills training and career development for the community.
Community
Tswalu funds a primary Health Care Centre which offers family planning, trauma, dental and ophthalmic services. It also provides preschool facilities to staff families, which allows parents to work.