Morukuru River House is a top-notch luxury private riverside villa in the wildlife-rich Madikwe Game Reserve. Run by experienced outfit the Morukuru Family, the emphasis is on total flexibility and on creating a bespoke experience tailored completely to each individual group's requirements.
Overview
A combination of spectacular opulence and genuine warmth, Morukuru River House offers the opportunity to relax in total luxury with a wealth of wildlife – including the Big 5 and giraffe. The décor throughout the living areas speaks of thoughtfulness and ecology-mindedness as well as a true touch for ambience, bringing together the colours and textures of local woods and crafts with a contemporary western design aesthetic. The living areas include plentiful indoors areas, including a beautiful dining-room and lounge, as well as fully-furnished decking and a partly-walled outdoors dining-area. Complimentary Wi-Fi is provided.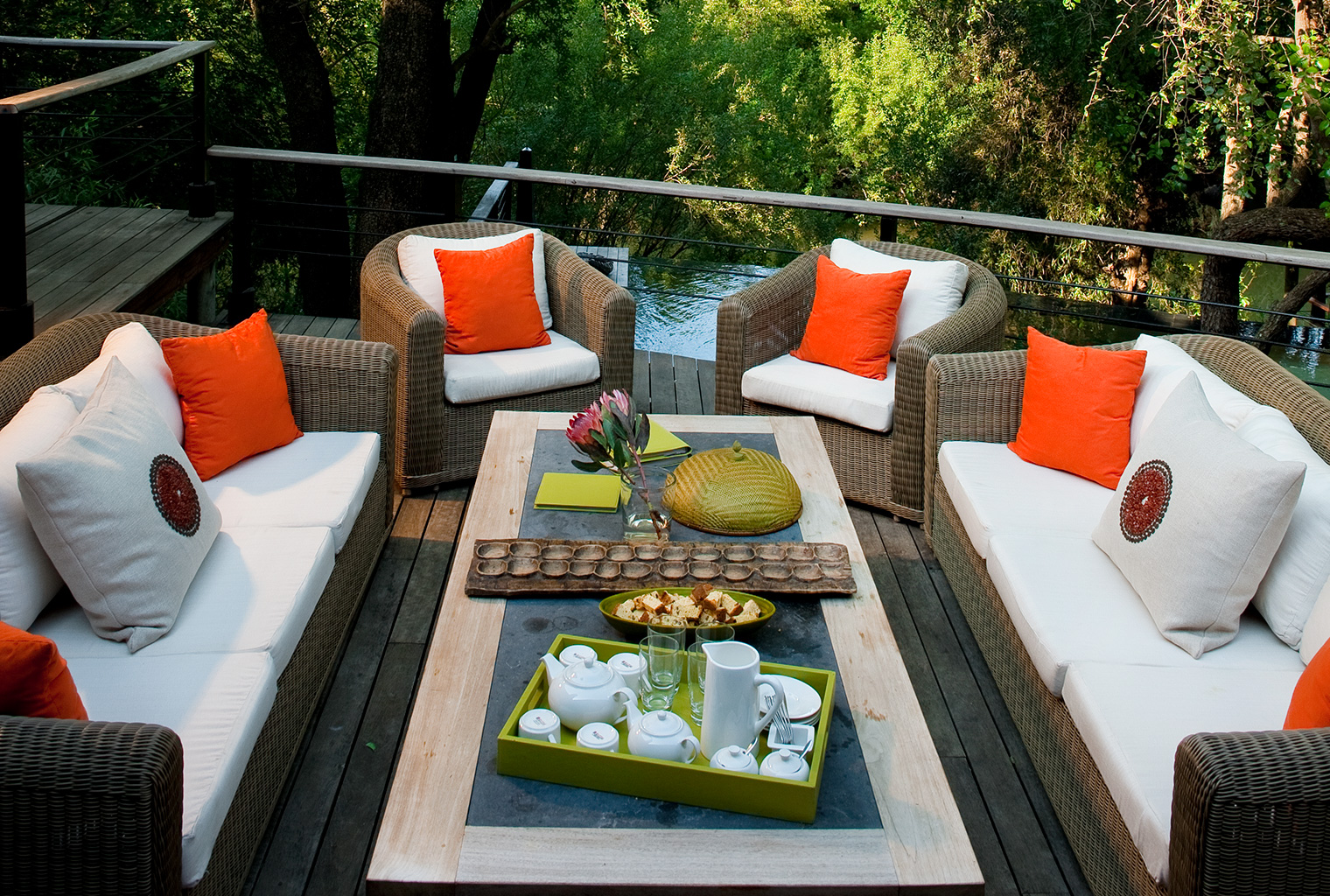 Food & service
The entire Morukuru experience is geared towards this individual-ity, with the dedicated staff including a chef and guides who will go above and beyond the call of duty in creating each guest's perfect bush holiday. The seven or eight dedicated staff include a nanny if required.
Rooms
Each bedroom at Morukuru River House is a luxury suite with an open fireplace, very large king-size bed, a bath looking out on stunning views, an outdoor shower as well as an expanse of private decking. Each bedroom is individually decorated and given its own distinct feel, always with the aim of giving a sense of genuine local character alongside all the sumptuousness.
Activities
Each visit to Morukuru will be different and depend entirely on individual requirements, but from meals to excursions the range of activities is extremely diverse. For larger groups, nearby Owner's House can be booked in conjunction with River House.
Please note all ages are welcome, and four children can be comfortably accommodated in the bunk-beds in the study.
Impact
Conservation
In the spirit of Operation Phoenix – the original landmark wildlife re-introduction and monitoring project that took place in Madikwe from 1992 to 1999 – the owners of Morukuru continue to dedicate their time, staff and other resources towards Parks Board projects such as wildlife collaring, darting, monitoring and relocation initiatives.
Commerce
The Morukuru Goodwill Foundation helps to facilitate activities to improve the social and economic standards of surrounding communities. Furthermore, in an innovative initiative, the community collects and sorts recycled refuse that is then sold to companies which deal commercially in recycled materials.
Community
The lodge is continually looking for creative ways to partner with their local communities in Madikwe; from the dancers who perform at Morukuru to the guests who donate books for the local library, the bonds between lodge and community are always strong.