There are two Intercontinental hotels in Johannesburg: Intercontinental O R Tambo Airport and Intercontinental Sandton Towers. This outline concerns the first of these, which is situated literally on the airport's doorstep and is South Africa's first luxury airport hotel.
Overview
A typical glass and concrete 7 storey high arrangement, all space age curves and visor-like reflective surfaces, Intercontinental O R Tambo Airport consists of a main hotel and 138 guest rooms. The shared areas include reception, multi-seating and bar areas, a restaurant, a garden terrace, health and fitness centre, spa, indoor pool and 8 variously sized meeting rooms.
Athenian in scale, Intercontinental O R Tambo Airport's lobby and main throughways are characterised by vast columns, a white to brown colour scheme, retro-chic patterning and an illuminated floor-to-ceiling box shelf display of pots and associated artefacts. Impressive and strangely beautiful, the look extends right through from its seating areas – zebra patterned stools, lightweight slumber chairs and seventies-style coffee tables – to its indoor pool, which commands city views by way of a wall made entirely of glass. The various conference, lecture and board rooms are all equally fine, and the level of technological support for working guests is excellent.
Food & service
Creative, humorous, Quills restaurant – a giant porcupine hangs from the ceiling – labels its cuisine Aero-Afro, which in effect is a combination of bush meats, international sauces and a digitalised knowledge of flights, times and what, therefore, would make a good pre-long haul meal.
Delicious and beautifully presented, the food arrives on time, the drinks are reasonably priced and the service is excellent. Indeed, the subject of unremittingly good feedback, the service throughout Intercontinental O R Tambo Airport is first class. From restaurant floor to reception to room service, all staff are unfailingly professional, and the hotel's special relationship with the airport means that the hotel's responsibility for the well being of its guests extends right through to arrivals and departures.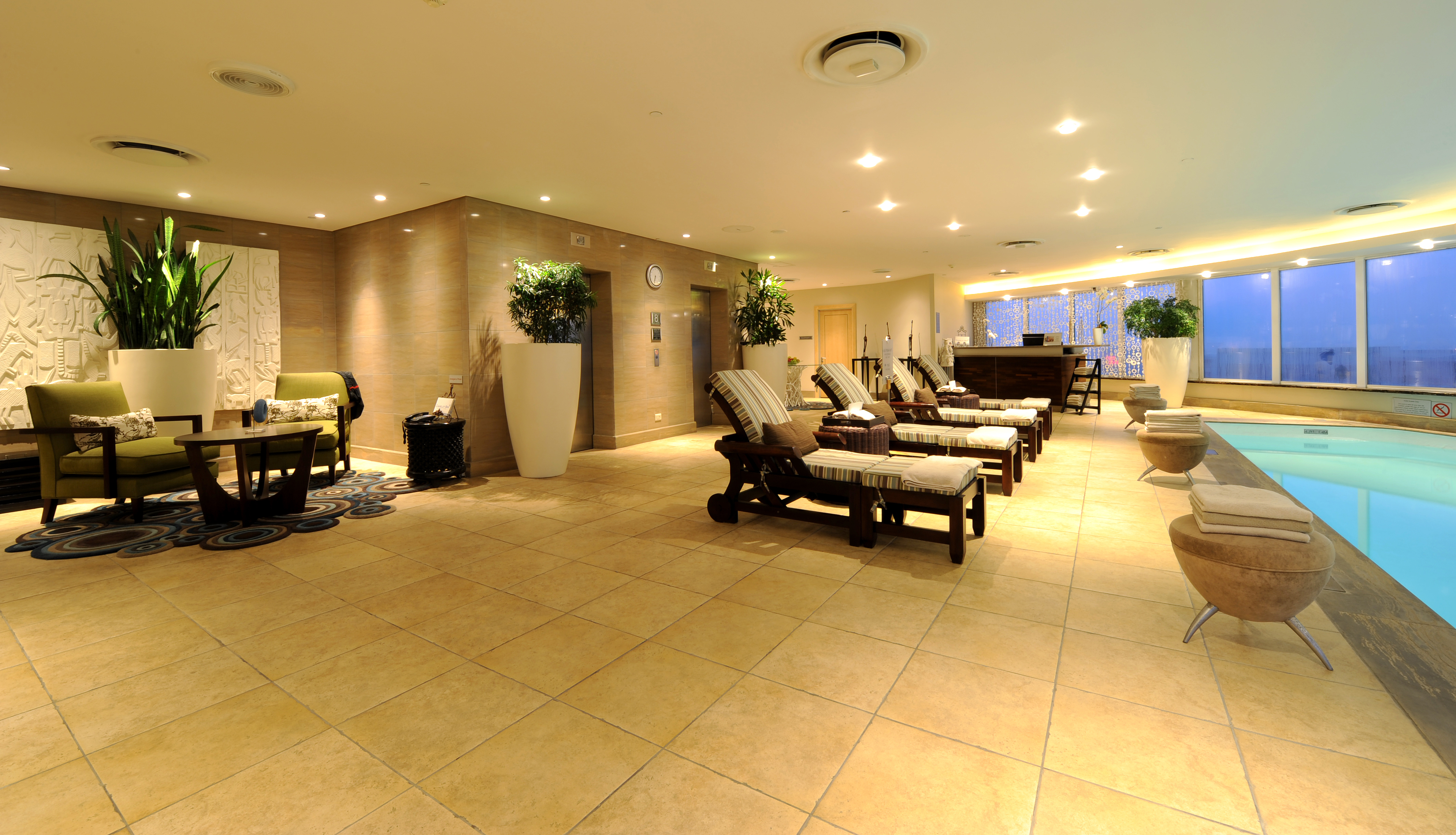 Rooms
The guest rooms at Intercontinental O R Tambo Airport are divided into 3 classes: standard (110), deluxe (26) and suite (2). Large, tastefully furnished, each standard room includes a double bed, en-suite bathroom, a writing desk, trunk and assorted clothes storage facilities. Enormous windows provide plenty of light and the bathroom – bath, toilet, shower and sink – is suitably luxurious.
The room comes with plasma screen and DVD facilities, air con, a variety of hotel services and mini-bar. The deluxe (or executive) rooms are essentially the same, only they tend to be positioned at the corners of each floor, are thereby lit from two natural light sources, and include a seating area. The two presidential suites occupy the seventh floor, are spread across 4 separate rooms – drawing room, sitting room, bedroom and bathroom – and come with various extra trimmings, including a 24 hour butler service. Please be advised that two of the standard rooms are so designed and positioned as to provide extra ease of access and use.
Activities
Activities at Intercontinental O R Tambo Airport include swimming, gym, massage, steam room facilities and hotel orientated – food and drink – relaxation. Out-hotel activities include golf, tennis, film and trips into town.