Set on the western side of Madagascar and overlooking the forest canopy of UNESCO world heritage site Tsingy de Bemaraha National Park, Soleil des Tsingy was built in 2010 and is a top-notch luxury lodge.
Overview
Soleil des Tsingy is made up of a shared area and 17 spacious rooms. The shares area includes a main restaurant area and lounge behind an infinity pool with panoramic views over the forest. The entire lodge is made up of wooden decks and beams which hold up thatched roofs and metal grates designed by interior decorator Zach Édith. It is beautiful.
Food & service
The service of staff at Soleil des Tsingy friendly and reliable. The breakfast is a buffet, made up of pastries and bread, all freshly made in the bread oven. Lunch and evening offer guests the full menu, which can range from anything between packed lunches for excursions to pizza made over a wood burning stove and charcuterie, cheese and homemade bread. There is laundry service and Wi-Fi is available to all.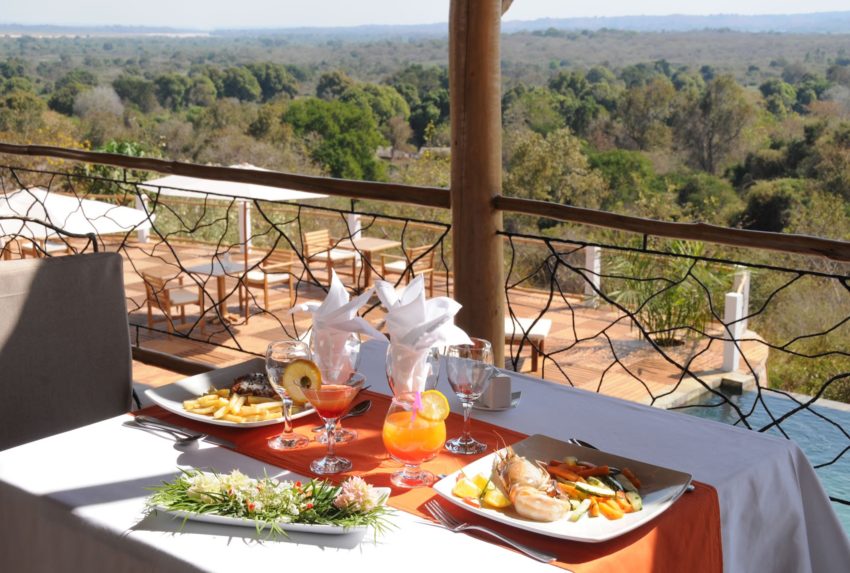 Rooms
The bungalows at Soleil des Tsingy, which are spacious and tastefully decorated with local Malagasy craft, each contain four-poster king-size beds, a comfortable sofa made from local woods, and a desk with an intricately designed wrought iron lamp. Each en-suite bathroom has slate walls, a silicified stone washbasin, and a large ornate mirror and shower.
Activities
Activities at Soleil des Tsingy include excursions into the park to visit the big and small Tsingy (a forest of jagged and dramatic knife-like rock structures cutting through the landscape), guided safaris to spot the 15 lemur species of the island as well other endemic species, or boat trips down the Tsiribihina River.
Impact
Conservation 
Much of the food at Soleil des Tsingy is homegrown in the vegetable garden, which helps reduce the carbon footprint of the lodge.