Winner of the 2018 Trip Advisor Travellers' Choice Award, Isalo Rock Lodge is a 60-room lodge located in the southwestern corner of Madagascar, in Sandstone Mountains, next to Isalo National Park.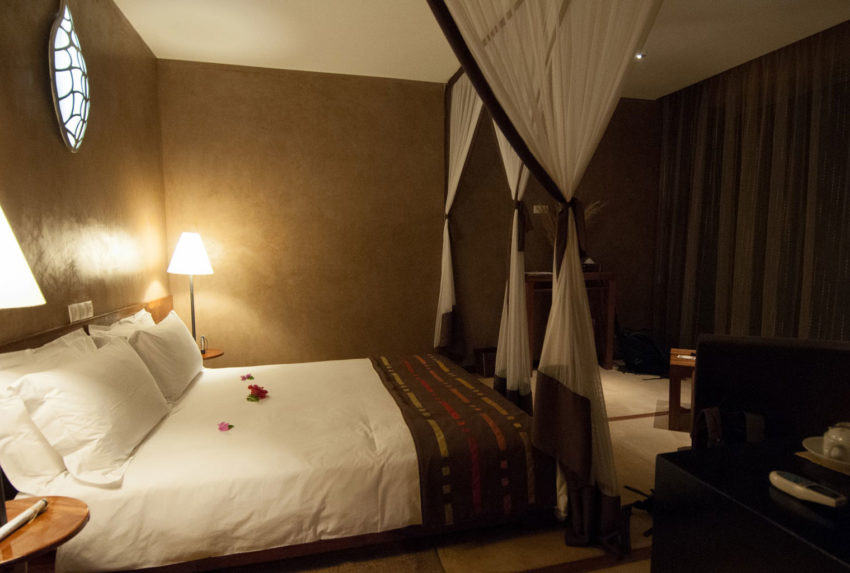 Overview
A sizeable hotel with as many modern amenities that any guest could possibly need, Isalo Rock Lodge overlooks a beautiful valley, and includes a large restaurant with a bar and terrace, a pool, also with its own bar, and a spa. Made from local sandstone, the hotel's look and feel blends perfectly with its surrounds. A daily laundry service and Wi-Fi are available throughout the lodge.
Food & service
The food at Isalo Rock Lodge is a Malagasy-European fusion style, the menu changing with the seasons, the plates wholesome. The bar offers a range of international wines and cocktails, and staff do their utmost to give the hotel an intimate feel, this despite its size.
Rooms
Isalo Rock Lodge has 60 rooms, all with views of the rocky escarpments down the valley. Each of the rooms is spacious and decorated in with warm colours. The configuration of each room varies from twin to king size. As well as its bed, the furniture in each room includes a desk and chair, wardrobe and a coffee table with a lounge chair, and reading deck. Spacious and attached to the side of each room, each bathroom comes with a large bathtub and shower.
Activities
Activities at Isalo Rock Lodge include guided tours into the park to visit the impressive flora and fauna, which can be undertaken on foot, by vehicle or on horseback. Stargazing is also a favourite at the lodge and guests can go on treks at night for sundowners followed by an evening watching some of the clearest astronomical views on the island.