Located just outside Nairobi, on 160 acres of indigenous forest, Giraffe Manor is a beautiful house, which, together with various parks based in the UK, serves as the centre for an innovative and successful Rothschild giraffe breeding programme.
Overview
Owned today by Mikey and Tanya Carr-Hartley, and a keystone in the Tamimi portfolio, Giraffe Manor was built by David Duncan (of Mackintosh Toffee) in 1932, and reflects a penchant for Scottish hunting lodges. Its fame, however, followed its purchase by Betty and Josh Leslie-Melville, whose concern for – and subsequent investment in – the Rothschild led to the family creating a home for this endangered subspecies of the giraffe family.
The plan to reintroduce the Rothschild into the wild followed the success with which the Leslie-Melvilles managed Daisy, who arrived at Giraffe Manor as a baby. Since then, Giraffe Manor has been responsible for the reintroduction of dozens of Rothschild giraffe, and its charitable arm, the African Fund for Endangered Wildlife (AFEW), is a world leader in the management of wild giraffe.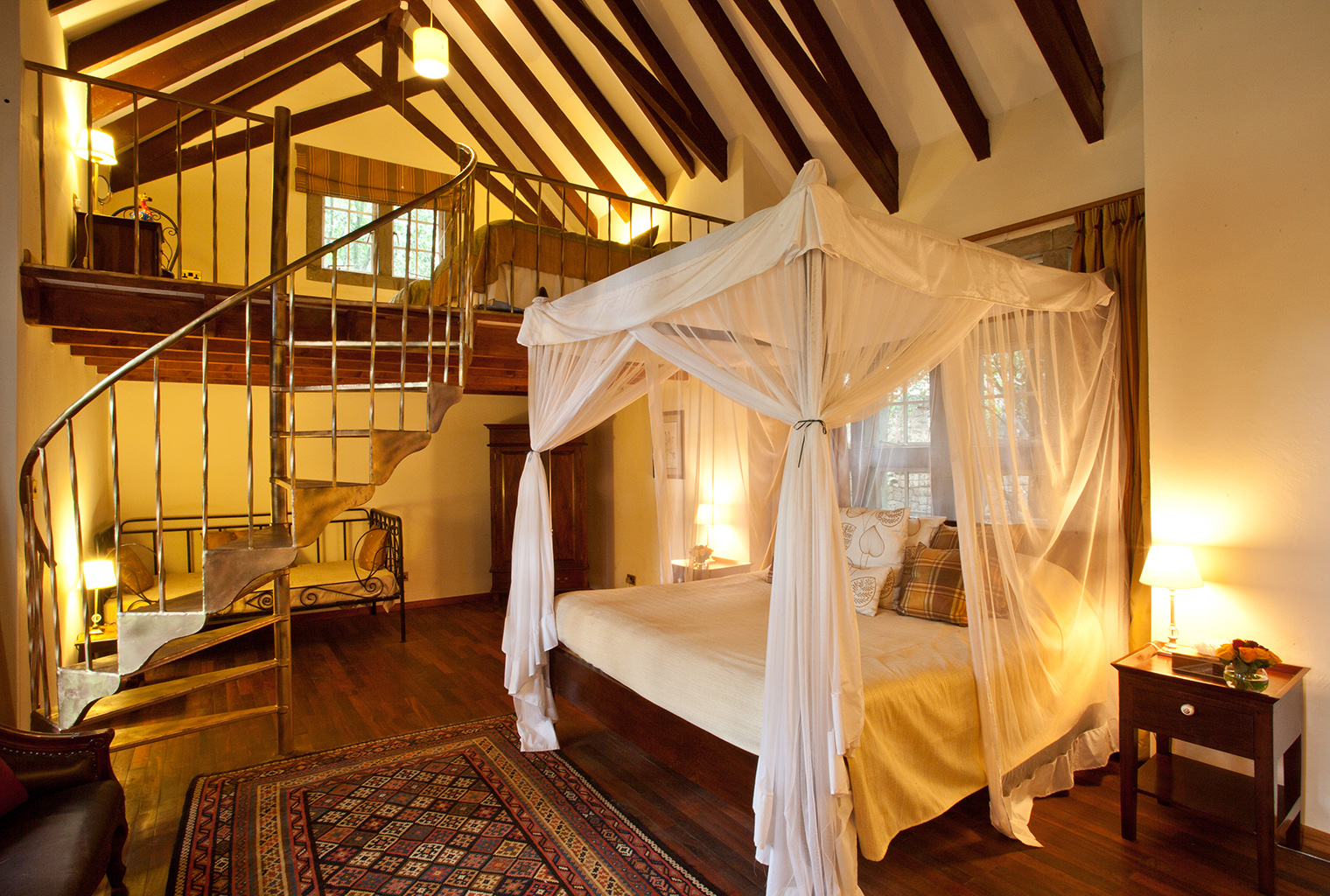 Operated as a hotel since 1984, Giraffe Manor was until recently run by Rick and Bryony Anderson. With Art Deco bathrooms, and rooms filled with early twentieth century pieces of furniture and art, the house is both urbane and upcountry in feel, and is a fine example of a style popularised by the more aristocratic sections of Nairobi's 1930s ex-pat community
Food & service
The service – from airport to dining room floor to room to the moment you leave – is first class, as is the food, and the chance to dine within a few feet (sometimes inches) of the hotel's giraffe is something else. Now under new – and equally good – management, Giraffe Manor continues to attract attention and plaudits from around the world.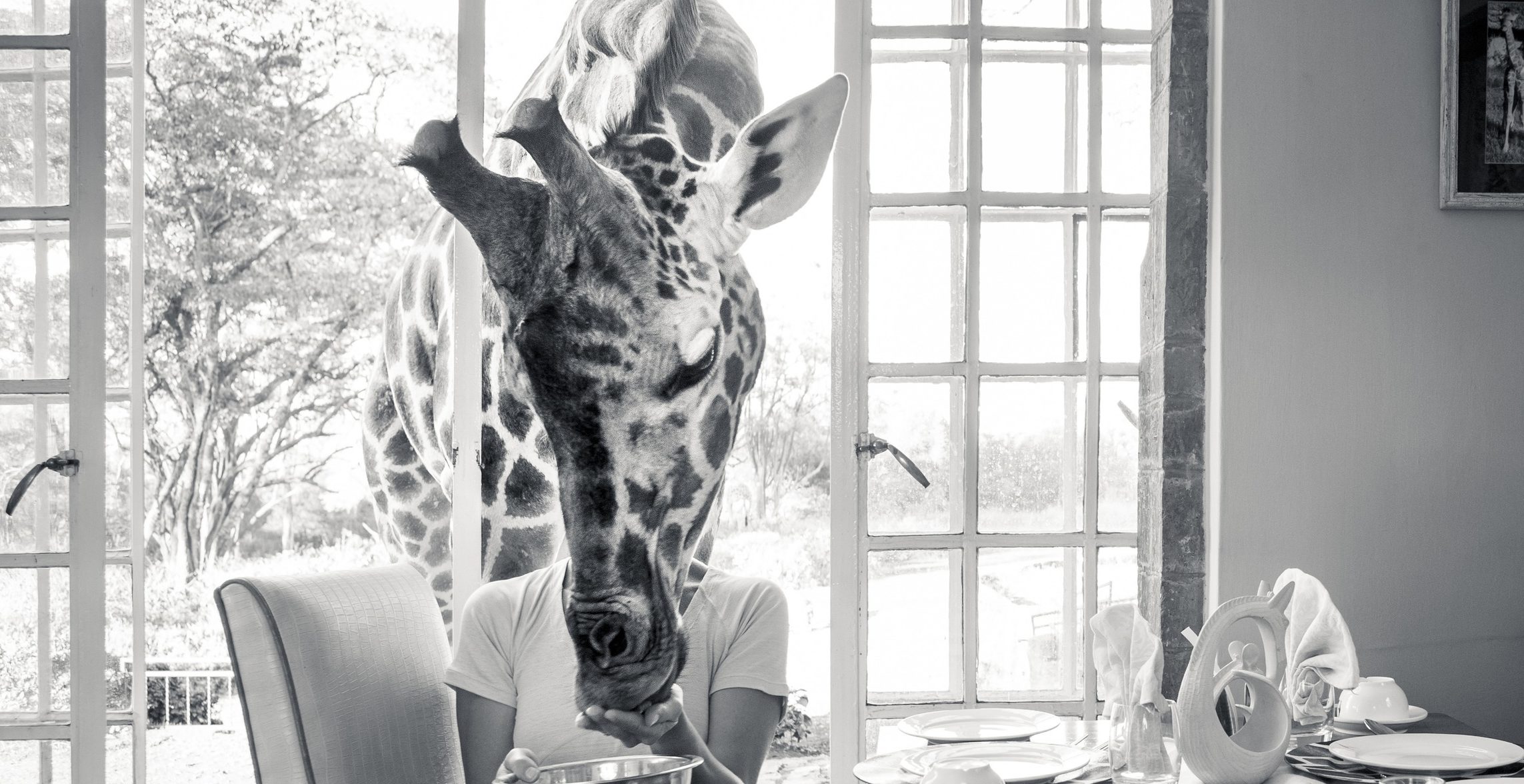 Rooms
Consisting of 6 en suite bedrooms – including two that are easily converted into family rooms, and one furnished entirely by pieces once owned by Karen Blixen – it remains an extraordinary place to stay, and its aging, slightly frayed softer furnishings add to the manor's charm. There is also a good Wi-Fi connection available throughout the property.
Activities
Activities include bird watching, visiting the AFEW centre, being with the giraffes and excursions into the city.
Impact
Conservation 
At Giraffe Manor, a certain percentage of accommodation charge is put towards assisting the African Fund for Endangered Wildlife (AFEW). The African Fund for Endangered Wildlife have set up the Giraffe Centre as a breeding centre for the endangered Rothschild Giraffe, and the Centre has now evolved to operate conservation and educational programs for Kenyan school children, as well as the protection, breeding and re-introduction of Rothschild's Giraffe in the wild.
Giraffe Manor have also made efforts to enhance the survival of rhinos by sponsoring selected rangers to gain training on rhino monitoring in South Africa. This process includes the setting up of a task force to protect and manage the huge population of rhinos in the Solio Game Reserve, a territory rich in these wonderful animals. With an increase in demand for horn, rhinos are under threat more than ever.