I recently sat down with Hannah, one of our resident destination specialists, for a catch up one quiet day in the office at my desk. Whenever I do, I am awestruck, not just by her knowledge of travel and the places she's been, but by her sheer enthusiasm for exploring new places and sharing it with anyone who will listen.
On this occasion, she mentioned her trip last year to Babylonstoren in South Africa. A quick reminder: located in the foothills of the Drakenstein Mountains, 'Babylonstoren', she tells me, clicking through the pictures of her previous visit and pausing on one of a colourful trio of fruit juices made in the famous greenhouse restaurant, 'is one of my favourites'. Of all the places she has stayed, this is quite a claim. Is this any wonder though – this 580 hectare farm encompasses the beauty, wholesome living, and friendliness, that all great properties strive to include, seamlessly.

We continue through the images. Each one, stunning. She pauses on a picture taken from the inside of a human-sized wicker nest with her feet poking out and explains, 'they have these human-sized nests everywhere … I could happily have spent the day here'.
You may have read the previous blog about Hannah's trip and, if not, do by all means. The story was largely focused around the people who live and work there. 'Each person', Hannah reminds me, 'seems to have a stake in the property'. Clicking past pictures of staff coming in from their morning's haul in the gardens, it certainly looks well kept. The pride that staff have in the farm seems to have self-perpetuated and reflected back onto the look and feel of the place with apparent ease.

Hannah and I read through the current menu. Both restaurants – Babel and Greenhouse – include some unique-looking dishes, from handpicked vegetable and fruit juices, to flower salads, made entirely from edible flower heads and petals. Every ingredient of every dish, excluding only the meat, which are bought from nearby sellers, are handpicked in the extensive maze-like garden. Aside from this Hannah tells me:
'I had one of the vegetable smoothies at lunch – the red one. It had, I think, beetroot, celery, ginger and maybe wheatgrass and a couple of other vegetables in it. It sounds horrendous and to be honest I was mainly in it for the novelty– I kid you not though, it was absolutely delicious. So was everything else on the menu'.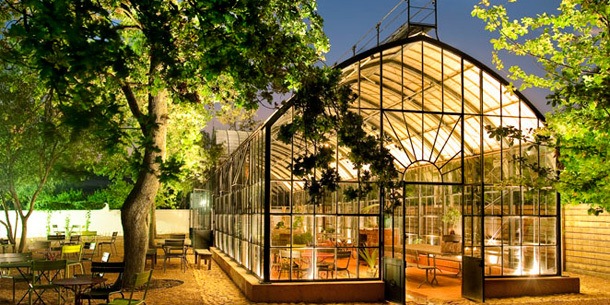 She goes on to say, 'I also had a steak on a decorated cow plate – everything seemed to have been thought through in such fine detail'.
There is an extensive list of workshops that guests can undertake while staying there that largely revolve around horticulture and general wellbeing, including wine and cheese tasting, learning about the importance of bees and top tips for growing most things –herbs, teas, mushrooms, olives and plenty of others. Hannah tells me: 'I could probably spend a lifetime there. Though I didn't feel like I wanted to do everything at once– I was happy to just sit and read in the human-sized nests they have in the garden … there's also a reservoir there you can take canoes out on. You can take bikes out or get involved in yoga, there's a wine tasting session, there's even a maze'.
After my inspired catch-up with Hannah, I read through Babylonstoren's recent newsletter to see what's new. It turns out a number of things have changed. For one, their new collection of suites, 'the farmhouse', has opened. When I read the description and scrutinized the image reel, it seemed to fit easily into the 'well-being' feel of the place nicely, incorporating a new swimming pool, vitality pool, sauna, and salt room. Each room is inevitably decorated in a botanical theme and contains a four poster bed and Dutch-style stove.
Whether it's part of the wine tour I'm not sure, but I do know that Babylonstoren have just released a new Cap Classique wine, Sprankle – I am by no accounts a wine connoisseur, but the basic science behind it seems to make sense – wine bottled, yeast and sugar added, yeast consumes sugar and gives off carbon dioxide. 5,000 of these have been made, so best to get in fast. Is it any surprise that this now seemingly perfect paradise has just come to completion with its new wine tasting room to coincide with Sprankle's launch?
The moral of the story here? Babylonstoren seems like the place to go, but moreover, Hannah knows her stuff. If you're after more on Babylonstoren, or are thinking of visiting, then do give her a call. She doesn't sell holidays. She inspires them.