A perfect balance of frontier and luxury, Nyamatusi is located on the banks of the Zambezi River, in Mana Pools, northern Zimbabwe.
Overview
Nyamatusi Lodge consists of six tented sleeping rooms and a large shared area. The main lodge includes a bar, a large lounge, a number of dining areas, a fire pit, and a pool. With everything from its walkways to the decks and beams supporting the thatched roofs made from local wood, Nyamatusi very much looks the part, the open-fronted style of both sleeping room and shared area giving the marvellous impression of a lodge contiguous with the wild.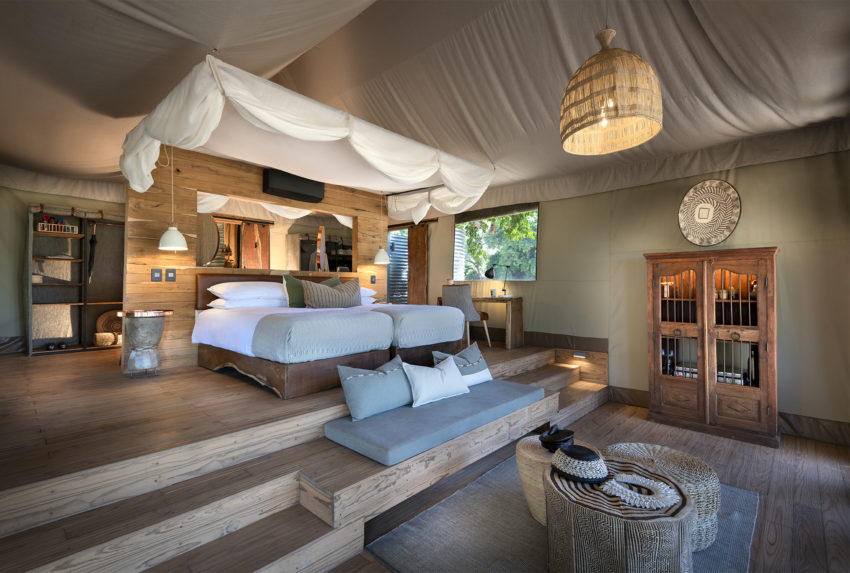 Food & service
The food at the lodge includes: a selection of cereal and continental options for breakfast; either packed or buffet-style lunch; afternoon tea (depending on guest preferences and activities); and a multi-course meal for dinner served with wine from the cellar. The bar is well-stocked and open much of the time – guests can choose what they drink and when they drink it. Please note that Wi-Fi is present throughout and charging stations are available in each room.
Rooms
With open sides and front, and wooden decking leading out into views of the Zambezi and escarpment beyond, the rooms are quite beautiful. Each room is spacious and includes a mosquito net draped over a large and comfortable double bed, a writing desk and wardrobe. The bathroom comes with a double basin, flushing toilet, and shower. The deck is large, with a seating area and a private plunge pool.
Activities
Excursions from the lodge include wildlife drives, bush walks, bird watching and canoeing expeditions down the Zambezi. Wildlife often come past the camp to feed, giving guests the opportunity to relax and watch a very special world go by.
Impact
Conservation
Please note that the camp uses solar energy, which most of the camp's electricity relies on and in an attempt to minimise plastic usage, each guest is given a reusable, stainless steel water bottle on arrival.