34°
0'
41" S
23°
22'
19" E
Owner-run, located in Plettenberg Bay, Eastern Cape, on the Garden Route, Emily Moon River Lodge is a small and beautifully managed luxury lodge.
OVERVIEW
Situated inland, on the south side of Bitou River overlooking wetlands, Emily Moon River Lodge is a stone, corrugated iron and thatch build consisting of a main lodge and 9 sleeping rooms. The main lodge includes reception, a restaurant, bar, veranda and pool(s).
Set in a terraced and succulent heavy garden, the lodge is beautifully thought through, its outside spaces divided between open lawns, pretty walkways and a wealth of shaded seating areas, its interiors characterised by polished wooden floors, open sides and a mix of seating – lightweight, slumber and dining. Marked by arched doorways, animal skins, found skull and horns, intricately carved panelling, photographs framed in stressed woods, a mix of air and the cheek-to-jowl, the style is a fine fusion of African, Arabic and European, the overall feel calm and welcoming.
FOOD AND SERVICE
Feedback with regards to the food and service at Emily Moon has been unreservedly excellent. The restaurant, which spills out onto the main veranda, and looks over the river, is the main lodge's focal point; the tension that can come with serving high cuisine dissipated by a family like atmosphere. A cool little sushi bar provides options away from the three courser. A range of wines, beers, spirits and cocktails are available pretty much anytime of the day.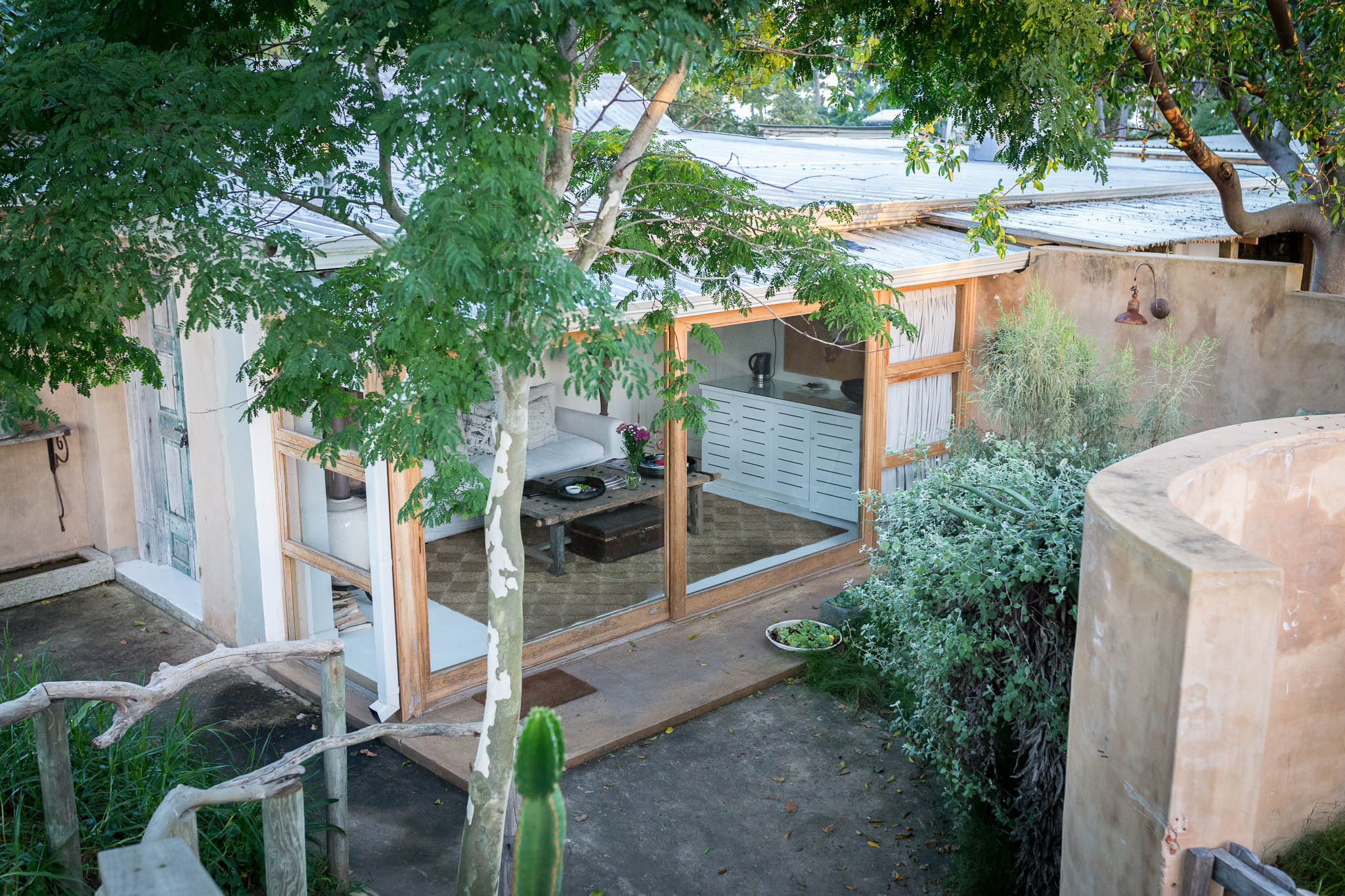 ACCOMMODATION
Unashamedly urban, the sleeping accommodation at Emily Moon presents a sharp and stimulating contrast to the main lodge. Each possesses a double bed, private balcony, en suite bathroom and seating area. Sleek, clean and characterised by white, black or brown, the lines here are much more severe, the comfy sprawl of colour and shape replaced by the mathematics of a carefully placed artefact, a metro-celebration of the object in itself.
While possibly not to everyone's taste, it is different, and exciting. The bathroom's equally fine, a resin encased piece of ultra-efficiency – and beautiful with it. A hugely stylish sleep. The honeymoon suite has two bedrooms and will comfortably accommodate a family of four. Please note that Wi-Fi is only accessible from the Lodge's communal areas.
ACTIVITIES
Activities at Emily Moon include mountain biking, canoeing, excursions to the beach or into town, bird watching and golf.