Operating out of northern Botswana, on a private concession in the northern most reaches of the Okavango Delta, and very much in keeping with the tradition of the old African safari, Footsteps Across The Delta is another piece of original thinking from Ker & Downey Botswana.
Overview
Roughly a 90 minute drive from the local Shinde airstrip, Footsteps is a no frills, yet delightful and highly efficient, tented camp consisting of a mess tent and 3 sleeping tents. The mess area is very simple – bar, seating area, dining table – and the focus here is on creating a family like atmosphere – clients bound together by the shared experience, by the lack of everyday distractions.

Food & service
Key to this ethos is a finely stocked bar, ice, an excellent cuisine and a service to match. Much time is spent outside, dining beneath the stars, exchanging notes around an open fire.
Rooms
The three simple and eminently practical tents have sewn-in ground sheets and twin beds, which can be pushed together to form doubles. One of the three twin-bedded tents can be converted into a family unit that sleeps three. Each tent has its own en-suite bathroom including a wash basin and porcelain flush toilet, the private bush shower is adjacent to the tent and there is a daily laundry service available.
Activities
The activities focus on exploring the concession in mokoros (best from June onwards) and on foot. Seeing wildlife this way is a real treat. The majority of today's safaris are spent in vehicles, so the chance to stretch one's legs and strike out across the plains is a delight.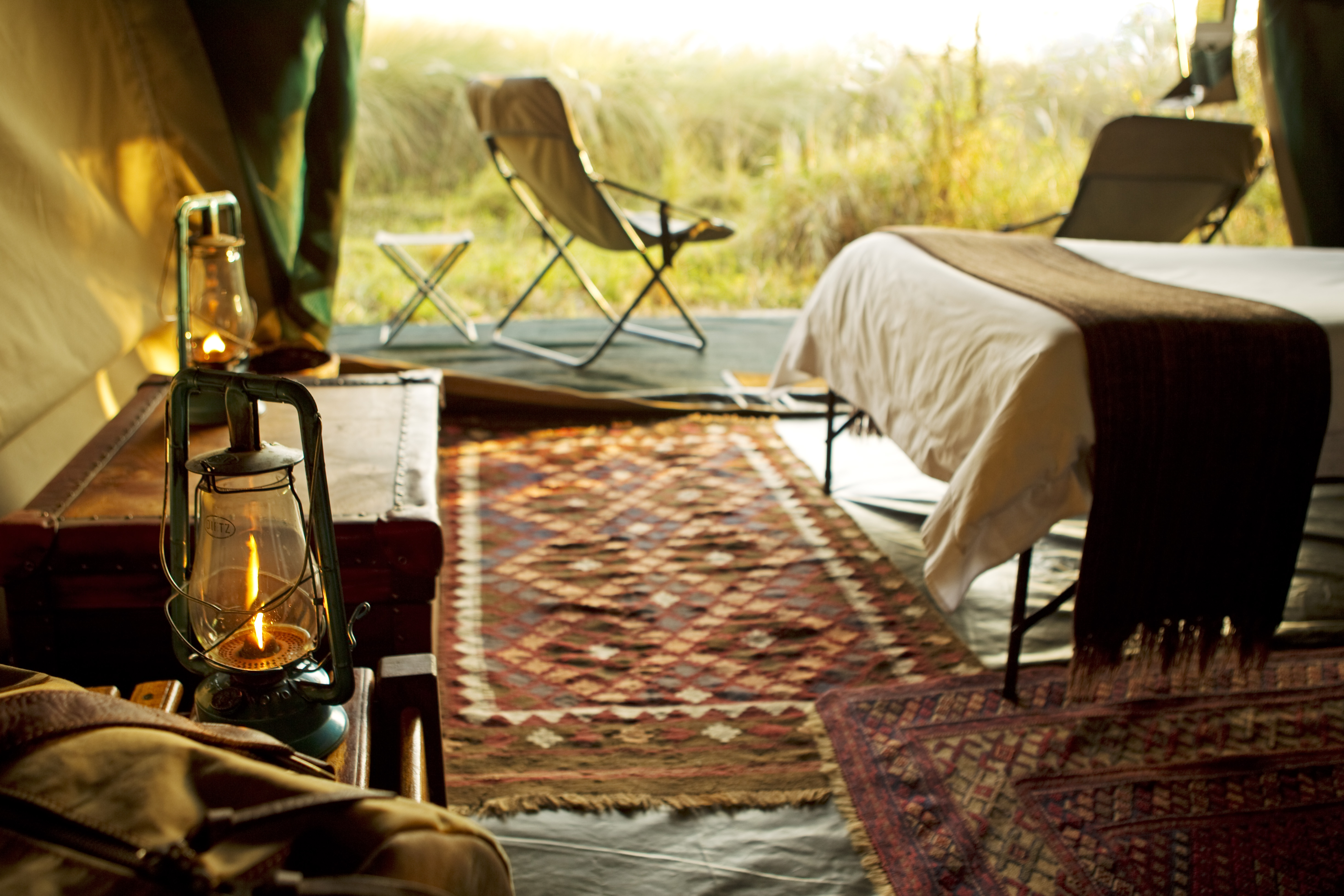 The walks are designed to highlight the aspects of safari that the vehicle often drowns out – sound, smell, spoor and subtlety. Walking is about exploration and discovery, and suits all ages. Please note: Footsteps camp is also host to a Young Explorers Delta package, which focuses on children as young as 7.
The set up at Footsteps has little to do with extras and amenities found in of many of Africa's lodges and hotels, so please be advised that those in search of gold tap luxury will be disappointed. If, however, you are looking to escape the crowds, and want to visit a part of Africa rarely seen, then we cannot recommend Footsteps Across The Delta highly enough.
Impact
Community
As part of its social responsibility programme Ker & Downey Botswana supports Bana Ba Letsatsi who run a centre that supports over 250 vulnerable, at-risk and orphaned children and youths. Bana Ba Letsatsi was registered as an NGO in 2004 and has grown every year since, offering more help to children in need. The organisation is now able to provide the kind of care that every child should receive – clothes, food, showers, counselling, medical attention, haircuts, education, games and training, as well as meeting any additional requirements.
In 2009, a relationship with Ker & Downey Botswana was developed. They chose Bana Ba Letsatsi as their preferred charity to support in Botswana, creating a safari package in their name whereby Bana Ba Letsatsi receive a percentage every time this safari is sold.