Safari is definitely not just for grownups! It's a truly wonderful thing to do with families, with kids of all ages. Throughout Africa, there are some superb family friendly camps and lodges. However, on the whole South Africa and Kenya tend to cater the best for families, primarily because they have a number of malaria–free safari areas with a wide range of activities. 
I have just spent a superb week on holiday with my husband and six-year-old daughter, Ella, in Kenya. My husband and I have been fortunate enough to go on safari many times, but this was the first time with Ella or any child. I was a little bit worried that she was too young, but if you pick the right places then it can be perfect. We stayed at Lewa House and El Karama Lodge in Laikipia and Saruni Samburu Lodge just outside Samburu National Park. The lodges were all superb, and I was blown away by the warmth and attention of the staff – especially towards our daughter.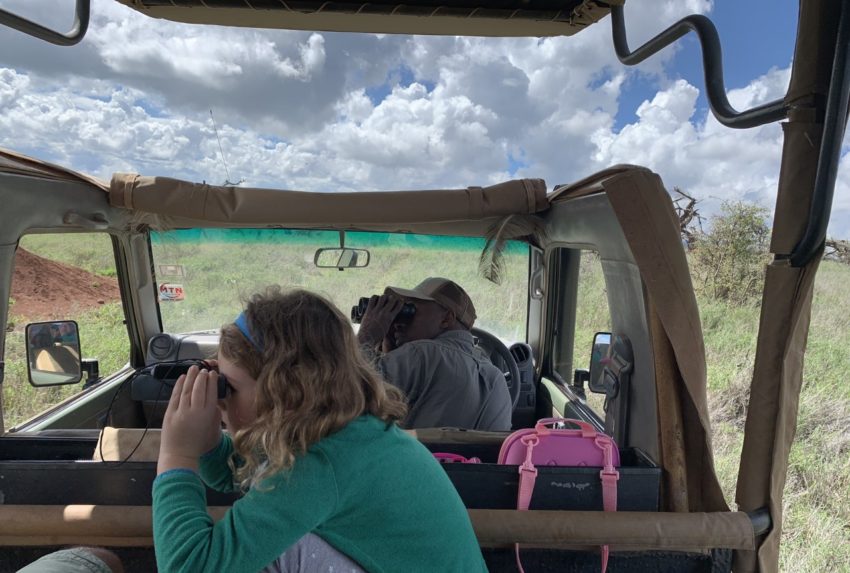 Small and incredibly beautiful
Our first port of call was Lewa House. A beautiful small owner–run lodge situated in the Lewa conservancy, in Laikipia, Lewa House is like staying in someone's luxurious home. Beautiful lawns, overlooking the plains with Mt Kenya in the distance. We saw tonnes of wildlife here, including cheetah, lion, leopard, elephant and a ridiculous number of rhino. One of the great things about Lewa House is you automatically get a private car – a godsend when you have a totally overexcited six-year–old! It means you don't have to worry about what other guests think, and you can relax and enjoy the wilderness as a family! Not all lodges do this, but if you are travelling with families, it really is worth paying the extra for a private car.  
Back home, I asked Ella what her favourite things were about her stay at the lodge, and her list included: being charged by a rhino (not mum's favourite moment!), tracking a pride of lions, following a male cheetah, being woken up with hot chocolate, crab fishing in the stream with our guide, running around the lawns with Tinker their dog, the swimming pool, and the tree swing. My favourite things were seeing the sheer joy on her face the first time she went on a wildlife drive, watching a rhino at the watering hole whilst I was having a shower, and the freedom that Ella had to run around the lawns, with zebra and elephant grazing in the distance. It's activity heaven.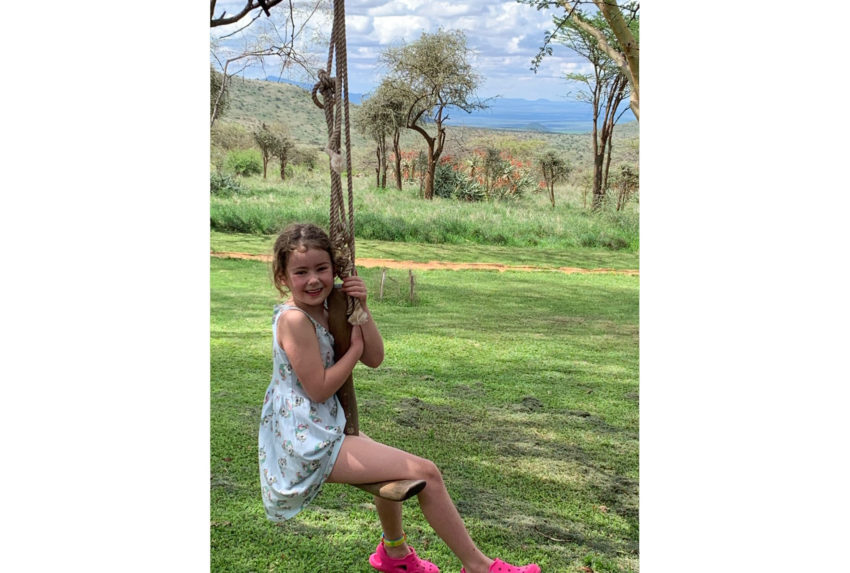 On being a warrior
Our next stop was Saruni Lodge in the Kalama Conservancy, in Samburu National Reserve. Saruni is jaw–droppingly beautiful. I would come here for the views alone. The lodge itself is small, with beautiful rooms, all with their own wonderful views. The staff are exceptional – superb, warm and friendly – and like Lewa can cater for all. Again, we had some wonderful wildlife viewing, especially in the national park.  
Ella's favourites included the snorkelling baby elephant, finding the lion cubs playing in the river, tempting a scorpion out of its hole whilst on our walking safari, learning about tracking, how to fire a bow-and-arrow from our wonderful Samburu guide, and, of course, the swimming pool. My favourite bits were seeing how our daughter totally engaged with the guide, getting out of the car and walking in the bush, having hot chocolate around the campfire at sundown and, yes, the snorkelling elephant! Like Lewa, Saruni have a range of activities, one of which includes warrior school, where kids can learn bush skills from the Samburu warriors. There's nothing quite like it.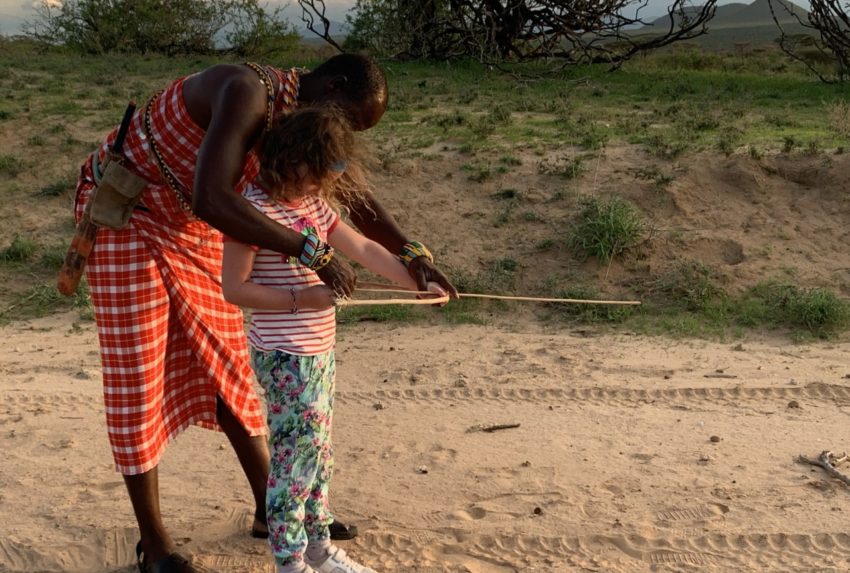 A home away from home
For our final days, we stayed at El Karama Lodge, a small eco-friendly lodge situated in the heart of Laikipia. Like Lewa House, El Karama is owner-run and feels like staying in someone's home in the bush. Whilst not quite as luxurious as Lewa House or Saruni (the price reflects this), the rooms were extremely comfortable, especially the River cottages, where we watched baby hippos frolic from our veranda. The food was excellent, fresh and home grown. Most importantly, the staff were incredible. They couldn't do enough for us and out of all the camps, this lodge was particularly geared towards kids, especially Ella's age, engaging them as much as possible.  
Ella's favourites at El Karama Lodge: tracking a male lion on a night drive, seeing a bush baby, setting up a camera trap over a watering hole, making chocolate brownies with the other kids in the camp kitchen, collecting the eggs from the farms chickens, feeding the baby rabbits, a hot water bottle in bed, and – dare I say it! – the swimming pool. Mine: our walking safari in the morning with wonderful bush breakfast, tracking the male lion, and Ella being away first to make plaster casts of the male lion's footprints and then to go cat fishing in the nearby stream with some other kids! Magic!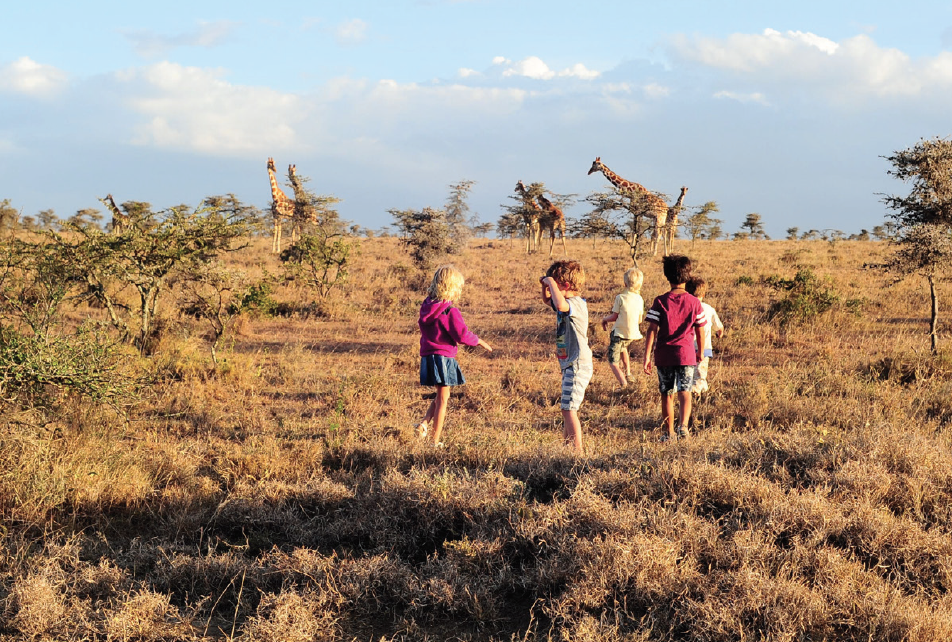 And there you have it: a snippet of the superb activities available for families throughout Kenya. I should say that all three lodges cater to all ages, and as much to adults as they do children. We had a superb time. I hope we can go back soon, when Ella is a bit older, and able to experience even more. I only wish I was a kid again!  
If you would like to know more about family travel to Kenya, please do get in touch. Fiona would love to chat.