I just sat down with Paul, one of our resident destination specialists to catch up after his trip to Tanzania on a warm Friday afternoon. The meeting was put off, however, after Paul politely suggested that we'd have a better time off the back of a beer or two. He was right.
Much like Hannah, Paul's passion about the things he has seen, done, eaten and drunk is surpassed only by his adeptness in sharing and explaining the pros and cons of any of these – be that the Greek takeaway around the corner or tracking chimps through the Mahale jungle. This time it was the latter.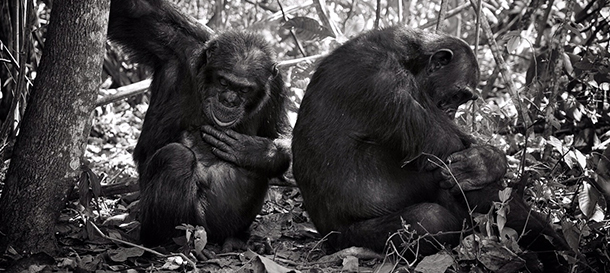 So, to Paul's most recent trip. Paul's itinerary, which started in Selous, was followed by Kigelia Ruaha, then Chada Katavi and finished with three nights at Greystoke Mahale.
'Mahale blew my mind. That's not to downplay any of the others, which were also amazing, but I've never done anything like this before. The combination of staying on a beautiful white sand beach and then popping into the forest behind to see chimps was just perfect.'
Greystoke lies under the gaze of the Mahale Mountains National Park, which makes up part of the Albertine Rift and, as well as being home to one of Tanzania's only chimp populations, lays residence to the Tongwe people, who are thought to have migrated from the Congo Basin across Lake Tanganyika a thousand or so years ago.
'We went into the forest on all three days I was there. The first day Primus, 'the daddy', was there – he's pretty sedate and so were all of the other chimps. Similar thing on the second day. On the third Primus wasn't there, but Orion, one of the contenders for alpha (male status), was; he is one scary guy.'
Chimpanzees live in large communities, within which a hierarchy can be formed according to the influence individuals have on other members of the group.
'While we were there Orion was running around shaking trees – and these were big trees – screaming at the top of his voice and drumming on buttress roots that you could hear echoing. When I tried it, it sounded like a dull thud…and he would come full pelt at you and stop just short before stopping and changing direction. He's not the worst though; the alpha male before Primus apparently got stoned to death by the group in the end because he was so bad.'
Orion's bravado aside, it's not necessarily strength of an individual that makes a dominant male, but the most manipulative and political. Studies have shown male chimpanzees making allies with other chimps – befriending and manipulating them – before attempting a coup. I think back to our time with Ape Management where we learnt that chimps are the only apes that recognise themselves in the mirror, so like us have an idea of how they are perceived, a skill that gives the ability to empathise as much as trick and manipulate. Indeed, chimps share 96% of their DNA with us – there's ten times more of a difference in the DNA between mice and rats.
Paul's trip wasn't all about chimpanzees. The Mahale forest is set alongside Lake Tanganyika, the second largest lake in the world by volume, containing 18% of the Earth's available freshwater. It also contains more endemic species than any other lake in Africa. Part of the itinerary took the more adventurous guests onto the lake for a boat trip to catch perch.
'The food was so fresh – we had sachimi and ceviche – a Peruvian style of part-cooked fish. The guides really knew what they were doing. And the water was so clear. We ended each sweaty trek in the forest with a swim off the side of the boat – so refreshing.'
Paul is a sales expert, not only due to his rather annoyingly broad and deep knowledge of a lot of things, but also the ease of his demeanour and longing to share life's enjoyment with whoever will listen; this is a common denominator in our sales team. If you're thinking of visiting Tanzania do call – the conversation alone will be worth it.
Wild Philanthropy offers itineraries to Tongwe land that includes fly camping under the Ntakata forest as well as a few nights at Greystoke for some R&R. Example itineraries available on request.
Images by Paul Callcutt.