We often eat out as a team and on Wednesday evening, when Hannah announced that a friend, freshly returned from Zanzibar and mainland Tanzania was putting on a pop-up restaurant with a menu inspired from their trip, we thought we'd take it for a spin. So after work we strolled over to the Dorset Arms where we were hosted by Kitgum Kitchen's chefs, Fayaz Amlani and Susie Bates.
The menu was minimalistic with two starters and two mains, one for meat-eaters, one for veggies. I went for the veggie and had no regrets. First off, a spicy veg and potato samosa served with cassava chips and tamarind sauce. This was followed closely by the 'wali na maharage and mchicha with paratha', which is basically a rice and bean stew served with a curried spinach and flatbread. The inspiration behind the recipes, they told me, was this:
'We ate the bean and rice dish – from the veg main – in both Dar es salaam and Matemwe, on the east coast of Zanzibar. It's a common dish out there, it wasn't hard to find – each time it was slightly different, but always delicious. Our hot sauces were made using Pili Pili mbuzi, which we also discovered on the trip. We met a lovely local woman called Fatima in Matemwe, who showed us her recipe, which we used as inspiration'.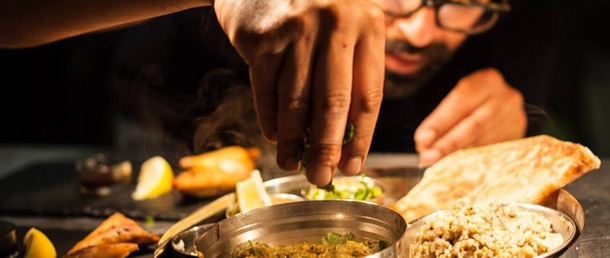 Interestingly, apart from bringing about memories of Zanzibar and East Africa, I also picked up hints of my time spent in the Arabian Peninsula. I assume this is down to the cultural influences that make up East African cuisine today: Zanzibar itself has been occupied by different people groups over the last few thousand years, including during the Bantu expansion and others from Europe and the Middle East. With this in mind, the flavours were spot on. We ate, reminiscing of good times gone by in this part of the world.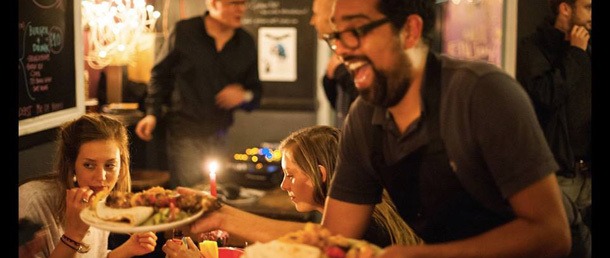 Both Brighton and food being two things very close to our hearts, we often eat out as a team. For a small city with a population of roughly a quarter of a million, Brighton and Hove has an enormous variety of places to eat – mostly independent. We are seriously spoilt for choice here. Susie and Fayaz have more pop-up ideas in the pipeline and in mid-March they'll be running a stall in the heart of North Laine – an area set in a dense network of narrow streets prided on its street art, second hand record stores, independent cafes and curiosity shops among other gems. If you're ever in Brighton, do pop along.