"We lived at the foot of the Ngong hills, in Karen Blixen country. Leopard would lie on the roof of our house, their tails hanging down over the eaves. It was a special playground."Will Jones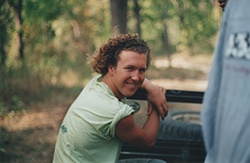 Will Jones created Journeys by Design to give others a chance to experience the Africa he knew as a child. By the time he was thirteen, he had lived in Nigeria, Ethiopia, Lesotho, Kenya and Sudan, moving with his family every few years following his father's work for the UN. Will, who now lives in the seaside city of Brighton, UK, with his three children and his doctor wife Laura Marshall Andrews, (founder of the Brighton Health and Wellbeing Centre), returns to Africa at least five times a year to recce new locations, accompany clients and explore the wilderness with his family.
Wild At Heart
"I need Africa," says Will. "Laura understands that."The husband and wife team met at Southampton University where Will was studying environmental science and Laura medicine. "Laura is dedicated, motivated and wants to make a difference. She positively encourages me to travel and it is that that makes our relationship really work. I find it humbling the way she lets me go."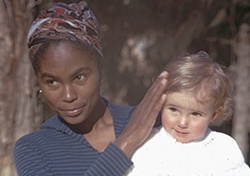 Will's peripatetic African childhood was followed by a five-year stint at the famous military public school, Wellington College. He has worked at Tsavo National Park in Kenya, made a photographic study of tigers at Kipling Camp in India, researched wild dogs in Tanzania, and set up Ethiopia's first eco-tourism project, living in a tent on the eastern shore of Lake Langano for three years, sharing the forest with colobus monkeys and silvery-cheeked hornbills. His broad experience combined with fifteen years in the travel industry has generated a broad contact list of pilots, explorers, conservationists, writers, lodge owners, farmers and tribespeople across Africa. Will devises bespoke adventures around these characters, employing them to guide you. It is these people, whose lives have been shaped by Africa, as Will's has been, who will help you build a relationship with the vast, troubled, mesmerizing continent that they love.
The Spaces in Between – Caroline Jones
Will's sister, Caroline, has just published her story, 'the spaces in between'. Largely focusing on their seemingly idyllic childhood — spotting leopard and rhino on the way to school and swimming in vast lakes with hippos at the weekend — it also tells of the challenges three children faced, constantly being uprooted and eventually leaving their beloved home behind that, for Caroline, manifested itself in a 14-year long battle with bulimia.
This story uncovers their heartbreak of leaving Africa and passion that continues to drive them back. Hugely recommended for anyone — particularly those with a further interest in the ideas and underlying ethos behind the company — the seed that eventually grew into Journeys by Design and Wild Philanthropy.
To order a copy or, for more information visit our blog page.
Wild Philanthropy Travel
Will believes in sustainable tourism. He has realized that more and more people are looking to travel responsibly. With JbD, you know that you are contributing to wildlife preservation and the local community whilst you are enjoying the trip of a lifetime. Building on this ethos, Will has set up a new tranche of JbD, Wild Philanthropy Travel, to advise clients on how to invest in the future of African wildlife. WP is an agency, connecting high-net-worth individuals with projects and communities that need investment and development. "Laura and I have bought a plot of land in Kenya. When our youngest child reaches university age, we plan to go back, to work on the ground. Rather than being an English guy running a business based in Brighton, I want to return to Africa and get some grit under my nails." Will sees JBD as the engine room for Wild Philanthropy Travel. "The wilderness is disappearing fast and I want to be part of looking after that natural world. This is the work that makes my soul sing."
Further Viewing
If you'd like to speak to Will Jones, email will@journeysbydesign.com or arrange a call back with one of our destination specialists by getting in touch: