Having recently returned from a walking safari in Tigray, Ethiopia, I am convinced of two things: one, walking really is good for the soul; and, two, it generally works best when done in the company of friends and family.
My particular walk, through the northern valleys of Gheralta, has only been open for two years. I went with my father, and with Mike Carter, from the Financial Times. Given the fact that I spent a fair amount of my childhood in Addis Ababa, and that this was probably the last time we would get the opportunity to travel extensively together, visiting Ethiopia with my father was always going to be a poignant moment. I had no idea how.
First, the obvious. The northern highlands of Ethiopia are extraordinarily beautiful country. The route itself took us through a series of hidden valleys, over mountainous plateaus known locally as 'ambas', down ravines, along streams, across hillside fields of barley and into village groves orange and lemon. The villages themselves, wholly populated by the Semitic speaking Tigray people, are wonderful. I loved the houses, the cultivated fields, the levels of organisation, as evidenced by everything from church ceremonies to building practices to daily routines. Wherever we went, and wherever we stayed, we were made to feel like honoured guests. Old, rural and deeply religious, being here is like walking through the bible.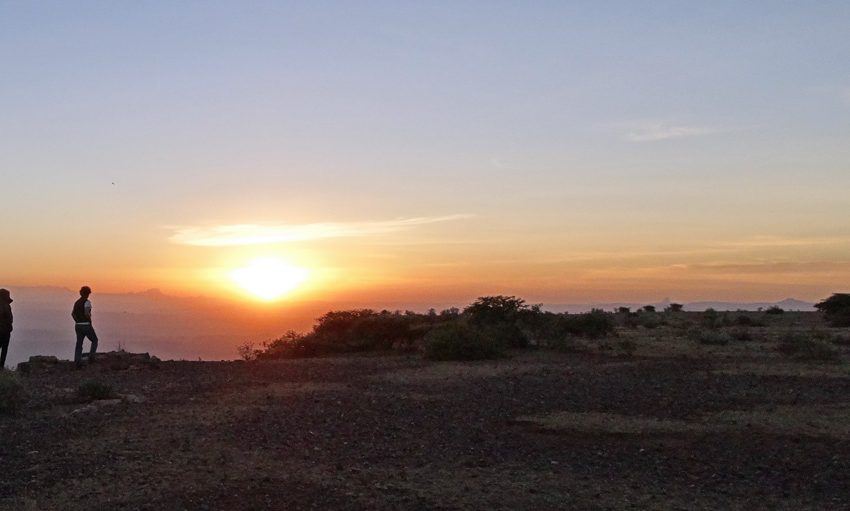 Less predictable, however, was the effect that all this beauty (and the effort it took to experience it) had on me, my father and on Mike Carter. The experience of walking – daily, and for reasonably long stretches, through land very different to home – makes for a rare form of shared contemplation, one that is mostly unspoken, that enjoys periods of silence, and that, rather than feel permanently awed by the experience, gradually becomes a part of it. In essence, we were journeying into ourselves, into our histories, our memories, shared or otherwise.  To do so with my father was a privilege.
Walking is a great enabler. And walking the highlands of Ethiopia is spectacularly enabling. I would recommend it to anyone of reasonable levels of fitness – and that you take someone special.