Ruckomechi Camp is well known as a classic by the safari community. Very distinctive in its arrangement along the banks of the Zambezi, in a secluded private concession within Mana Pools National Park, it's one of Zimbabwe's very best camps.
Overview
Designed and built with sustainability and minimal impact in mind, Ruckomechi looks almost like a feature of the landscape, unobtrusive and incorporating local materials and crafts. The main area comprises a very comfortable lounge, a bar, a library and a large dining area where the camp's excellent and varied cuisine is usually served.
Outside there are stargazing loungers, an infinity pool and even a very charming mini-pier or jetty on which to relax. Positioned in and among acacia and mahog-any trees, the decor is comfortable and clean yet has an authentic feel dominated by dark wood textures, canvas and rugs.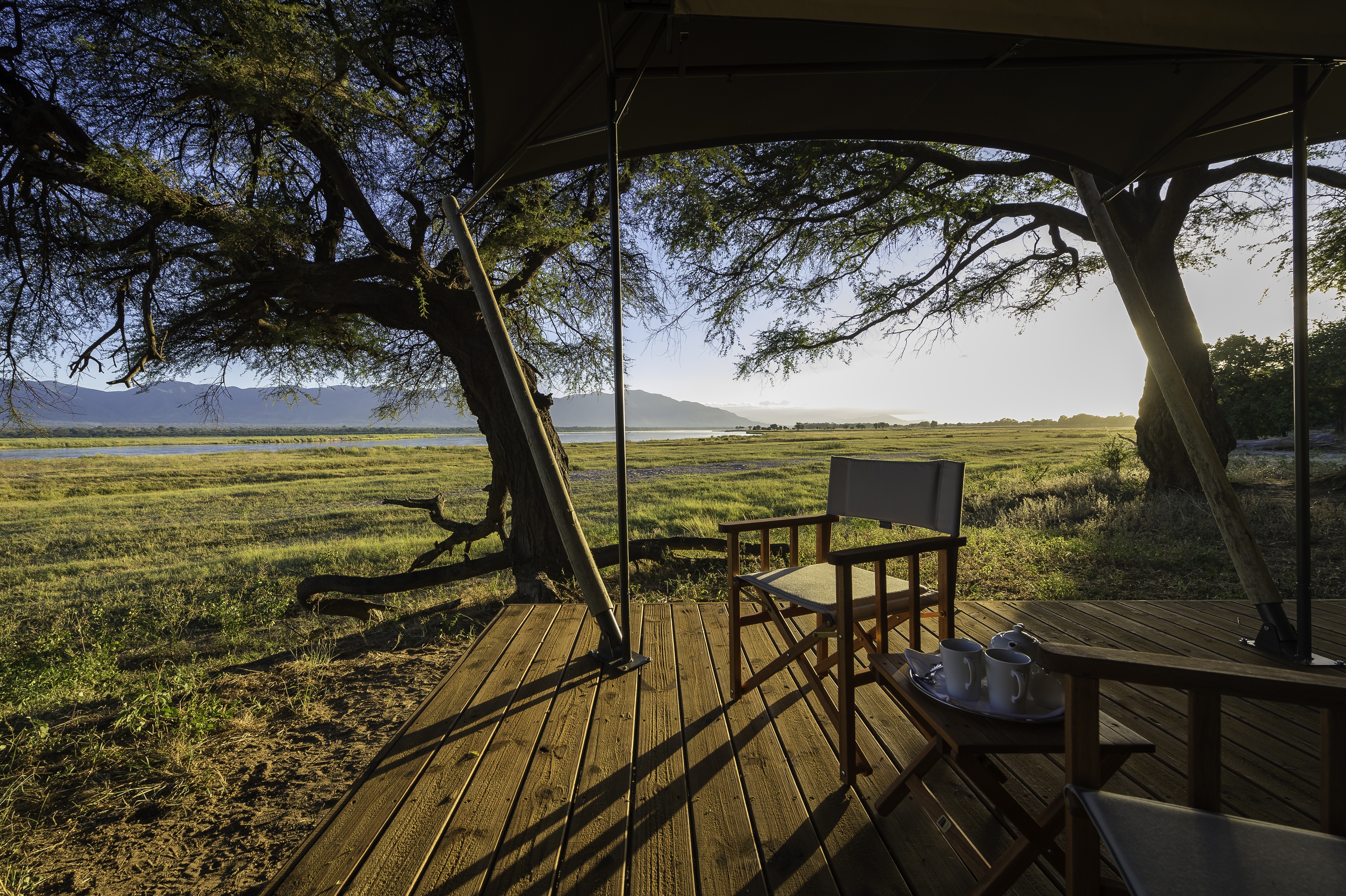 Food & service
The food at Ruckomechi is outstanding and varies from European continental to traditional Zimbabwean, wholesome to fine dining. All locally sourced and alongside an ample selection of wines beers and spirits as well as soft drinks, each meal can be taken indoors, by the pool, out and about on an excursion, or simply on the verandah next to the Zambezi River, watching the wildlife go by with panoramics of the Zambezi Escarpment in the background. The service at the lodge is a true example of Zimbabwean hospitality at its best. 
Rooms
There are ten chalets at Ruckomechi Camp, all spread out along the river. They are connected to the main area by low wooden walkways. Each has a veranda, with French doors that lead into living quarters where guests will find comfortable beds covered in crisp linen, decorative local crafts and wares, a work-table and a spacious en-suite bathroom with indoor and outdoor showers and a large sink.
The walls can be rolled back for a breeze and to maximise the view. Included in the ten chalets are two honeymoon suites, with outdoor baths, and a family chalet that includes an extra bedroom and bathroom.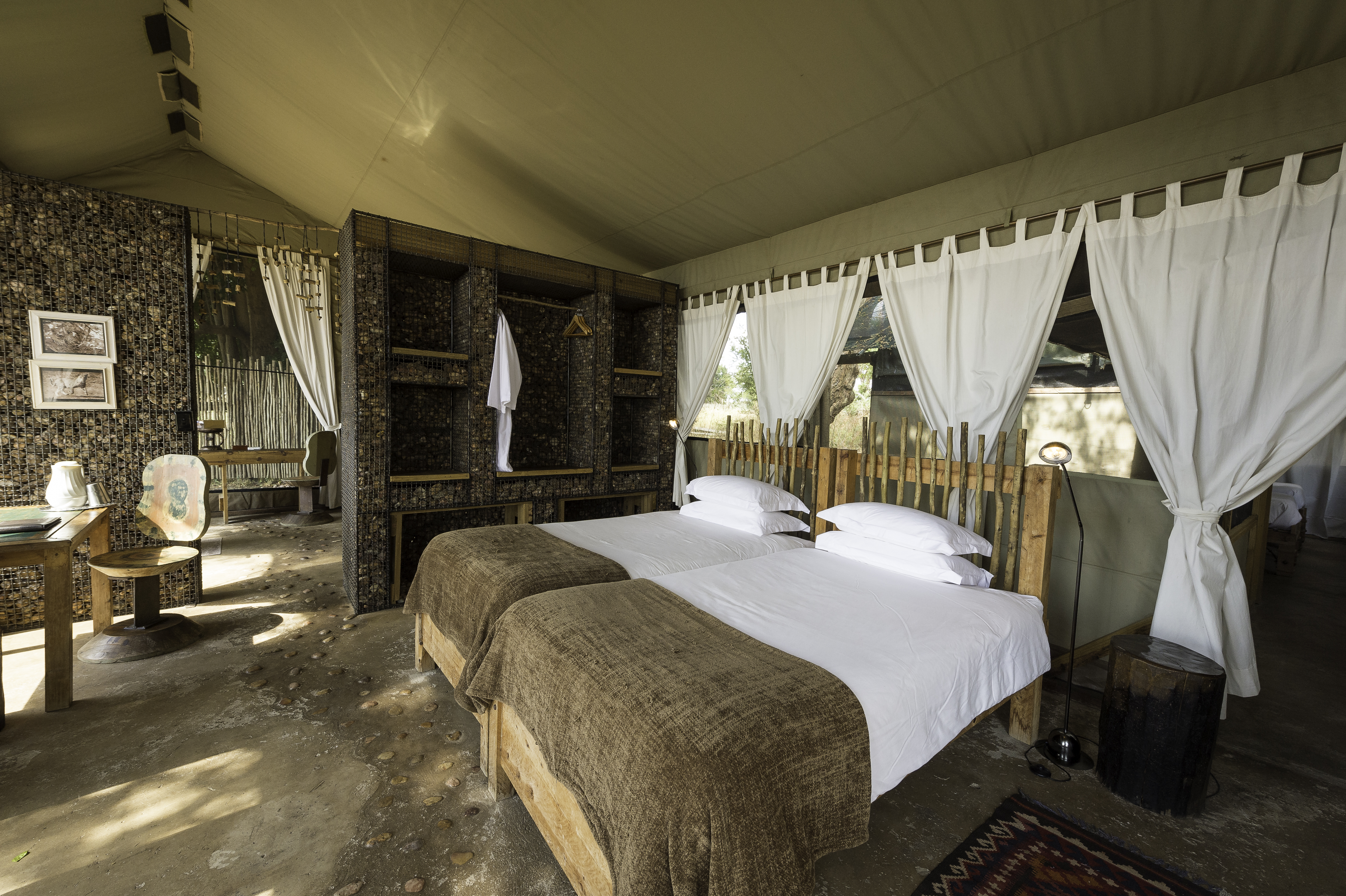 Activities
Ruckomechi offers all the usual safari options (wildlife walks and drives etc). While it should be noted that expeditions from the camp are restricted to its concession, its position next to the river allows for a really unusual range of water-based activities, which more than makes up for it.
Impact
Conservation
The Wilderness Trust has funded numerous wild dog research projects, with the aim of establishing an accurate population estimate. These projects have also examined the possible spread of disease to this critically endangered population from domestic dogs. Ruckomechi has as well assisted in collecting data for Zimbabwe's Cheetah Conservation Project, which carried out population surveys to find out where cheetah occur, their population sizes and the challenges they face in Zimbabwe.
The camp is also powered by a hybrid system, combining a diesel powered generator that charges a bank of batteries which in turn supplies part of the camp with electricity through an inverter. Thanks to this, the generator only needs to operate for eight hours a day. In addition, each guest tent has its own small solar panel and inverter to power LED lights as well as a solar-powered geyser to provide hot water.