Positioned in a private concession bordering Zimbabwe's Mana Pools National Park, within sight of Zambezi River, Little Ruckomechi is a picturesque camp which offers guests a fine selection of home comforts and wildlife sightings.
Overview
Opened in July 2016, and operated by the esteemed Wilderness Safaris, Little Ruckomechi's eco-friendly mindset, alongside its excellent service, denotes a camp fully at ease with its illustrious surroundings.
Characterised by the overhanging albida trees that populate the concession, the camp is a raised wooden build, and possesses four airy en suite tented chalets, a dining room, lounge, firepit and plunge pool.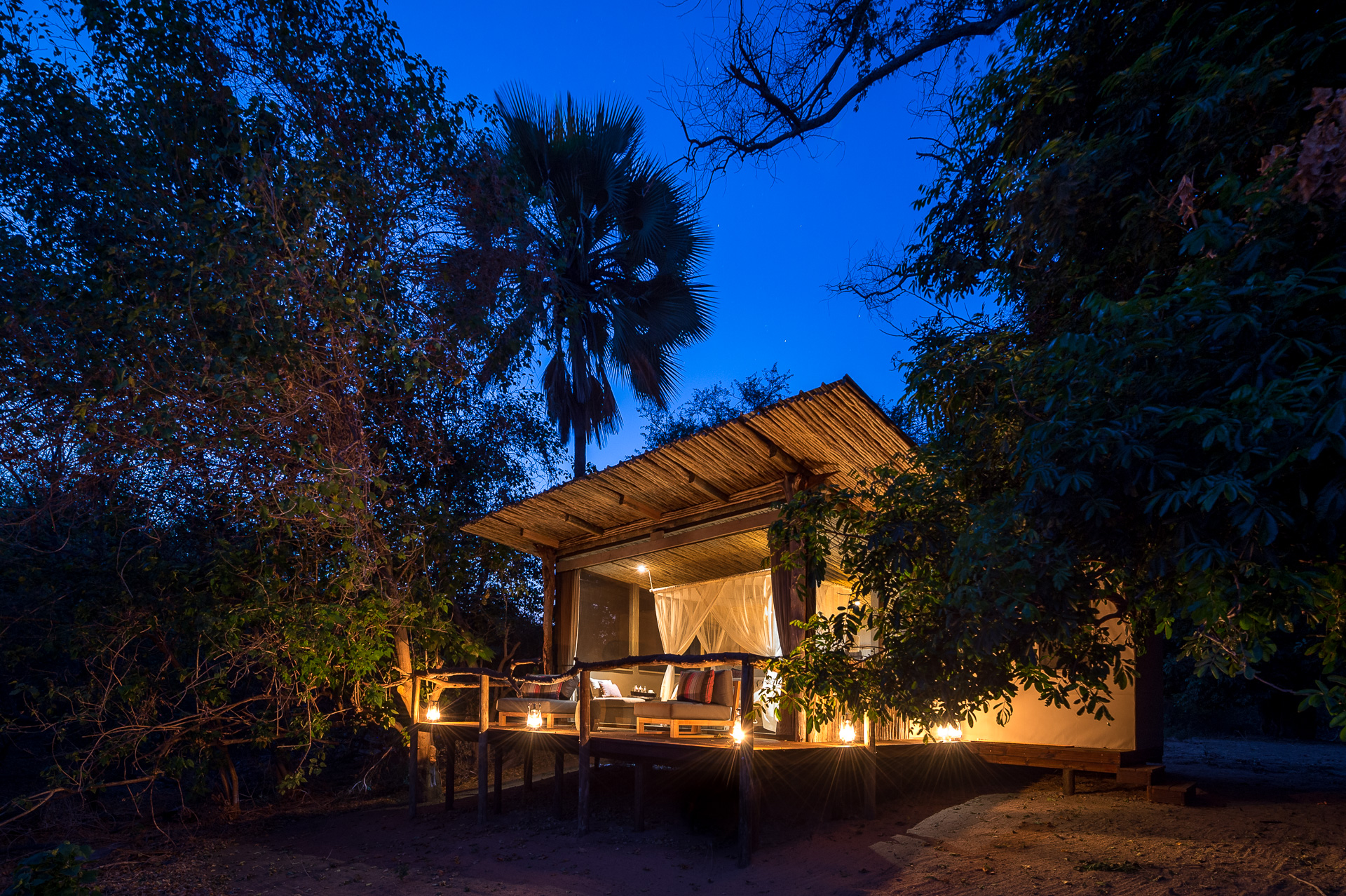 Food & service
The food is a delight – don't be startled if a wandering elephant attempts to share your main course – and the service is welcoming and friendly across the camp. Lunch and dinner is served communally at an elegant table which overlooks the flowing river.
Rooms
The four raised chalets have a spacious, sophisticated feel. The king-size/twin beds are encircled with pieces of useful wooden furniture – a wardrobe and writing desk stand out – and an electric fan cools the room from the ceiling.
The large bathrooms – powerful hot shower, washbasin and flush toilet – have enough space to sit; they really are that vast. A private decking with chairs to observe the local wildlife completes the fine the bedrooms.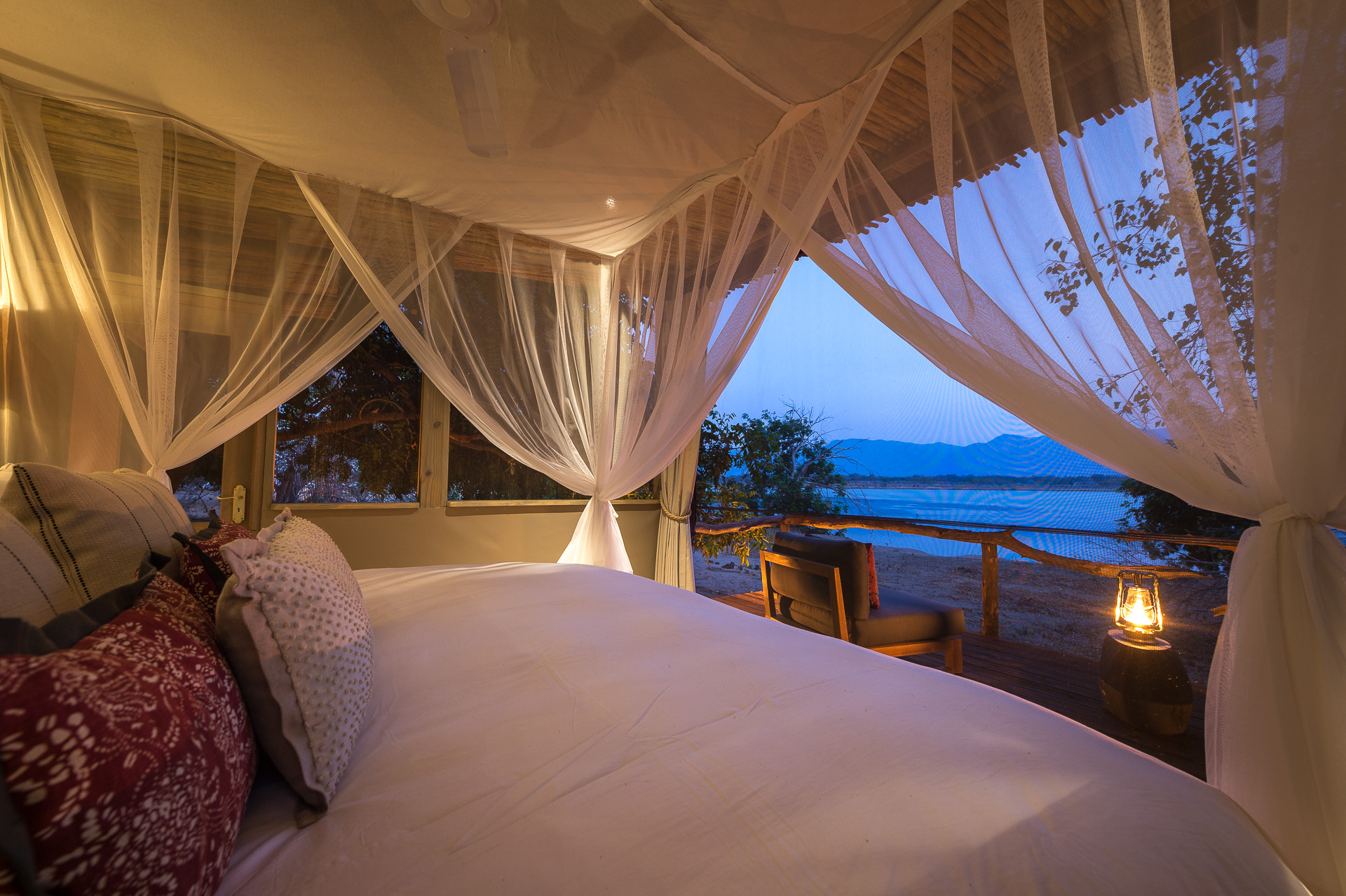 Activities
Activities at Little Ruckomechi are legion, and include day and night wildlife drives – a major bonus of existing in a private concession – bird watching (Lilian's lovebird, Böhm's spinetail and Meve's starling are commonly sighted) river cruises and nature walks into Mana Pools. Catch-and-release fishing is also possible – and recommended – although please note there is an additional cost to hire boats, subject to their availability.
Impact
Conservation
The Wilderness Trust has funded numerous wild dog research projects, with the aim of establishing an accurate population estimate. These projects have also examined the possible spread of disease to this critically endangered population from domestic dogs. Little Ruckomechi has as well assisted in collecting data for Zimbabwe's Cheetah Conservation Project, which carried out population surveys to find out where cheetah occur, their population sizes and the challenges they face in Zimbabwe.
The camp is also powered by a hybrid system, combining a diesel powered generator that charges a bank of batteries which in turn supplies part of the camp with electricity through an inverter. Thanks to this, the generator only needs to operate for eight hours a day. In addition, each guest tent has its own small solar panel and inverter to power LED lights as well as a solar-powered geyser to provide hot water.
Community
Wilderness Safaris supports Children in the Wilderness, a programme which provides educational life skills and environmental awareness for children who live in villages close to conservation areas. At this moment in time (2018) CITW has benefited over 10,000 children from seven African countries.