Located in south-eastern Zimbabwe, in the private Malilangwe Wildlife Reserve, owned by the not-for-profit Malilangwe Trust, backed by Paul Tudor-Jones (of Grumeti lore), and managed and marketed by the SA based Singita Reserve team, Singita Pamushana Lodge is a luxury lodge of the highest order.
Overview
Sited in a mopane forest, on a bluff overlooking Malilangwe Dam, Pamushana is a wood, thatch and stone build consisting of a main lodge and 6 suites and a 5 bedroom villa. Set in a garden, the shared areas include a dining room, lounge, library, wine cellar, bar, veranda and pool.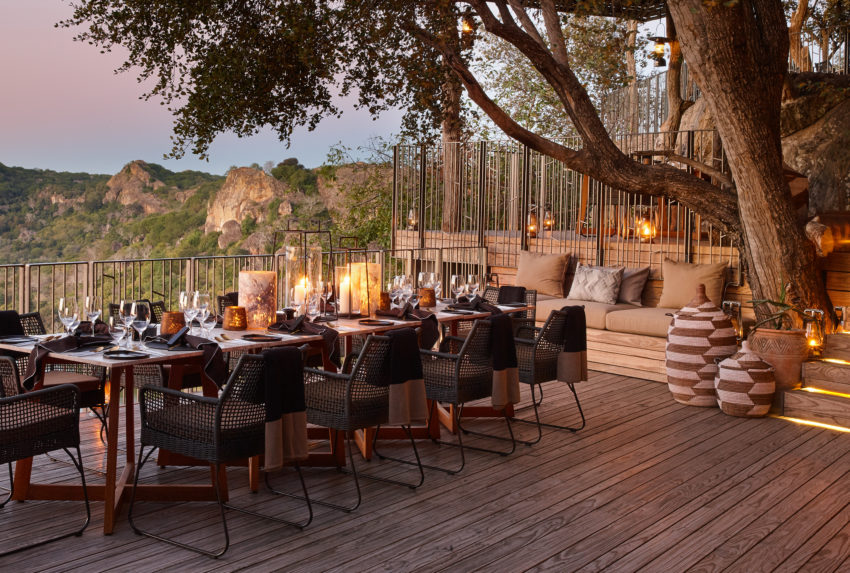 Open-sided, characterised by an open-brick chimney breast, polished floors, exposed beams, a mix of lightweight and slumber seating, carvings and idiosyncratic tables, the lounge and bar area is a beautifully designed zone, the overall feel cool, African, welcoming.
Food & service
As with all Singita managed properties, the food at Pamushana is excellent, the service perfect.
Rooms
The suites vary in size: 4 X 1 bedroom, 1 X 2 bedroom, 1 X 3 bedroom. Each of the 1 bedroom suites includes a double bed, seating area, separate bathroom, extensive decking and plunge pool. It's interestingly styled; a successful splicing of traditional African throws and other African objects with artistically designed lamps, polished floors and the same open-brick facing makes for a colourfully chic look.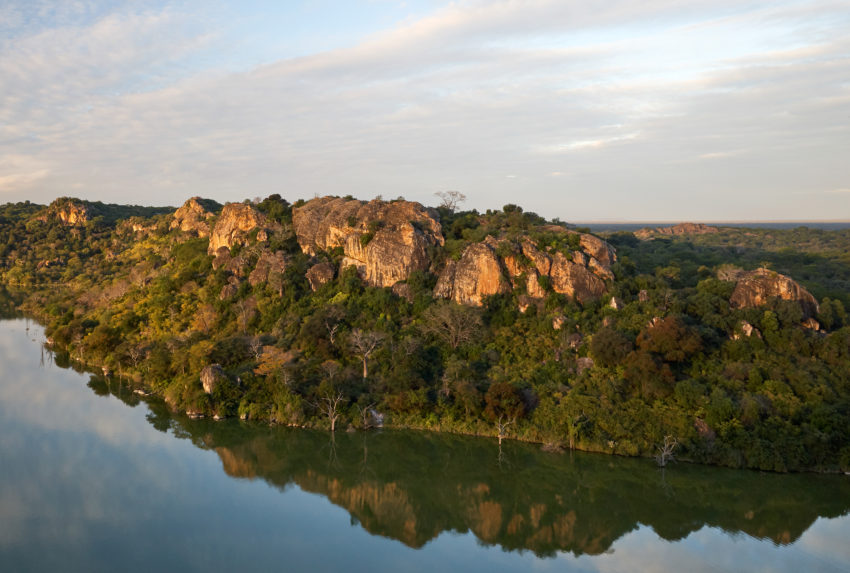 The bathroom includes a roll-top bath set in a dark wood case, shower facilities, sink and flush toilet. The remaining suites are similar, only larger, their lounges that bit more separated, the master bedrooms possessing en-suite bathrooms.
The villa sleeps 10, includes a sitting room, kitchen, nanny accommodation and a dining room, and possesses stunning views. Each room has air-con, fans, mini-bar and a safe. The lodge itself has telephone and internet access.
Activities
Activities at Pamushana include wildlife drives, guided walks, rhino tracking, bird watching, spa and massage, yoga, cultural visits, rock painting trips and fishing.
Impact
Conservation
Since its inception, the Malilangwe trust has been committed to environmental conservation, with a special focus on rhino, hartebeest, sable, wild dog and habitat conservation. The conservation team is involved in the ongoing monitoring, protection and development of the biological diversity of the reserve.
An anti-poaching team with 55 wildlife scouts work out in the field and on surrounding properties. They play an additional role in keeping track of the animals they see whilst out on patrol and provide data for the on-going wildlife research and monitoring conducted on the reserve.
A captive breeding programme is currently being designed on Malilangwe to ensure the safe breeding of disease-tolerant, endangered species for reintroduction into the reserve and other conservation areas.
Commerce
Singita Pamushana operates on a unique basis in that the lodge was established for the sole purpose of generating income to assist in funding the conservation and community outreach programmes co-ordinated by the Malilangwe trust. Over 250 Zimbabweans are employed by the trust, mostly from local communities.
An extraordinary responsibility of Malilangwe is the protection, preservation and promotion of over 100 san historical rock art painting sites which are found on the reserve.
Community
The NOP is actively involved in the provision of community infrastructure, including the building and equipping of clinics and school blocks.
The trust supports more than 300 disadvantaged young people annually with scholarships and bursaries at schools, colleges and universities.
The Malilangwe trust funds and has a strategic partnership with tunza, a vibrant local organization comprising a group of previously unemployed youth. The group works with the national Aids Council and, through entertainment, uses drama to educate children about the dangers of HIV and AIDS.