Located on the south eastern edge of Hwange National Park, Zimbabwe's Verney's Camp sits in a 10,000-hectare private concession in a remote area both rarely visited and populated with large herds of elephant.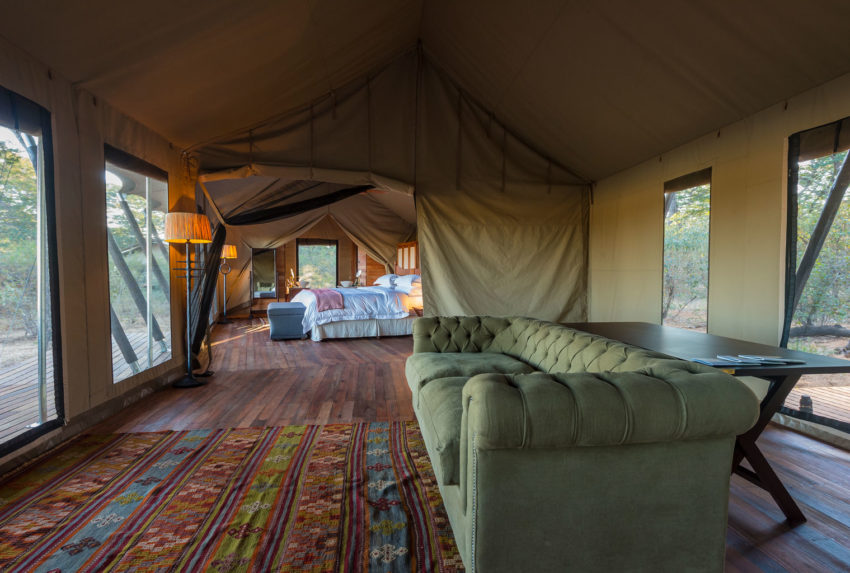 Overview
Sat in the shade of a teak forest overlooking a large and busy waterhole, Verney's Camp consists of ten sleeping tents and a shared guest area. The whole camp is under canvas atop wooden decking, and the shared area includes brick fireplace, comfortable sofas, dark wood furnishings, a number of lamps to contribute to soft lighting in the evenings and traditional African rugs. The overall look and feel is very safari.
Food & service
Verney's Camp accommodates for all dietary requirements, including vegan and gluten free. Breakfasts are continental in style, with muffins, croissants and various homemade granolas. Lunches are often a wholesome build-your-own set up, with guests being encouraged to come and make a pizza, burger, sandwich or salad with the chefs. Dinner is generally a more formal set up, and is often cooked using a variety of styles, either braised or baked and includes the use of a traditional 'Wozza Grill', a Ndebele word for cooking on coals, which complements the local bush food flavours. After pudding, which is a particular specialty of the chefs, guests can end their evening with a nightcap around the campfire or a cup of coffee and roasted marshmallows around the campfire.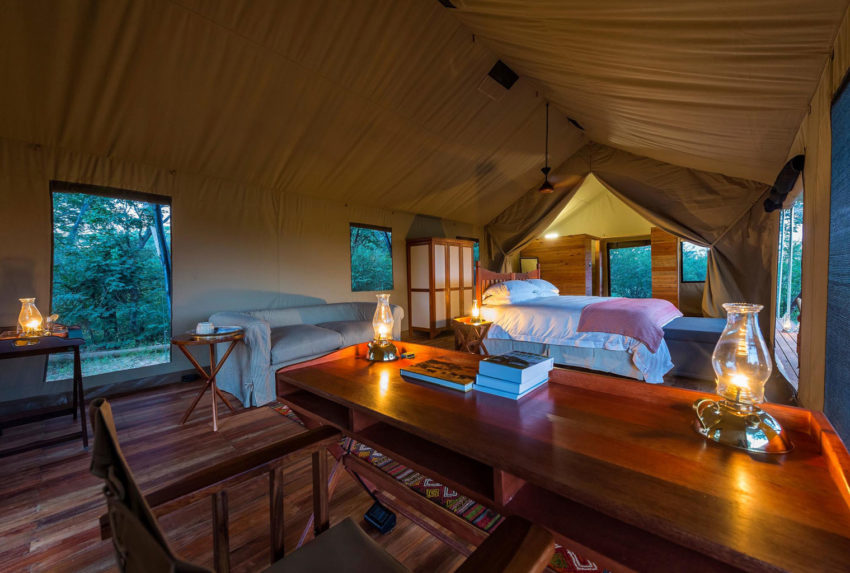 Rooms
Raised on wooden platforms, the sleeping tents at Verney's Camp look out over the waterhole, far enough from one another for privacy, but close enough for convenient access to the shared area. There are eight double or twin tents and two family suites, each of which includes two sleeping areas. Each room is similar in design to the shared area, each tent comes with wooden furnishings and intricately woven African rugs, and includes a flush toilet, shower and a double vanity unit with brass fittings and ceramic basins.
Activities
Activities at Verney's Camp largely revolve around the vast biodiversity in the concession, with both wildlife walks and drives, day and night as a possibility. Depending on the time of year, spending time travelling in Mokoros is an option. Trips to meet the local community are also possible.