Linkwasha Camp, a mainstay of Hwange safaris for many years, suffered along with almost the entire industry when Zimbabwe's tourism all but disappeared. Rebuilt on its own private concession, it brings top-end accommodation to this south-eastern corner of the park.
Overview
Linkwasha has been rebuilt in a high-luxury style and offers the kind of comfort and service that is extremely rare in Zimbabwe. The main area is arranged in a series of wide multi-level decks with comfortable day beds, and the centrepiece is a small pool perfectly positioned for basking and looking out over the savannah.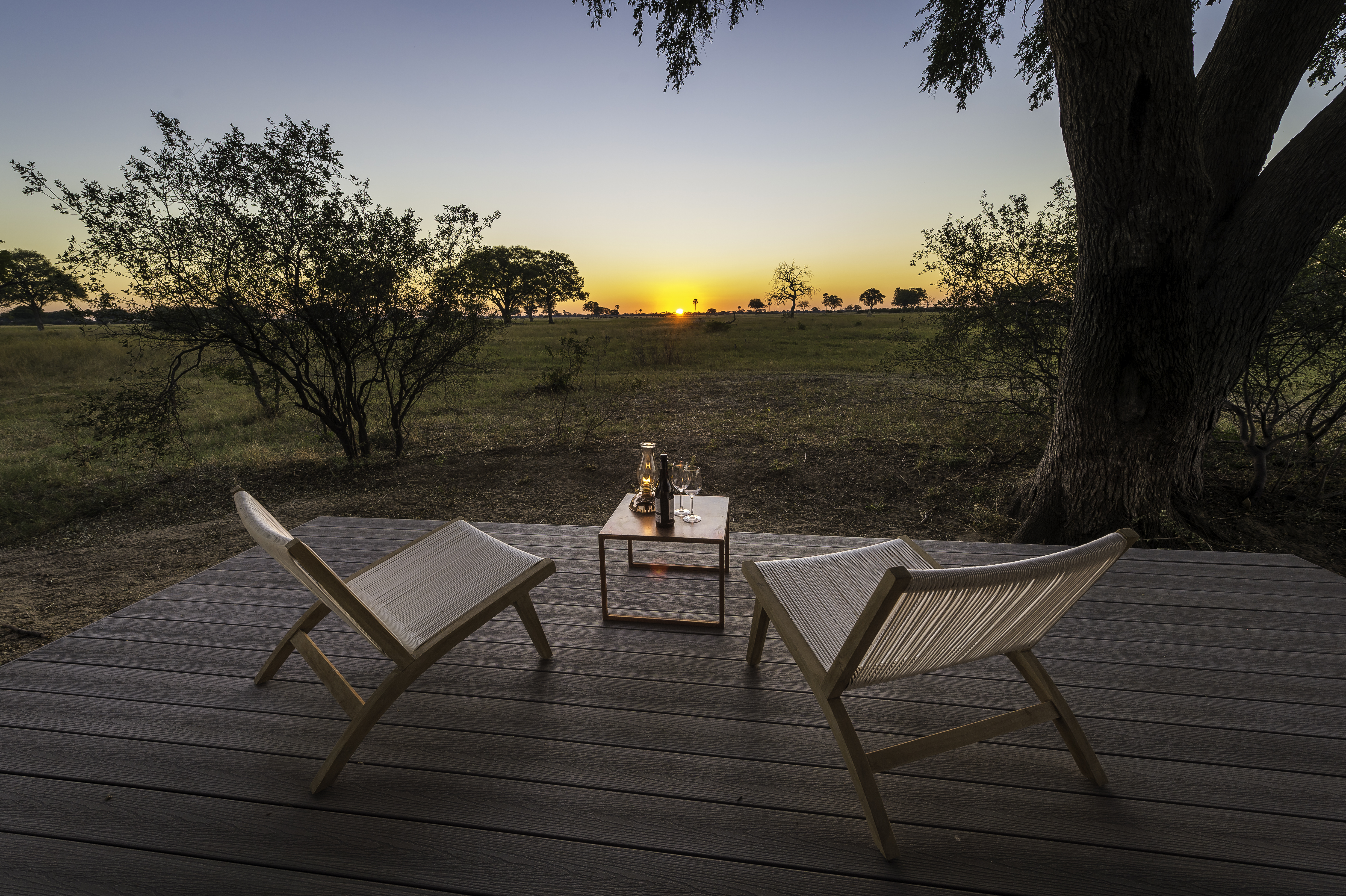 Tables are very attractively laid out on the decking for al fresco meals but for colder weather there is also a lovely indoor dining area with bookshelves, elegant furnishings and a fire. The decor is contemporary and cleanly minimal, dominated by sweeps of light and dark wood and canvas, but also enlivened by plenty of touches of local colour and texture.
Food & service
The cuisine is of a very high quality and quite varied, and there is a good range of drinks included.
Rooms
The private accommodations are Linkwasha are equally impressive. In these nine very generously-sized tents guests will find a king-size bed and at the end of it, sliding glass doors looking out on the nearby watering-hole.
There are en-suite facilities in all the tents plus private decking, a work area and a couch, all designed in the same sensitively uncluttered style. There is also a family tent, identical in most particulars to the others, but with multiple bedrooms. Please note there is no Wi-Fi at the camp.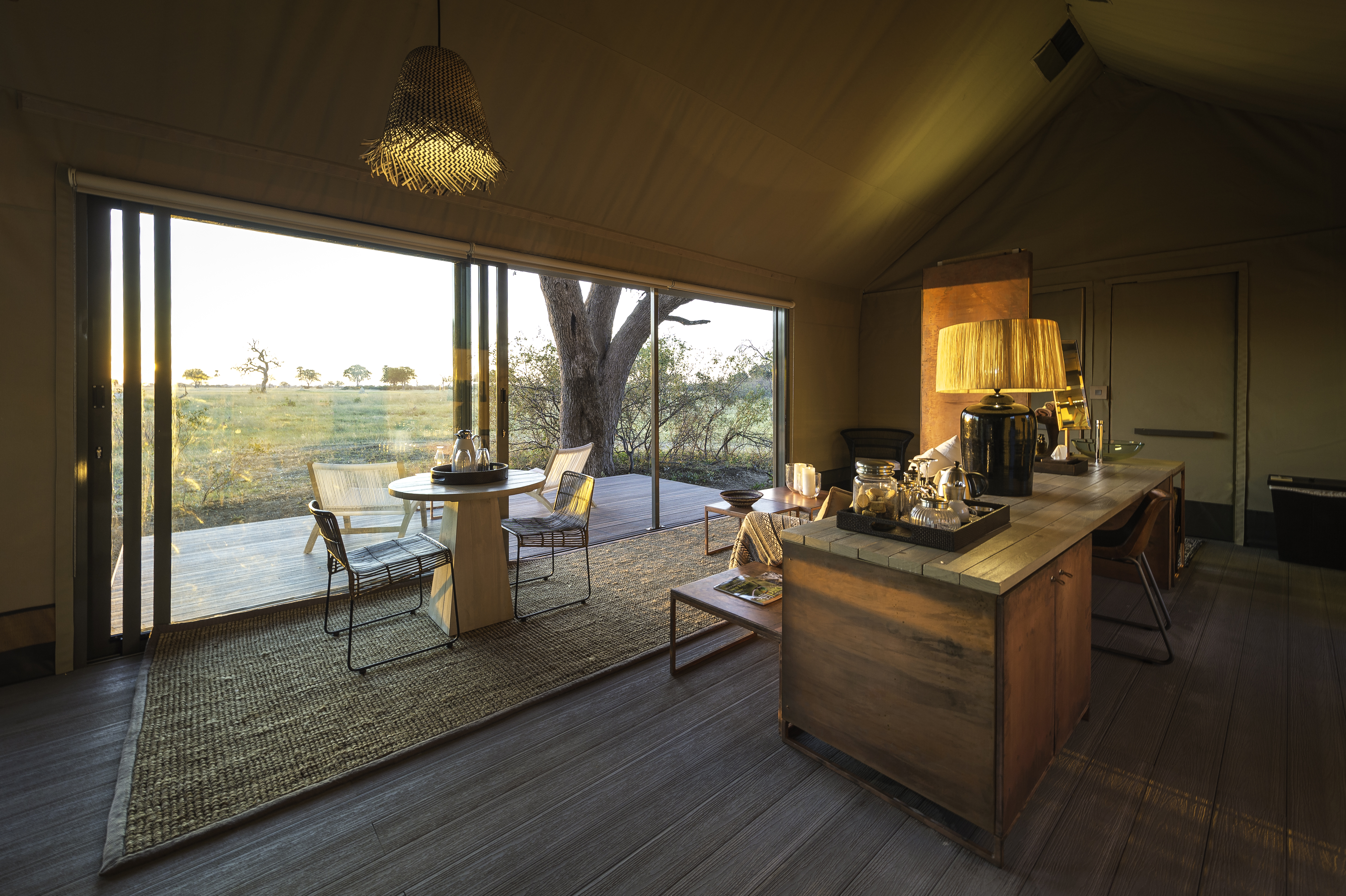 Activities
Activities at Linkwasha here revolve around viewing the splendid wildlife on offer. There are expert guides and a range of tours (walking or 4×4) available, and when their schedule permits, a presentation from the resident conservationist. As well as this, between 1 July and 30 November, intrepid travellers can take up the option to fly-camp for one night.
Impact
Conservation
Both Wilderness Safaris and the Wilderness Wildlife Trust support an elephant movement study; currently ten elephants have been collared and are being monitored. They are also advocates for crucial work being carried out by the Scorpions Anti-Poaching Unit, which protects 56,000 hectares (138,000 acres) in the south-eastern region of Hwange.
Commerce
Wilderness organises an annual Career Day at one of the region's secondary schools at the beginning of the academic year, which gives students the opportunity to receive advice and hear from guest speakers.
They also run classes on financial awareness and small business planning; key tools that encourage bold entrepreneurship
Community 
Wilderness Safaris and Children in the Wilderness work closely with the schools and communities that lie on the perimeter of Hwange, and have provided everything from classrooms to medical clinics, alongside vital free school meals.
The camp is a proud member of Pack for a Purpose, an initiative that encourages guests to bring school supplies with them when visiting.