17°
51'
7.13" S
25°
49'
42.66" E
A small, beautifully run luxury lodge, Sindabezi Island Camp, is located in Zambia, on the Zambezi, upriver from the Livingston and Victoria Falls. Set on a private island, it is known for providing a stay that is both relaxed and stimulating.
Raised on wooden platforms, spread about the island, and protected by a grove of riverine trees, Sindabezi consists of a main lodge and 5 chalets. Lit by hurricane lamps, recently refurbished, the shared areas include a lounge, dining area, outdoor seating and bar. A wood, stone and thatch build, the open-sided chitenje overlooks the river, and is characterised by wooden floors, easy chairs, low tables, curved stone seating and acres of space. Eschewing extensive decking, it's outdoor area is set directly on the sand, where guests make the most of loungers and giant Lamuesque sofas.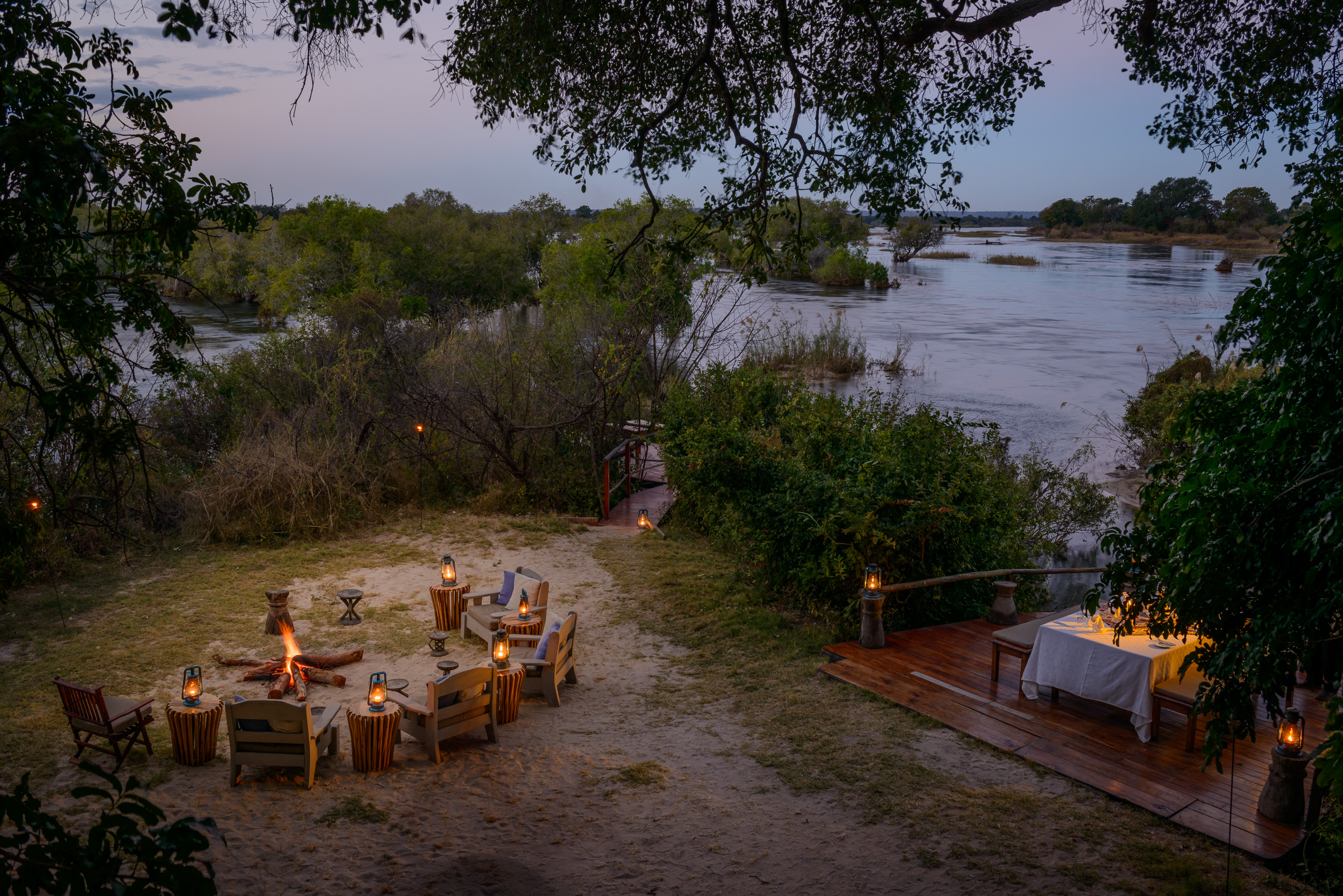 Meals at Sindabezi are taken almost everywhere – at the main lodge, in the privacy of one's chalet, outside, either on the main beach or on one's own private waterfront, as a picnic, or even on a tiny deck set in the middle of the river, and accessed by boat.
All slightly different, all with different views, each of the chalets is raised on stilts, protected by peaked thatched roofing, and has its own private waterfront. Four of the chalets are classed by number, while the fifth is a honeymoon suite. Each of the standard sized chalets include a double bed, verandah, seating, room enough to change in and, to the rear, an en-suite bathroom. Open-plan, simply designed, the emphasis here is on quality of comfort. The furniture is well chosen, the mattresses high density, the bathroom fittings brass. The bathroom consists of a sink, shower and flush toilet. The honeymoon suite is larger, includes a lounge and dining area, and a stand-alone bath – with views of the river.
The island itself is tiny – 100 by 50 m. Activities at Sindabezi Island Camp include fishing, canoeing, boat trips and visiting the falls. Boat transfers to mainland activities can be arranged at a moment's notice, and the camp combines well with Tongabezi, its sister camp, and with Sausage Tree and Tena Tena.
Ethical Information
GoingGreen
Operating on the Zambezi brings its own challenges. At Tongabezi we desire less noise, less emissions and as little as possible upset to the local flora and fauna.
To achieve these goals we:
Think
The very nature of a bush school lends itself to ticking many green choice boxes! The uniforms are recycled … and recycled and recycled again! The same principal is applied to all our books and educational supplies. All our students walk to school – no matter how far away they live.
Feel
We order the bulk of our wood supplies from sustainable forests in the Copperbelt near Ndola.
Move
Three new aluminium boats made by Legay marine in Port Elizabeth have been delivered. They are similar to the old banana boats, but more spacious and more stable due to their shallower draft.
Regenerate
Willow & Associates are top water treatment consultants and have designed and has custom made our purification plant. The recycled water is used for irrigation and to feed the Tongabezi wildlife dam.
See
Sindabezi is powered by solar energy with paraffin lamp supplements. The waste water system pump is also solar powered. The entire Sindabezi has no grid dependency as even cooking is done with gas. All our soap shampoo and cleaning products for the rooms and kitchen are biodegradable.
The Future
Sindabezi Tujatane School & Village will all be receiving increasing use of solar power and an extensive composting project to recycle part of the kitchen waste is also under way. By the end of 2009 all our boat engines should be four stroke – chosen for being quiet and not releasing any oil emissions into the water.
Hiv Awareness
Tongabezi Lodge staff has joined the Aids Council of Zambia and Share (An American funded Public Private Partnership) in the global fight against HIV/AIDS.
A generous sum of money has been allocated to the Staff Welfare Committee for use by any staff member with dwindling health. Staff members have access to funds through the Staff Welfare Committee to deal with emergencies and limit vulnerability.
MukuniCommunity
Tongabezi's solid reputation for splendid service allows the company to manage, maintain and operate Livingstone Island successfully. Making a buck is not where it ends though, we also make a difference. 10% of all the revenue that is collected at this World Heritage site goes to the Mukuni community – In the spirit of Tongabezi's commitment to effectively controlled and personally overseen charity, these funds are used to build houses for teachers and classrooms for children.
Tongabezi Trust School
The school opened on 1 May 1996 and due to its huge success it has been growing ever since. The school provides education to the Tongabezi staff children, as well as children from the local community, in an area where educational funding and materials are scarce.