13°
0'
20" S
31°
54'
23" E
Described by The Times as 'altogether beyond superlatives and…one of the best safari camps in the whole of Africa', Robin Pope Safari's premier lodge is located in South Luangwe National Park, in the Nsefu sector, on the banks of the Luangwe. Recently redesigned and rebuilt, Tena Tena is a small and excellently run bush camp.
A wood (mukwa and bamboo), thatch, stone and canvas build, set in the shade of a grove of mahogany trees, a short walk from the Buca Buca waterhole, the camp consists of a mess area and 5 sleeping tents. The shared areas include a bar, lounge, dining area and outside seating. Characterised by a simple seating arrangement, hard wood stools, easy chairs and low tables, the open-sided chitenje is a comfortable and cool retreat from which to look out over the river. Meals at Tena Tena are taken in or outside, the food is first class, as is the service.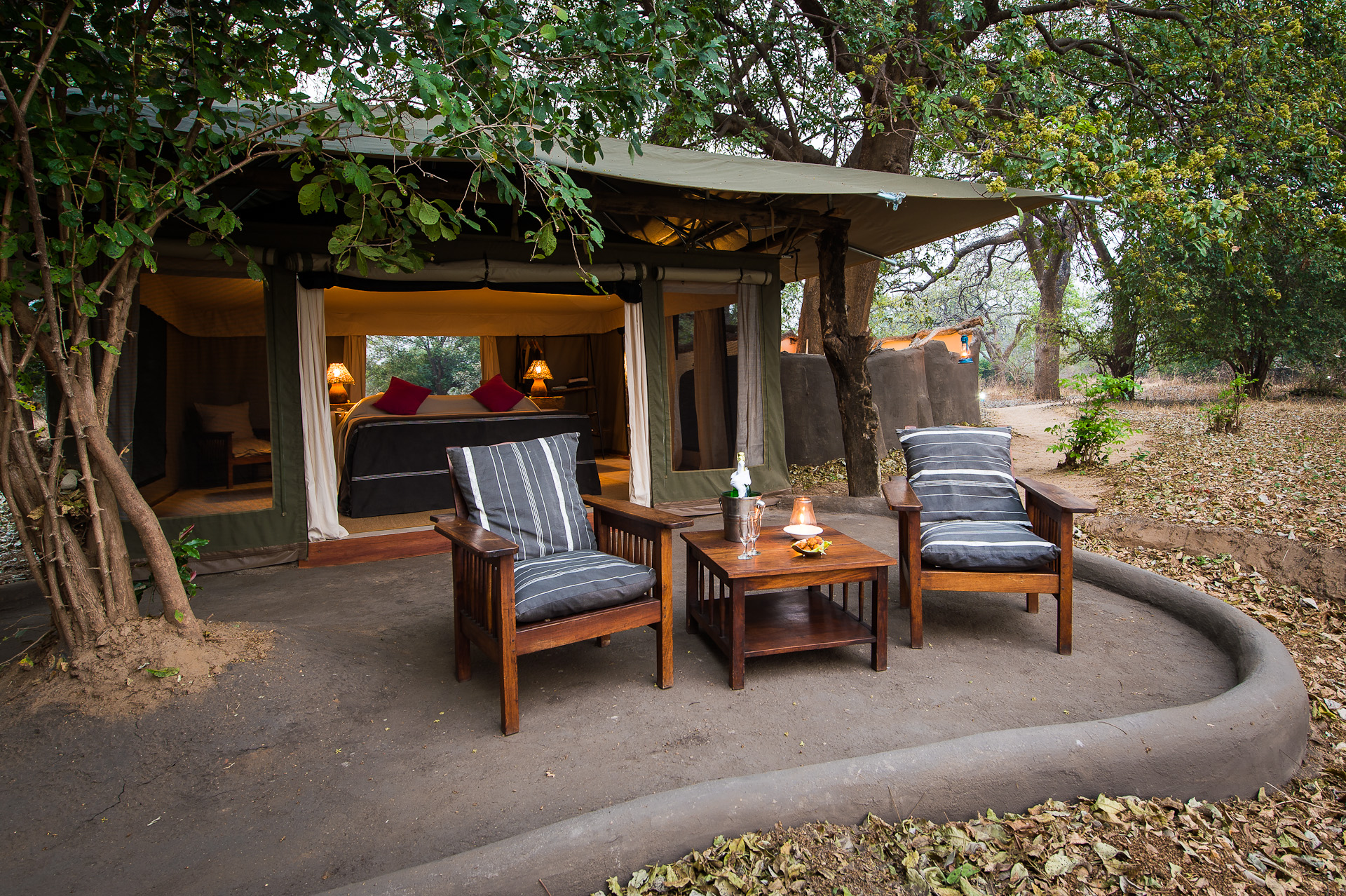 Nicely spaced, well protected by thatched roofing, rustic looking, the sleeping tents are airy, spacious and subdivided into bedroom, changing room and bathroom. Each possesses a double or twin bed, a verandah, some seating and a decor that takes its inspiration from Moroccan bazaars and Bedouin interiors. The furniture is made from local, found materials, and the beds are especially organic looking, with great big branches constituting their super-structures. The partially open air bathrooms come with twin sinks, showers and flush toilets. Tena Tena accommodates a maximum of 8 guests.
Activities include guided walks, night and day drives, sundowners and bush picnics. Both Tena Tena and Nsefu run fly-camping walks – from one to the other. The fly-camps are private and can last from 1 to 4 nights.
The green seasons are April/ May and November/ December. The rains arrive in full force from January to March, whilst the peak travel season runs from June to October. The camp opens in May and closes in September.
Links well with: Nsefu, Kutandala, Chiawa and The River Club.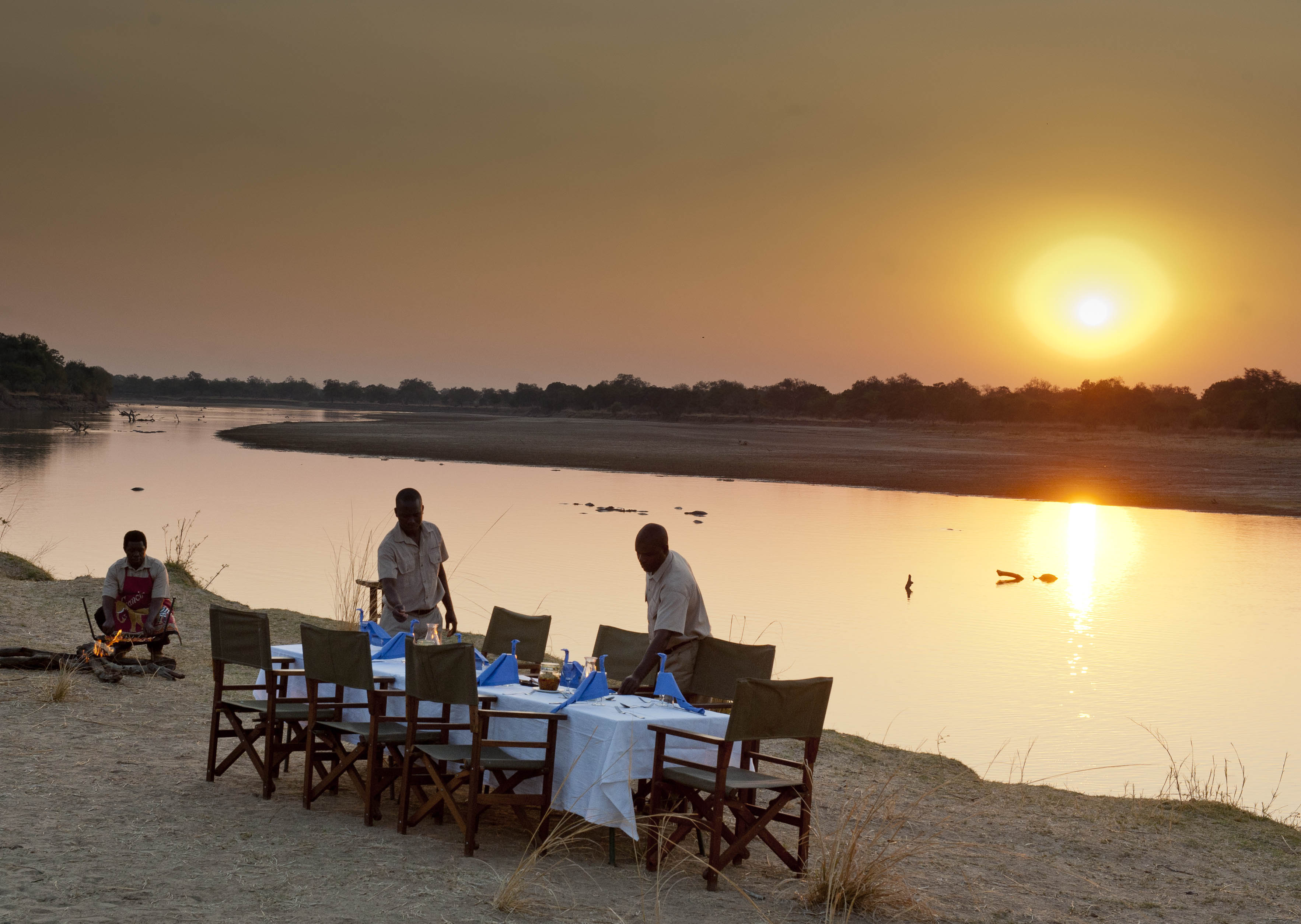 Ethical Information
Robin Pope Safaris
Responsible Tourism In Action
We take our responsibilities towards the human and physical environments in which we operate very seriously and are critically aware of the negative impacts that tourism can potentially have on the environment, wildlife and local communities neighbouring our properties. It is therefore very important to us that we strive continuously to reduce our negative footprint and increase the positive impacts of all of our safari/beach operations. This we achieve through the implementation of our published Responsible Tourism Policy that addresses the three pillars of sustainability, namely our economic, environmental and social responsibilities. In addition, we have contracted the services of a specialist Responsible Tourism practitioner to our team to advise us on how to integrate best practice in sustainability into all areas of our operations.
Conservation
• Waste / Recycling – In all properties we compost biodegradable and organic waste and use this on our vegetable gardens, recycle glass bottles in Malawi through an orphanage in Lilongwe who use them to make glasses for onward sale to lodges, recycle all paper and cardboard waste in Malawi to make cards and books.
• Energy / Water Conservation – In our new properties, and those that we have renovated, we have built energy efficiency into their design.
We have introduced alternative fuel briquettes that are made out of waste paper and dried leaves as an alternative to firewood and charcoal in staff quarters.
• Carbon Offsetting – We reduce the carbon footprint of our operations through a local initiative – the Reforest Nsefu project. The project plants a combination of trees to help counter two very important environmental issues –  carbon emissions and deforestation.
• Wildlife Conservation – In Zambia RPS financially supports, for example, the work of the South Luangwa Conservation Society (SLCS), a non-profit community based organisation that is committed to the conservation of the wildlife and ecosystems of South Luangwa National Park and the surrounding Game Management Area (buffer zone), specifically in their anti-poaching efforts.
In Malawi, we promote the protection of local fish species along the shores of our lodge in Lake Malawi National Park.
Development
Robin Pope Safaris operates with respect for indigenous culture and supports social development initiatives, whilst considering the impacts tourism is having on the communities in which it operates.
We take pro-active steps to ensure that local people benefit both financially and in terms of their quality of life from our operations and that any socio-cultural impacts are minimised.
We have for many years been very pro-active in working with our local neighbours to bring about sustainable development initiatives in the community. Over the years we have in Malawi and Zambia, and continue to:
• Develop and expand the infrastructure of a range of local schools
• Have built a primary school for Mbeya village in Malawi and operate a bursary programme for paying secondary school fees for orphans
• Sponsor vulnerable children through school and further education
• Support Chikowa home based project (an HIV outreach help project)
Ecotourism
Responsible wildlife viewing will ensure that wildlife is not disturbed and that the environment is not impacted on negatively by wildlife viewing activities. To facilitate this our guides are trained and regularly monitored against best practice responsible wildlife viewing etiquette.