Please note that Time + Tide Nsolo Camp is only open between the 20 May and 31 October.
Located in South Luangwa National Park, on the banks of the Luwi sand river, a 3 hour walk from Luwi Camp, Time + Tide Nsolo Camp is another Norman Carr Safaris destination – a simple, excellent and comfortable bush camp.
Overview
Situated overlooking a waterhole, in the shade of a large grove of sausage and mahogany trees, Nsolo is a wood and thatch build, and consists of a mess area and 5 sleeping rooms. In keeping with the majority of Norman Carr's bush camps, the main area is open-sided chitenje. Please note that there is a minimum age of 12 at the camp.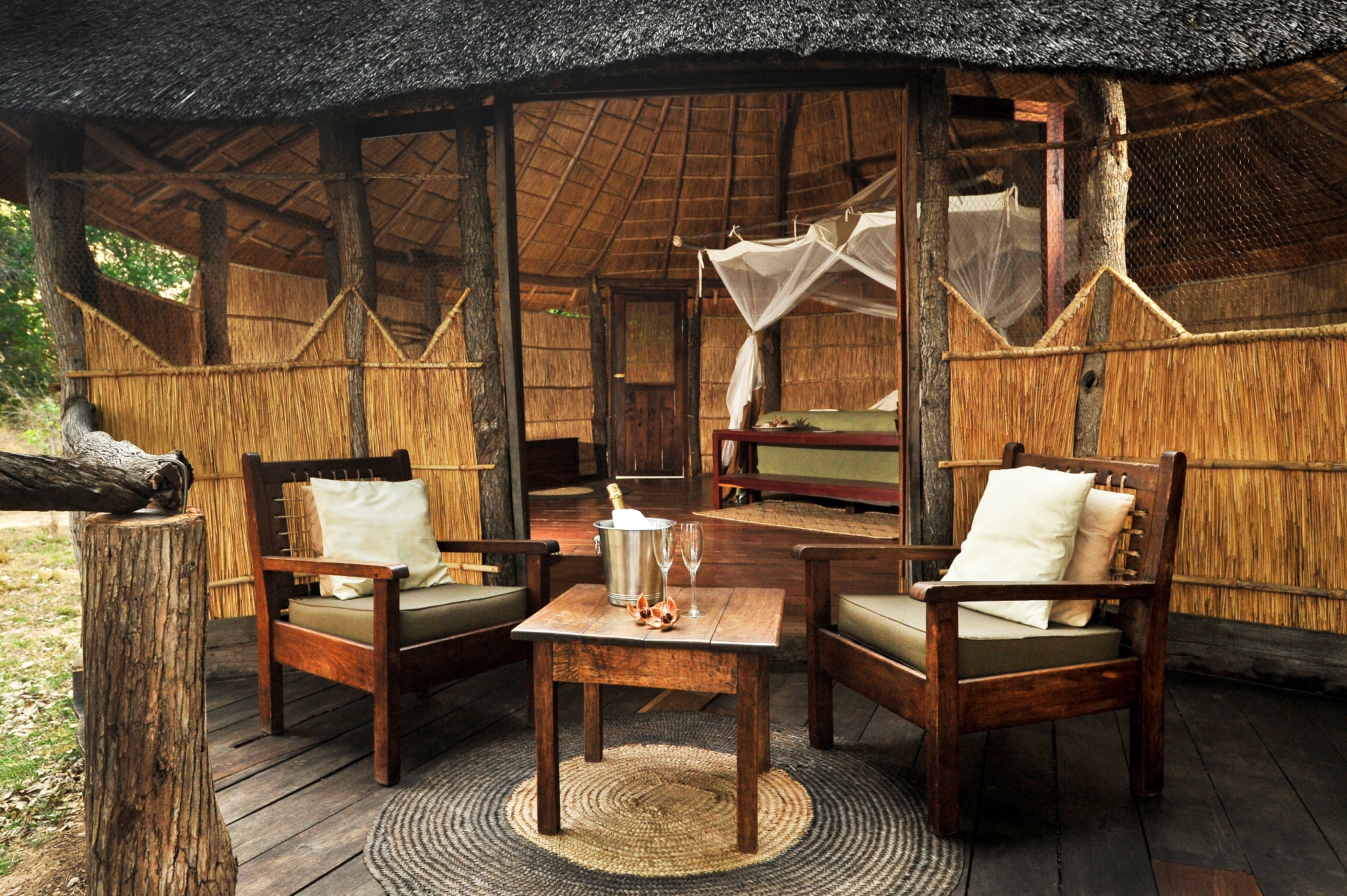 Raised on a platform made from found woods, built around some of the grove's tree trunks, the shared area is ideally placed for passing wildlife, and includes a lounge, bar, library and dining area. Again, the seating is simple, functional, with canvas camp chairs for dining, cane armchairs for the outside and slumber chairs for those taking time out (from the sun and walks) to read, relax and exchange tips.
Food & service
The food at Time + Tide Nsolo Camp – a campfire breakfast, buffet brunch, 3 course dinner – is top drawer, and the service is friendly and efficient.
Rooms
Circular, raised on stilts, set on wooden platforms, characterised by reed walls, large thatched roofs, bamboo latticed windows and a decent sized veranda, each room, though slightly different from the next, includes a large double bed, all over mosquito net, hand-woven sisal rugs, cane seating, a table, plenty of room in which to change and a separate bathroom.
Comfortable, simply decorated and cool, the rooms are perfectly suited to the environment, and provide guests of Time + Tide Nsolo Camp with a very private and restful retreat. The bathrooms are open air and include a sink, shower and flush toilet. Please note there is no internet or phone service at Nsolo.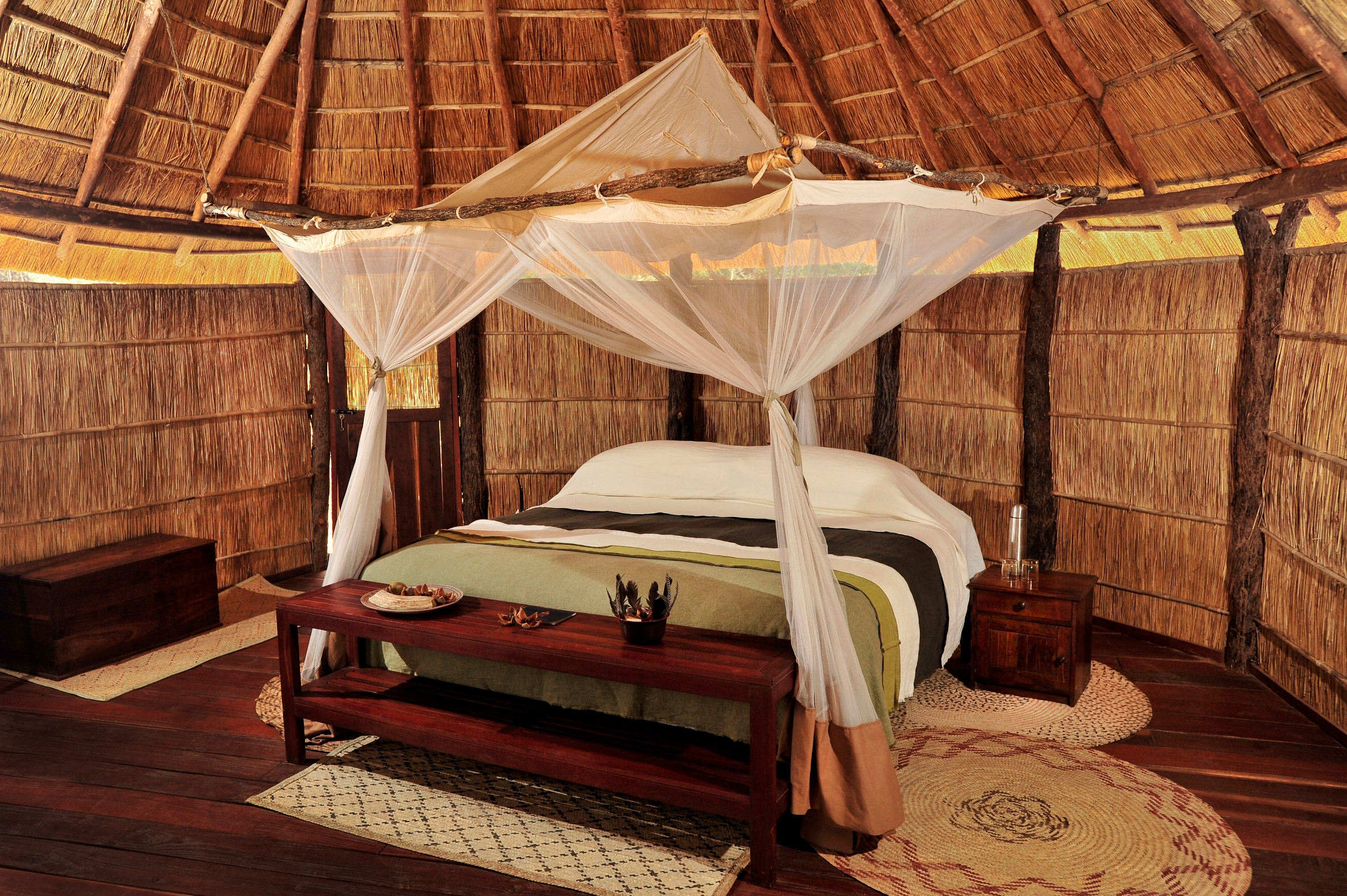 Activities
Activities include guided walks and wildlife drives (day and night), although there is much more of an emphasis on the former.
Impact
Community 
Over thirty years ago, the renowned Norman Carr, founder of Norman Carr Safaris, established the Kapani School Project, a non-profit organisation focused on expanding educational opportunities for students from Mfuwe, Zambia.Today, with monetary and in-kind support from the Time + Tide Foundation, the Project sponsors over 80 students across all levels of education. Additionally, the Kapani School Project runs a Girls Club with the aim to enhance young girls' self-esteem and encourage them to stay academically focused despite the challenges of adolescence and the domestic pressures of rural life.
In 2016, the Time + Tide Foundation began sponsoring a field-based education centre, located in a remote section of the Lupande Game Management Area. The education centre is operated by Chipembele Wildlife Education Trust, a Zambian non-profit that specialises in conservation education for primary and secondary school students. Over the 10 weeks of each term, Chipembele hosts over 400 students at the centre, all of whom attend lessons on the ecology of the South Luangwa and participate in conservation-themed games.
Within the same year, the Time + Tide Foundation and the Bauleni Special Needs Project launched a community-based support service for disabled children in Mfuwe.  In this model, volunteer caregivers are trained to offer physical and social support to children with a variety of disabilities, with the aim to help these children acquire the motor functions and other skills necessary to attend school. There are currently 98 children enrolled in the programme along with 72 volunteer caregivers across two of the Mfuwe chiefdoms. By demonstrating kindness and care to families that have been ostracised, the volunteers have earned tremendous respect that will hopefully inspire similar clemency in more Mfuwe residents.