Please note that Time + Tide Mchenja Camp is only open between May 20 and November 7.
Considered by many in the industry to be Norman Carr's flagship bush camp, located in South Luangwa National Park, on the banks of the Luangwe river, in the shade of a beautiful grove of ebony trees, and managed for the last 15 years by Levy Banda, a Carr protégé, Time + Tide Mchenja Bush Camp is a first rate destination.
Overview
A concrete, stone, wood and thatch build, Time + Tide Mchenja consists of a main mess area and 5 sleeping rooms. The shared areas include a lounge, a dining area, bar, plunge pool and library. The main building, or chitenje, is open sided, thatched and built around a tree that looks like it is in the process of falling down – rest assured, it is not. Characterised by mixed flooring (polished concrete, tiles and wood), and by low tables laden with tea and coffee, with arabesque serving utensils, by cane chairs, the odd artefact and slumber seating, the camp is both traditional and lively. Please note that there is a minimum age of 8 at this camp.
Food & service
The food at Time + Tide Mchenja Camp – buffet, tea, table dining – is excellent, served in or out, and the service is equally good.
Rooms
Built on concrete bases, protected by thatched roofs, and hexagonal in shape, the sleeping tents are simple, wonderfully maintained and luxurious. Inside, the tents possess domed ceilings, large canvas windows, double beds, a separate bathroom, cane seating and plenty of room in which to change.
The floors, really, are key: concrete, polished, their glowing solidity acts as a counterpoint to the more ephemeral nature of the rest of the structure, and serve to bring out the qualities of the bed and accompanying furniture. The bathroom begins inside, with a stand-alone claw foot bath, and moves outside to include a shower, basin and flush toilet.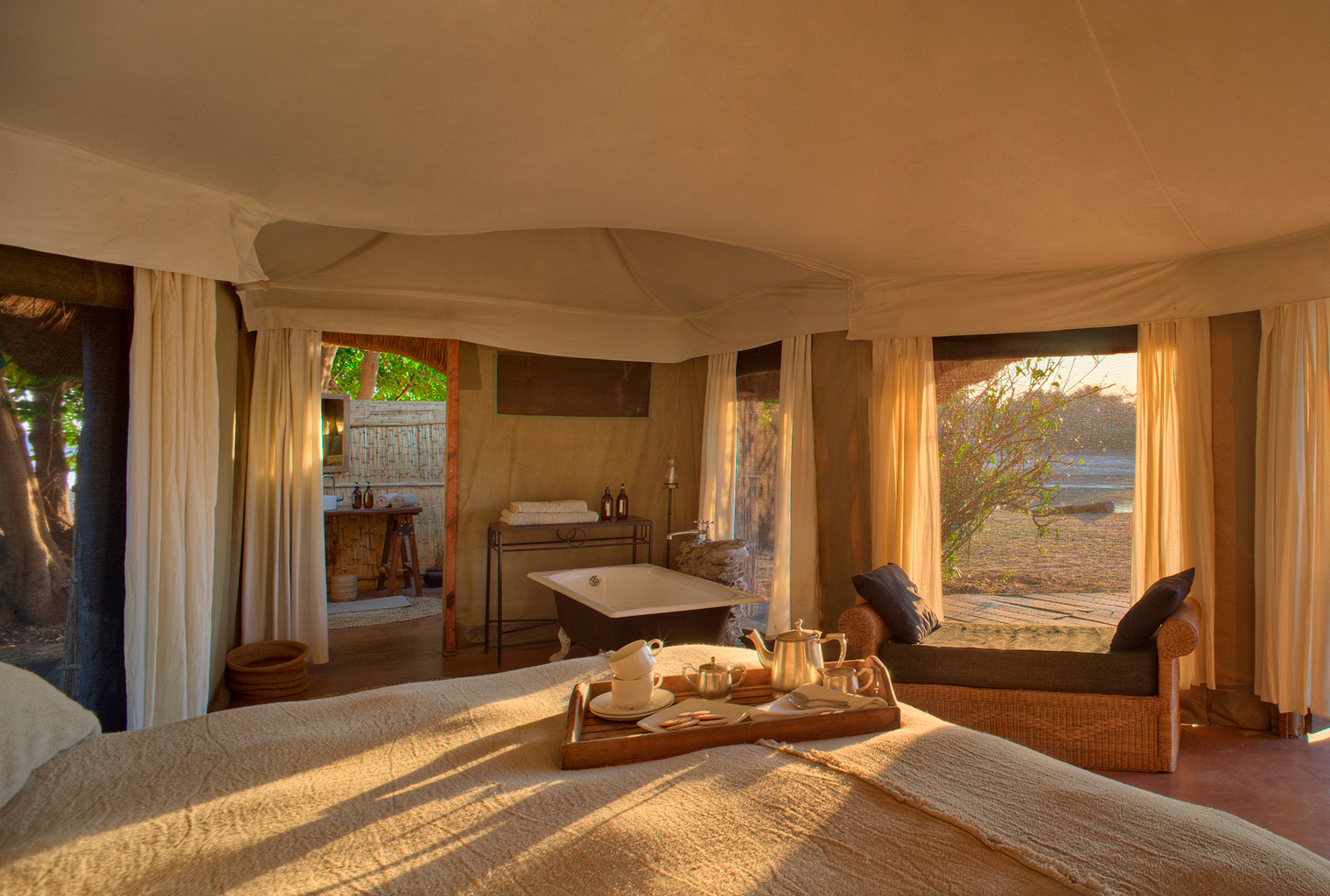 Activities
The perfect destination to complete a walking safari that has combined stays at a number of our camps, Time + Tide Mchenja offers excellent guiding, and activities include walks, drives and sundowners.
Impact
Conservation
The camp supports South Luangwa Conservation Society which is a non-profit organisation committed to the conservation and preservation of the local wildlife and natural resources of the National Park and surrounding game management areas. It aims to achieve this by means of:
Anti-poaching patrols and snare removal programs
Support of local communities by alternative income generating projects such as fish
Farming, tree planting and chilli farming
Time + Tide Mchenja also raises and plant hundreds of indigenous trees from a tree nursery based at Yosefe School in order to address the problems of increasing deforestation and to give guests a chance to offset their carbon emissions.
Community
Norman Carr started sponsoring school children more than 20 years ago. Norman was passionate about bringing the opportunity of a basic education to as many children in Mfuwe as possible believing this to be the fundamental key to the success of Zambia.
Since its inception, the Kapani School Fund has sponsored thousands of children through basic school (currently sponsoring nearly 200) it has also built classrooms, teachers houses, a library, a lab and assist in the general upkeep of the fabric of the school.
The Abraham Banda Scholarship fund was started in 2003 with a donation from our most generous supporters specifically to address the issue of further education. The fund is now sponsoring trainees in mechanics, nursing, teaching, accounting, and the tourism industry.