Please note that Time + Tide Luwi Camp is only open between the 20 May and 31 October.
Luwi is a comfortable seasonal camp, located in the north part of the South Luangwa National Park. Built on the banks of a lagoon, and surrounded by mahogany trees, the camp is ideal for those seeking an experience that is both remote and comfortable.
Overview
Purposely positioned away from Luangwe river and its riverine habitat, Time + Tide Luwi Camp consists of a main mess area and five sleeping rooms. A wood and thatch build, the main building is open sided, possesses a sand floor and includes a bar and library. The lounge and dining area are located outside, the former around a fire pit, the latter in a variety of places – depending on the time of day, and on the weather. Please note that there is a minimum age of 12 at the camp.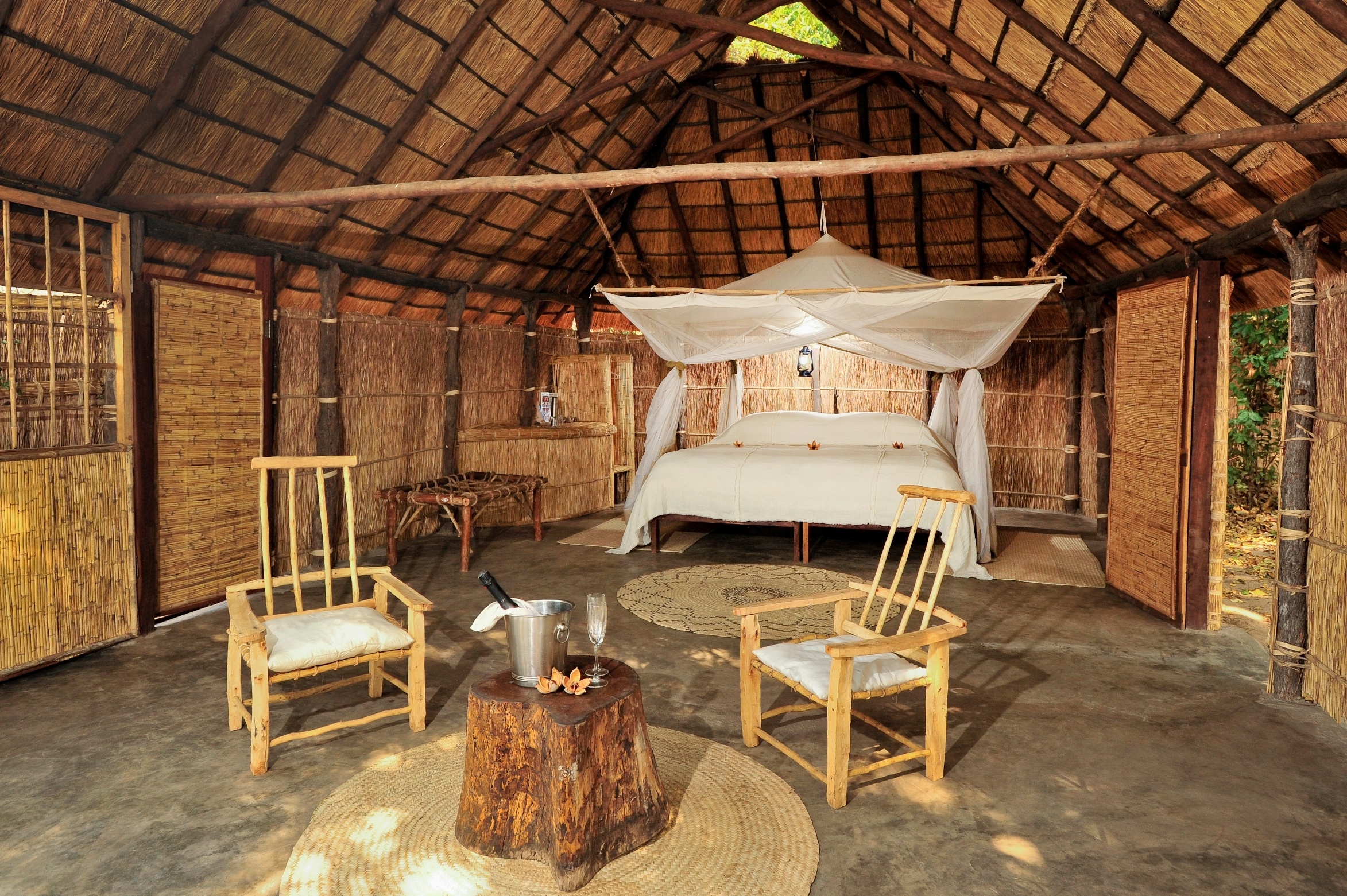 Food & service
Beautifully positioned for near-house wildlife viewing (hippo and crocodile are frequent visitors to the lagoon), the shared areas are relaxing and stimulating, the service friendly. The food at Time + Tide Luwi Camp – breakfast and lunch buffets, afternoon teas and 3 course evening meals – is delicious.
Rooms
Large, spacious, airy, each of the reed and thatch chalets possesses a natural polished mud floor, reed walls, a double bed, separate bathroom, veranda and exposed upright supports.
Rustic, colourful and offset by a collection of muted bed cushions, handpicked furniture and cane seating, these are simple, comfortable rooms. They are also unique, each being slightly different from the other: built around an enormous mahogany tree stump, the honeymoon suite, for example, has a plains facing wall which comes away on hinges and rollers, and is set next to a tree frequented by lions. Please note there is no internet access at Time + Tide Luwi Camp.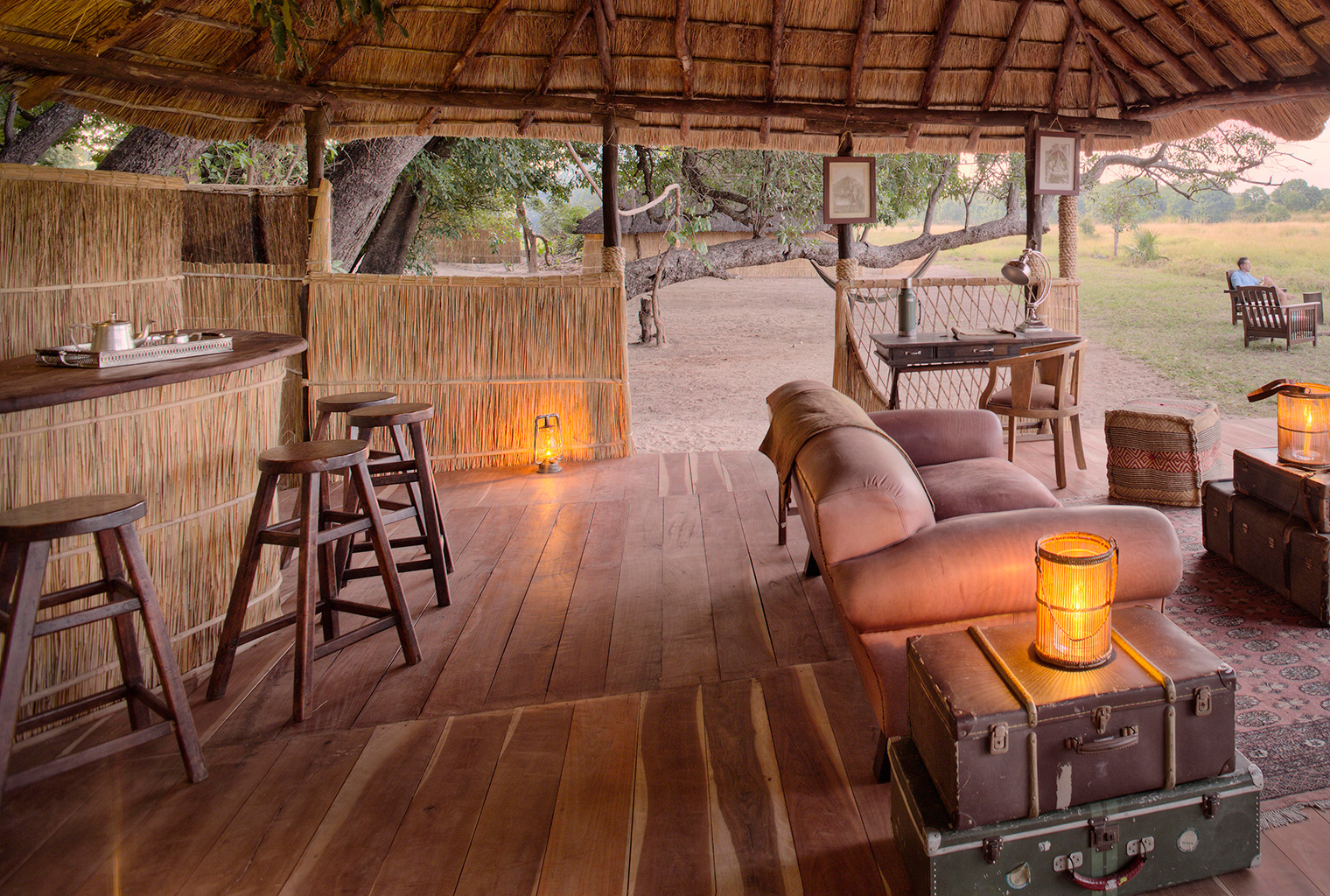 Activities
Activities at Time + Tide Luwi Camp are strictly walking safaris, and guests normally plan the day as a group, making for a family orientated feel to the stay. Luwi links well with Mchenja and Nsolo.
Impact
Community 
Over thirty years ago, the renowned Norman Carr, founder of Norman Carr Safaris, established the Kapani School Project, a non-profit organisation focused on expanding educational opportunities for students from Mfuwe, Zambia.Today, with monetary and in-kind support from the Time + Tide Foundation, the Project sponsors over 80 students across all levels of education. Additionally, the Kapani School Project runs a Girls Club with the aim to enhance young girls' self-esteem and encourage them to stay academically focused despite the challenges of adolescence and the domestic pressures of rural life.
In 2016, the Time + Tide Foundation began sponsoring a field-based education centre, located in a remote section of the Lupande Game Management Area. The education centre is operated by Chipembele Wildlife Education Trust, a Zambian non-profit that specialises in conservation education for primary and secondary school students. Over the 10 weeks of each term, Chipembele hosts over 400 students at the centre, all of whom attend lessons on the ecology of the South Luangwa and participate in conservation-themed games.
Within the same year, the Time + Tide Foundation and the Bauleni Special Needs Project launched a community-based support service for disabled children in Mfuwe.  In this model, volunteer caregivers are trained to offer physical and social support to children with a variety of disabilities, with the aim to help these children acquire the motor functions and other skills necessary to attend school. There are currently 98 children enrolled in the programme along with 72 volunteer caregivers across two of the Mfuwe chiefdoms. By demonstrating kindness and care to families that have been ostracised, the volunteers have earned tremendous respect that will hopefully inspire similar clemency in more Mfuwe residents.