13°
7'
0" S
31°
7'
0" E
This charming and stylish riverside camp is certainly one of the more original of the South Luangwa bush camps. Open from May-January (a long season compared to many others), its position and design makes the most of the river Kapamba.
Accommodation consists of four spacious en-suite chalets (with double or twin beds), all with a cool, simple design – open fronted, with great views of the water. As well as wide verandas, each features an en-suite bathroom with twin showers and a gloriously indulgent sunken stone bath the size of a small plunge pool. A wonderful touch, the wrought-iron shutters, which resemble large spiders' webs, are closed at dusk – so you can safely immerse yourself in the sights and sounds of the African bush at night without any unwanted visitors disturbing your sleep.
Beneath a huddle of matumi and sausage trees is Kapamba's lovely main building, which includes a bar, dining room and lounge area – all under one thatched roof, which in turn leads on to a wide deck with yet more views of the watercourse.
As well as bush walks and drives, some of the simplest, most pleasurable activities on offer at Kapamba Camp involve the river itself – including a guided paddle barefoot upstream, a scenic sundowner with your feet dangling in the crystal clear waters or, most romantic of all, a candle and lantern-lit evening meal for two with the table set up in the shallows.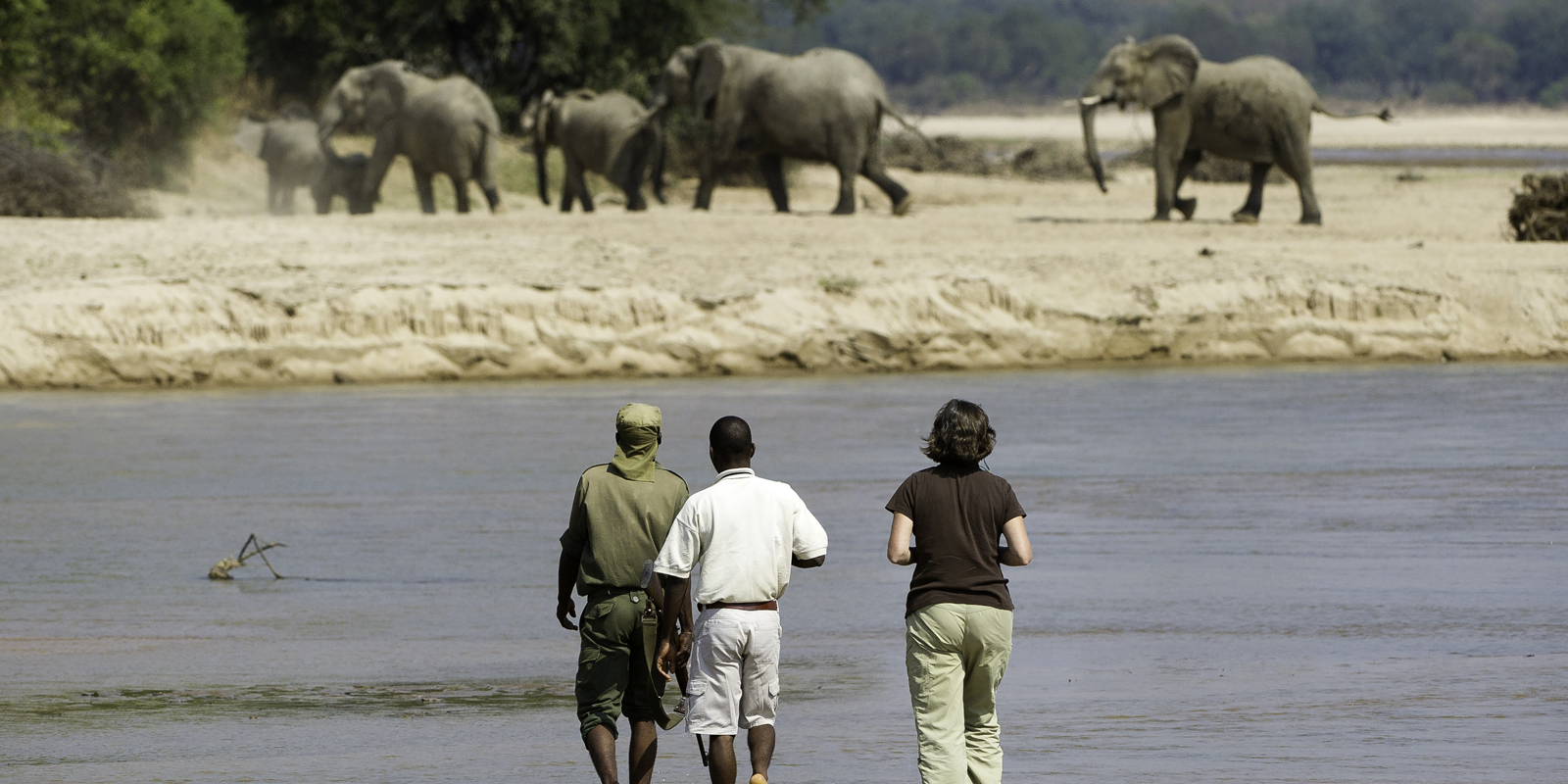 Ethical Information
Conservation & Community
In 1999, The Bushcamp Company started providing much-needed help to two local schools; Chiwawatala Basic School in Mfuwe and Chilongozi School in a remote area close to our bushcamps. Since our support began, the progress of the schools has been remarkable. With generous donations we have been able to sponsor pupils, pay teachers' salaries, build classrooms and staff houses, and take the school children into the park on game drives.
We also support other community projects that focus on reducing deforestation and encourage tree planting; for example, one of our guides has set up a successful solar-cooker project and we are helping run food-security eco-initiative workshops in Mfuwe. We run programmes on HIV and AIDS awareness for our staff and we also support a local theatre group, which perform plays to our guests about human-wildlife conflict.
Current schemes that we hope to develop further with funds from the Luangwa Conservation & Community Fund (LCCF) include fruit-tree planting, vegetable market-gardens, solar cookers and 'rocket' stoves, bio-fuel briquettes and honey production. Several conservation and community development charities that work in the Luangwa and across Zambia also benefit from our support and fundraising.
Luangwa Conservation & Community Fund (LCCF)
We work with the South Luangwa Conservation Society (SLCS) & North Luangwa Conservation Project (NLCP) to ensure that conservation efforts continue. We also run individual educational and conservation programmes in the community. To ensure the long term future of these essential projects we have introduced to our rates a donation of $10 per person per night to our "Luangwa Conservation & Community Fund". The funds will be split evenly between conservation and community projects.
Coservation & Environmental Best Practice
We are proud that our guides have the conservation of their park at the forefront of their minds. They have undergone rigorous training and passed challenging exams. They always try to follow park rules and avoid causing any negative impact to the wildlife or environment and assist Africa Wild Dog Conservation Zambia researchers in collecting data on wild dog and other carnivore sightings. We work with the South Luangwa Conservation Society which plays a vital role in the park's anti-poaching effort – during the green season we fund scout patrols in the area of the park in which we operate. For years we have been encouraging the community to plant trees and have started several tree planting programmes. More recently we have been working with African Carbon Exchange (ACX) who will monitor targets set for The Bushcamp Company for reducing our ecological footprint. All of our camps now have solar lighting and water heating and we are looking at further ways to improve the way we operate.
Community Projects
As well as supporting the Kakumbi Community Clinic, we have helped start up a honey project. Recently we have started working with Conservation Science Africa (CSA) to implement an eco-initiative to enhance the living standards and conditions of the communities in the area. CSA runs capacity building workshops and offers technical and educational support on livelihood and agricultural methods.