This charming and stylish riverside camp is certainly one of the more original of the South Luangwa bush camps. Open from May-January (a long season compared to many others), its position and design makes the most of the river Kapamba.
Overview
Accommodation consists of four spacious en-suite chalets (with double or twin beds), all with a cool, simple design – open fronted, with great views of the water.  Beneath a huddle of matumi and sausage trees is Kapamba's lovely main building, which includes a bar, dining room and lounge area – all under one thatched roof, which in turn leads on to a wide deck with yet more views of the watercourse.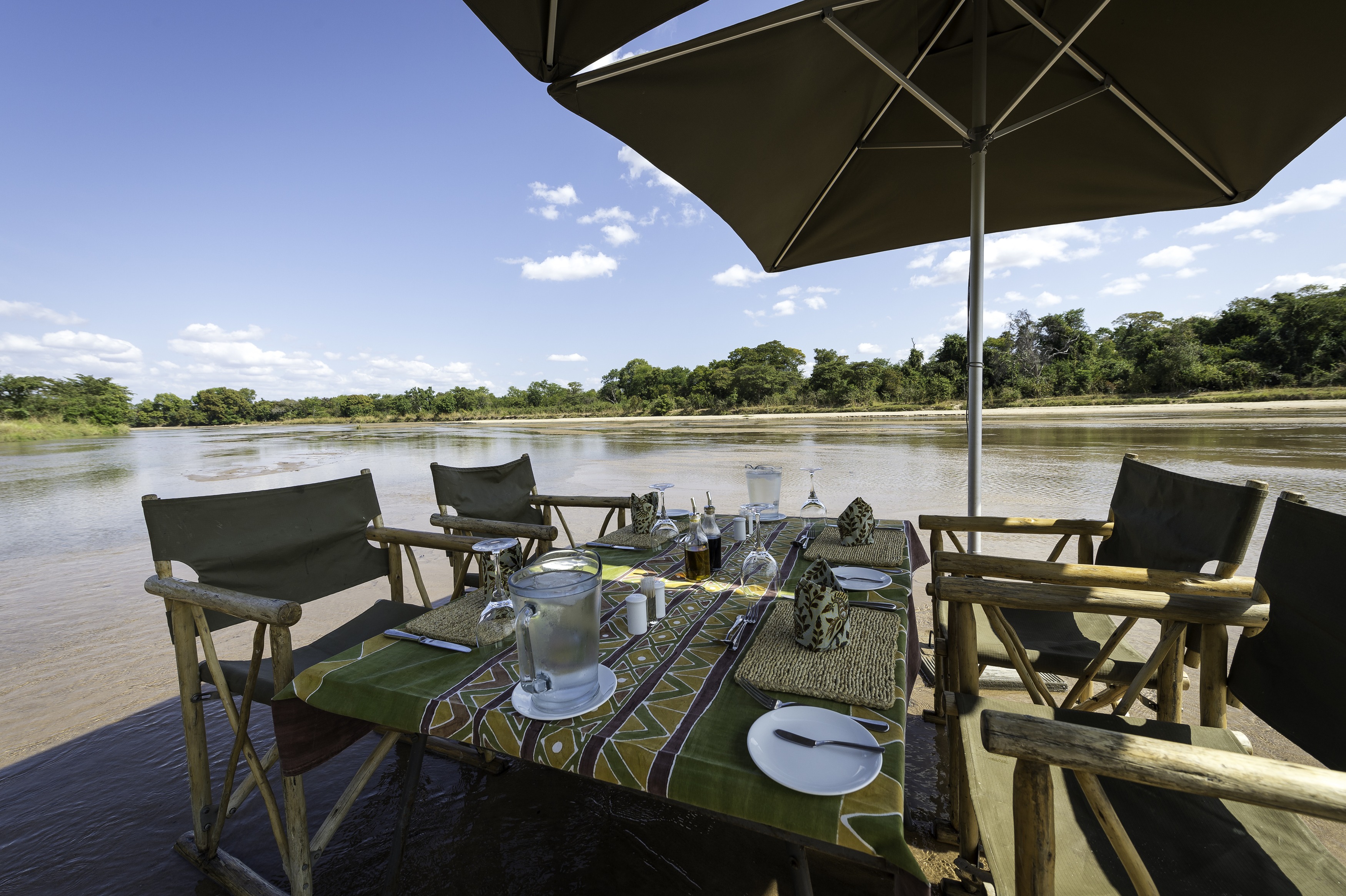 Food & service
Both the food – breakfast, brunch-style dishes at noon, afternoon cakes and a more formal evening meal – and quality of service are exceptional; we particularly recommend sampling the jungle oats.
Rooms
As well as wide verandas, each features an en-suite bathroom with twin showers and a gloriously indulgent sunken stone bath the size of a small plunge pool. A wonderful touch, the wrought-iron shutters, which resemble large spiders' webs, are closed at dusk – so you can safely immerse yourself in the sights and sounds of the African bush at night without any unwanted visitors disturbing your sleep.
Activities
As well as bush walks and drives, some of the simplest, most pleasurable activities on offer at Kapamba Camp involve the river itself – including a guided paddle barefoot upstream, a scenic sundowner with your feet dangling in the crystal clear waters or, most romantic of all, a candle and lantern-lit evening meal for two with the table set up in the shallows.
Impact
Conservation
Kapamba Camp works both with the South Luangwa Conservation Society (SLCS) & North Luangwa Conservation Project (NLCP) to ensure that conservation efforts continue in the area. Individual educational and conservation programmes in the community are also run as part of a more sustained push for the preservation of the South Luangwa National Park.
To ensure the long term future of these essential projects the camp has introduced to their rates a donation of $10 per person per night to the 'Luangwa Conservation & Community Fund'. The funds from this are then split evenly between conservation and community projects.
Community
The camp provides help to two local schools; Chiwawatala Basic School in Mfuwe and Chilongozi School in a remote area close to the camp. Since support began, the progress of the schools has been remarkable. With generous donations it has allowed for the sponsorship of pupils, teachers' salaries to be covered, the construction of classrooms and staff houses, and provided the necessary means for the school children to have outings into the park on wildlife drives.