Remote, rustic and located in North Luangwa National Park, on the banks of the Mwaleshi river, a 3 hour walk from the confluence with the Luangwa River, Mwaleshi Camp is the brainchild of John and Carol Coppinger, whose love for north Luangwa is reflected in a seasonal camp that is simple, ecologically sound and beautifully run.
Overview
A specialist walking safari destination, Mwaleshi Camp is a wood, thatch and reed build, and consists of a main mess area and 4 sleeping rooms. With excellent views of the river, the open-sided chitenje includes a bar, lounge, library and dining area. Outside, there is a raised seating area, complete with camping chairs and hammocks, and further down towards the river there is a fire pit and seating. Even further down, beside the river, there are a couple of loungers.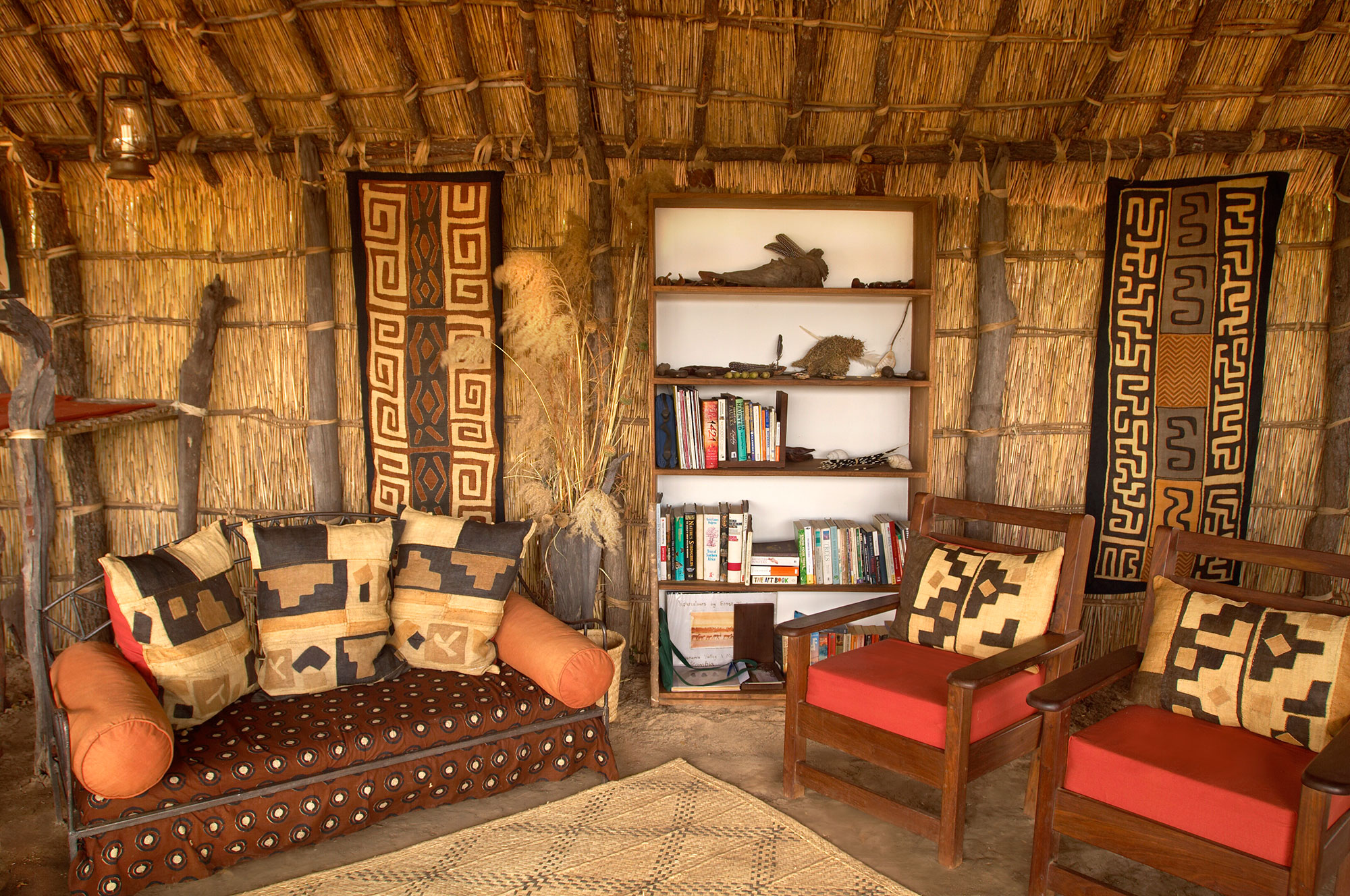 Food & service
In keeping with Mwaleshi Camp's ethos, the menu is about quality, and choice is limited to buffets (breakfast and brunch) and afternoon tea, while supper is a 3 course affair, often taken outside. With enough warning, the camp can cater for special diets.
Rooms
Raised, evenly spaced, overlooking the river, the chalets are rebuilt every year, and so the low reed walls and thatch roofing are fresh, while the inside gets a good out-of-season spring clean. Each room includes a twin bed (with fetching reed headboards), solar power, a bedside table, decking and a separate bathroom. The bathroom is largely open air, consists of a reed-set basin, hot water hatch (through which hot water is delivered mornings and upon request), a shower and flush toilet.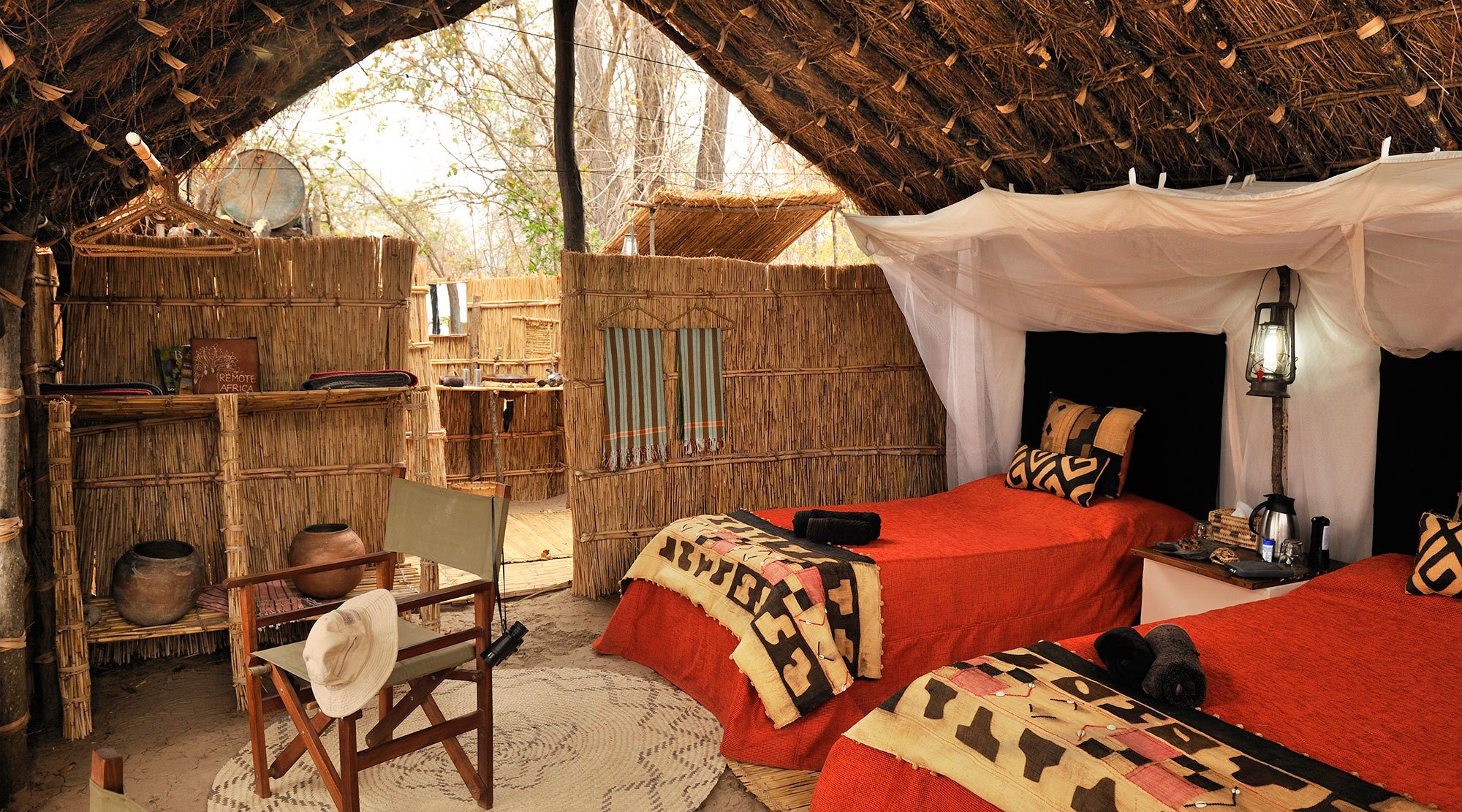 Activities
The park is excellent for its birds, includes eastern banded snake eagle, red billed helmet shrike, purple-crested Turaco, and Pearl's spotted owlet. Also home to Crawshay's zebra (sub-species of the Burchells) and Cookson's wildebeest, it has its fair share of wildlife , but it has to be worked for, which makes sightings of lion or leopard that bit more rewarding.
At the time of writing, Mwaleshi's guiding is led by Brent Harris, who, much like his predecessor Ernst Jacobs, is as good with people as he is at finding animals. In addition, John Coppinger has recently introduced a biannual trek to the source of the Luangwa river, a trip that includes a stay at Mwaleshi.
Best time to visit: mid June through to end October. October is the hottest and driest month, while the rains come in January and last through to March. Mwaleshi Camp is closed from end October through to mid-June. Mwaleshi also links well with Tena Tena, Nkwali and Tafika.
Impact
Community
Remote Africa Safaris is actively involved, through the Tafika Fund, in sustainably uplifting the surrounding community. Over the years a number of long-term initiatives have been successfully implemented and maintained. Donations to the Tafika Fund, from generous guests and tour operators are used to assist the (government run) Mkasanga School in a number of ways.
From ongoing building renovation, to the purchase and supply of stationery, textbooks and over 2500 library books, desks, school supplies, additional educational material and the payment of teachers' salaries, the Tafika Fund makes a significant difference to present lives and future aspirations of Mkasanga scholars.