Considered the best of an excellent bunch, located in Lower Zambezi National Park, on the banks of the Zambezi, and recipient of a multitude of awards, including the 2008 and 2009 World Travel Awards, the 2011 Best Safari Property in Africa, and selection for Conde Naste's Best of the Best Series, Chiawa Camp is almost in a league of its own when it comes to providing a service that is as simple and as innovative as it is luxurious.
Overview
The brainchild of Dave and Jenny Cumings, who in 1989 ran the first non-hunting safaris in the lower Zambezi, Chiawa remains a family operation, if not always in blood, then certainly in spirit. Location-wise, it is the envy of many a camp, whose guides often bring their guests into the area, such is the concentration of wildlife. Situated in the shade of a thicket of mahogany trees, and overlooking the Zambezi, Chiawa Camp itself consists of a main lodge and 9 sleeping tents.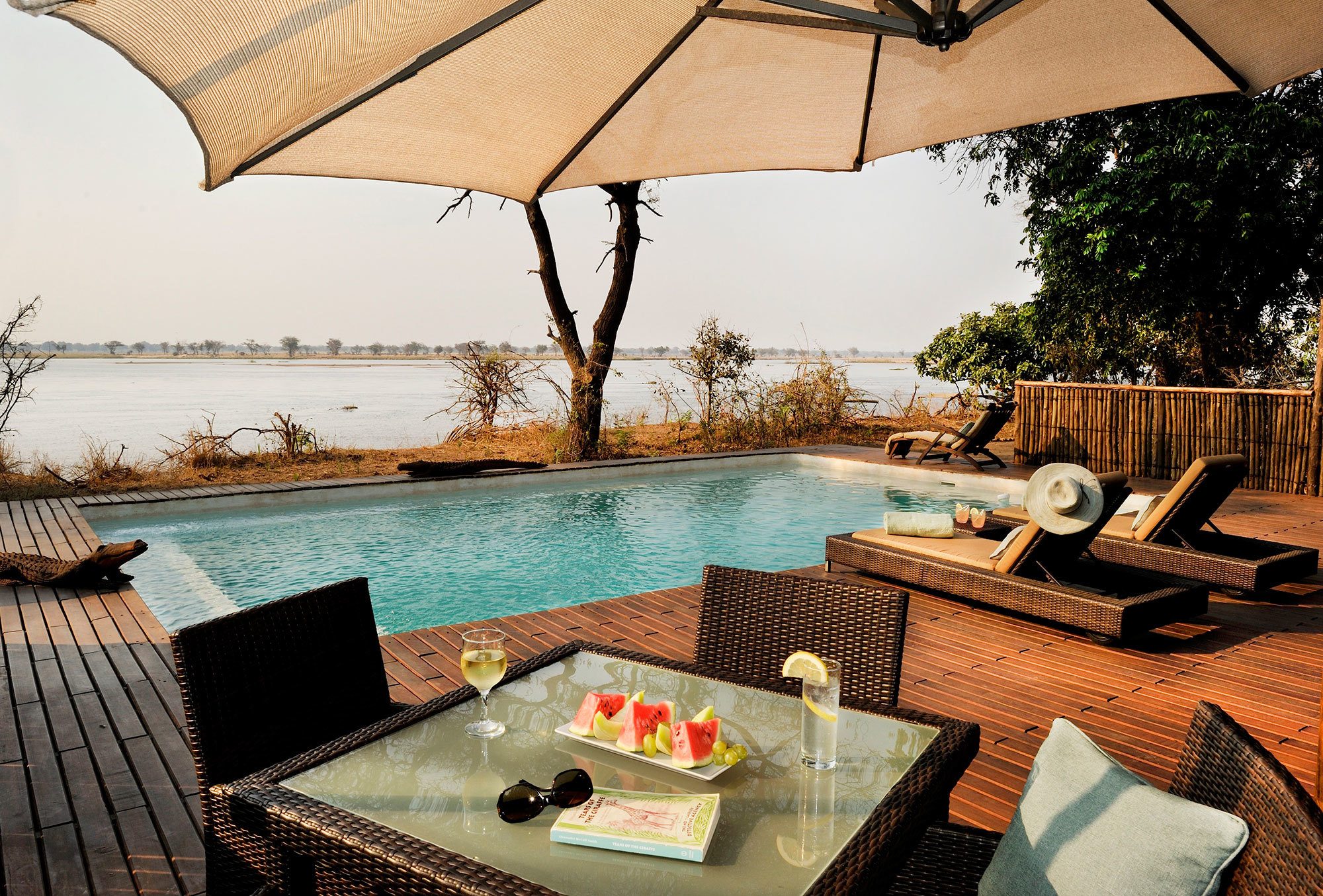 A wood and thatch build, the main lodge is a 2 storey building, and includes a lounge, bar, dining area, library, pool and upstairs viewing deck. Cool, calm, beautifully thought through, the rooms are characterised by mixed seating – comfortable upright leather chairs for the library, slumber (ish) sofas/armchairs in the lounge – and by a low key emphasis on function and quality.
Food & service
The team, which includes a Cumings son and daughter-in-law, is tight, loyal and terribly hard working. With 7 guides, 3 chefs, 3 waiters, 2 management teams and a dedicated produce buyer it's a large family, and we're yet to mention the camp choir!
Rooms
Accommodation at Chiawa Camp includes eight superior and one safari suite. he tents are divided into 2 classes: superior (8) and superior (1). Well spaced and positioned within spitting distance of the river, each superior room includes a double bed, a changing space, a large veranda and bathroom.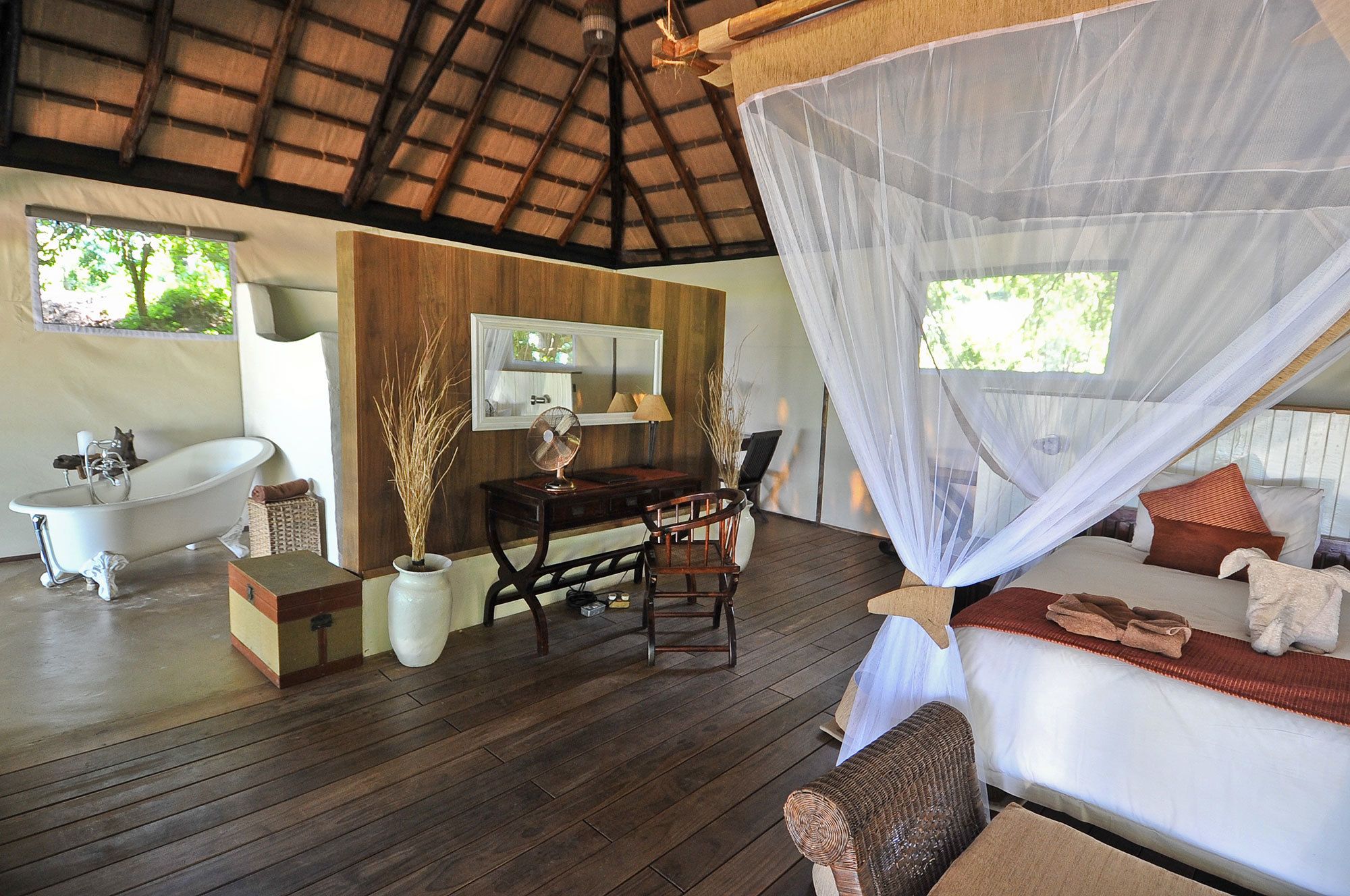 Open plan, raised on beautiful dark wood floors, accessed either by the front, which opens completely, or by a door at the back, the rooms are large, airy and beautifully furnished, containing armchairs, a writing desk and sensible storage facilities. The bathrooms are fabulous, and come with twin sinks, a claw foot bath, shower and flush toilet. Two of the superior rooms are almost double the size of the standard, include a lounge area, and are arranged so that the length of the open plan room can be opened up to look out onto the river – including the bath area. The safari suite is located further away, has a split deck, an open air bathroom, and would suit honeymooners or a couple after a bit of extra privacy.
Activities
Activities at Chiawa Camp include day and night drives, guided walks, river trips, canoeing and fishing.
Impact
Conservation 
Chiawa Camp has, since its inception, always understood its responsibility towards wildlife as the natural heritage of mankind. It has affirmed its determination to promote the pillars of ecotourism inside Chiawa Camp and outside for the local human community and the wildlife, through conservation projects, education and social development and safeguarding the earth's natural resources by respectful practices.
The camp supports both the Africa Wild Dog Conservation program and has also provided funding and logistical support for a Cheetah re-population program. Furthermore a large portion of Chiawa Camp's revenue and resources is reinvested into protecting the Lower Zambezi. Chiawa Camp annually provides approximately $50,000 on behalf of Conservation Lower Zambezi's activities.
Community 
Chiawa Camp has also played a crucial role in local community development with its focus on people, through economic & education support and empowerment to surrounding communities. As an example the camp donates about 20 bed nights per year (raising some $25,000+ annually) to charity and these are auctioned off to raise funds for orphanages, children's hospices and other charities within the Lower Zambezi National Park.