Located in Kafue National Park, in the north-west of the Busanga Plains, shaded by a mix of sycamore figs and date palms, Busanga Bush Camp is a low key and excellent luxury camp.
Overview
A wood and canvas structure, it consists of a main mess area and 4 sleeping tents. The mess includes a bar, lounge and dining area. Open sided, and characterised by wood flooring, cane seating, low tables, colourful cushions and plenty of space, the mess area is a fantastic spot from which to watch the sun rise, a real sight as the plains' morning mists turn red, causing the light to move, thin, thicken and finally disperse.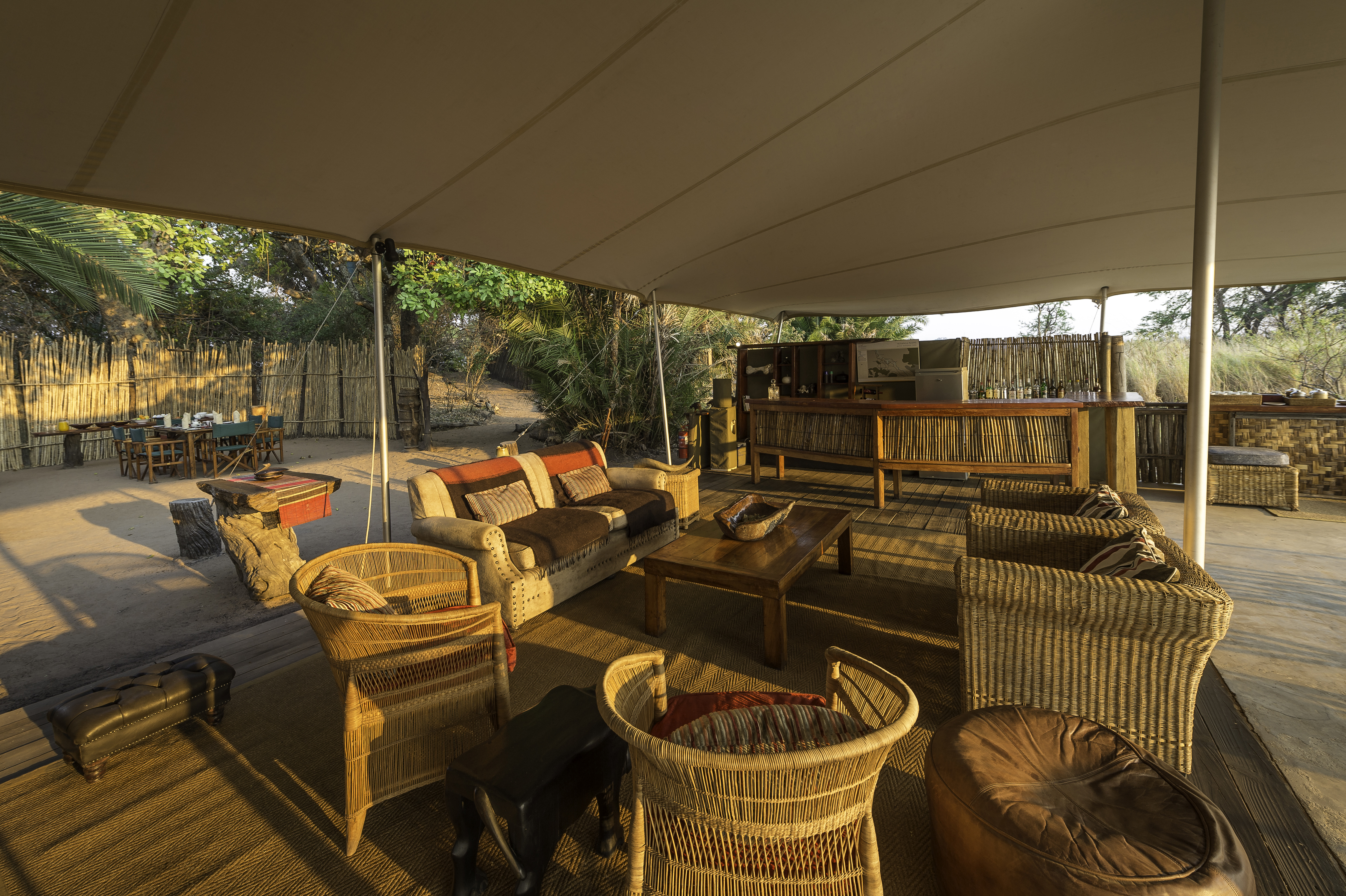 Food & service
Meals – breakfast buffet, brunch barbeque, 3 course dinner – are generally taken outside, beneath a large sycamore, with night lighting being provided by a chandelier fixed to one of its branches.
Rooms
Raised on wood platforms, the 4 customised Meru style tents of Busanga Bush Camp are well spaced and have canvas and mosquito gauze sides. While all are beautifully positioned, one of the tents is that bit more in among the trees, resulting in less of a view – compensation is provided by way of a larger veranda. Each of the tents includes veranda decking, an outdoor bathroom, double bed, storage facilities and adequate seating.
The aim here is to keep things simple, and the decor is restrained and muted, with the emphasis being placed on comfort, on wonderful high density mattresses, high grade bed linen, and de rigueur hammocks. Please note: the bathroom – flush toilet, hot shower, sink – is not separated by a door.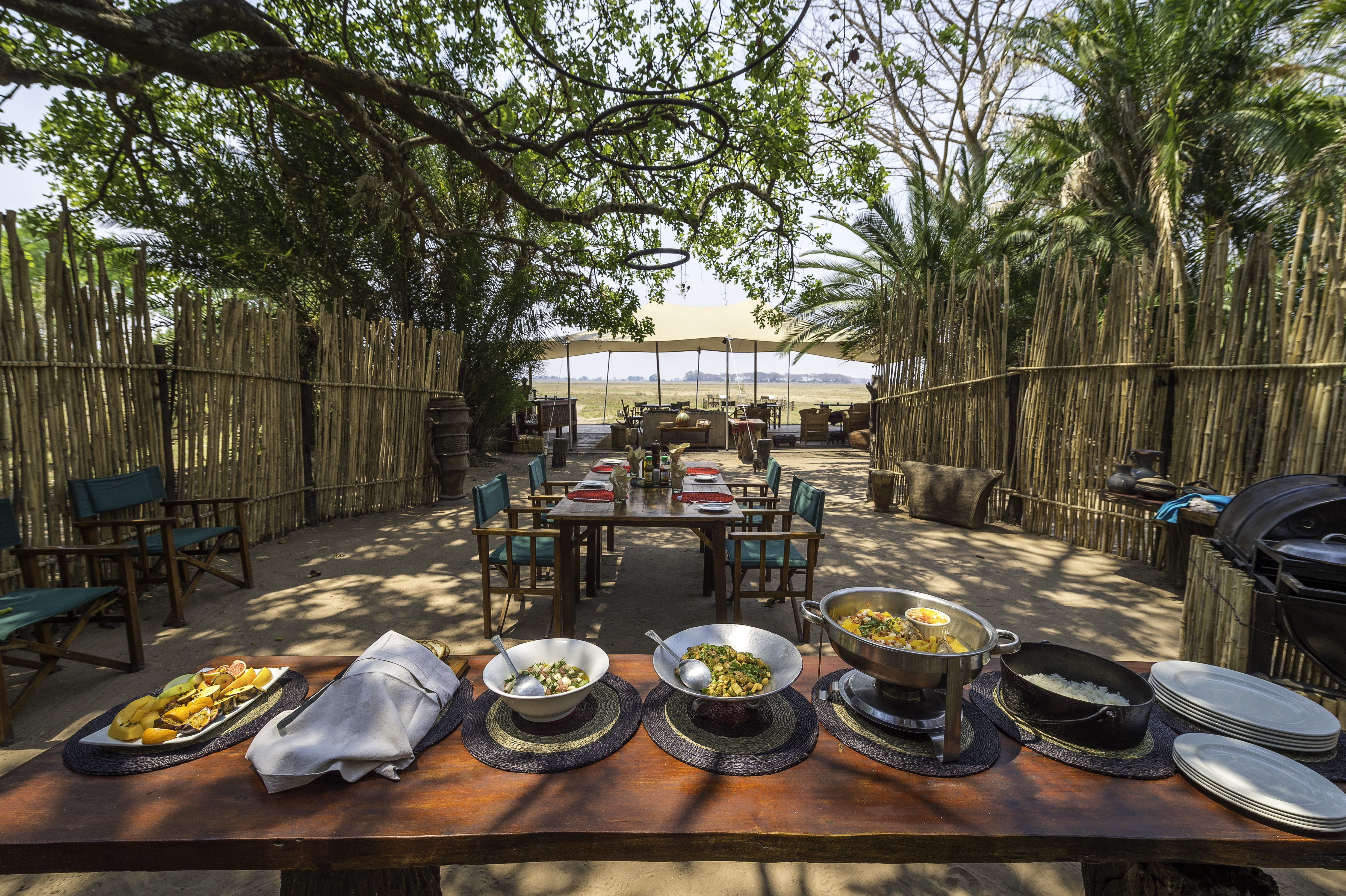 Activities
The area boasts a diversity of wildlife, especially large volumes of antelope, degassa waterbuck and red lechwe. The area is flooded for half the year, and the Miombo woodland trees start their growth cycle around August and September, their foliage becoming spectacular shades of red. The terrain is flat and vast, so wildlife activities are largely by 4 x 4 vehicles, though bird watching and guided walks are available. Boating is available during July.
Impact
Conservation 
The Wilderness Trust supports a number of projects including a strategic management plan and monitoring of lions and other carnivores, as well as a human-elephant conflict resolution study. These projects contribute towards a better understanding of how best to sustainably manage Kafue National Park and Zambia's wildlife areas as a whole.
This camp is powered by a hybrid system, combining a diesel-powered generator that charges a bank of batteries, which in turn supplies the camp with electricity through an inverter. In order to reduce the use of bottled water, reverse osmosis filtration is done on site to provide guests with high-quality drinking water.
Commerce
As Wilderness Safaris began to operate in Kafue, opportunities arose to partner with the local people. Employment opportunities were the first step, initially in construction (with more than 150 labourers from surrounding villages helping to build the camps), and then in tourism. With permanent employment has come training and skills development.
Community 
Wilderness Safaris supports Children in the Wilderness, a programme which provides educational life skills and environmental awareness for children who live in villages close to conservation areas. At this moment in time (2018) CITW has benefited over 10,000 children from seven African countries.