0°
11'
17" S
29°
53'
49" E
Located in western Uganda, in Queen Elizabeth National Park, and set on a ridge overlooking Lake Edward and Kasinga Channel, Mweya Lodge is known for its setting, its scope and its wildlife.
OVERVIEW
Recently overhauled, Mweya is large, more like a hotel than a boutique lodge, and will appeal to travelers whose needs include all the amenities found in hotels – television, internet facilities, and meeting rooms. The forecourt is dominated by a huge elephant sculpture, and the main lodge – peaked thatch roofs, polished floors, African patterning – is a mixed material construct, and consists of reception, a bar, lounge, restaurant and souvenir shop.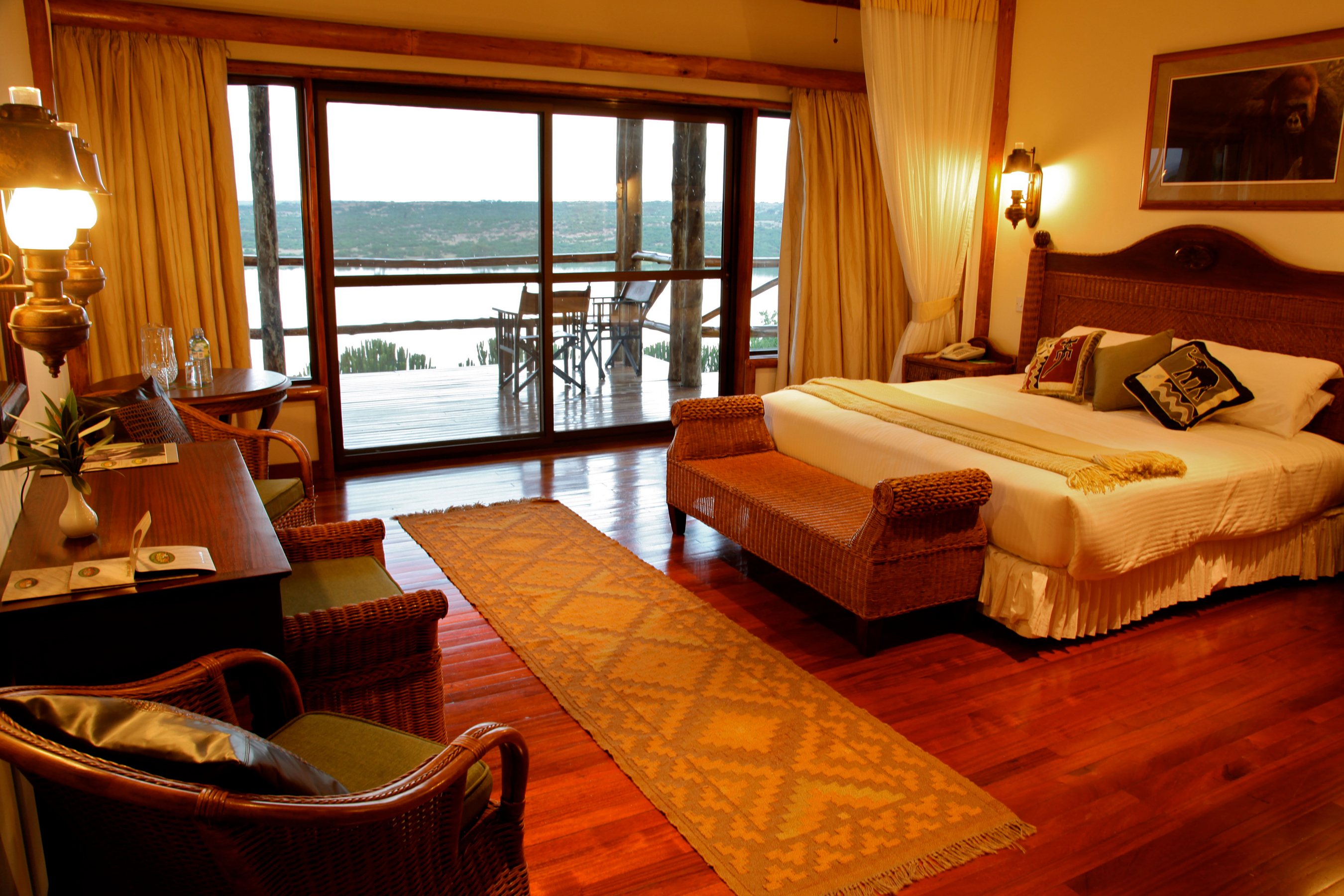 FOOD AND SERVICE
On the whole, feedback has been consistently good with regards to the service, and the food at Mweya Lodge is varied, excellent and beautifully presented.
ACCOMMODATION
Outside, the grounds are extensive and slope down towards the lake. Much is made of the gardens' family of habituated mongooses, and of the birdlife. Overlooking the lake, and served by a bar, the pool here is incredible.
Wonderfully positioned, the en-suite rooms, which range from the Presidential Cottage to standard twins, all have balcony views of the lake. The bedrooms themselves are perfectly functional. In some, bright African patterns sit a tad uncomfortably against what is fundamentally a neo-colonial style. In others, the mood is less playful, and the art and furniture choices create a more unified effect.
ACTIVITIES
Activities at Mweya Lodge include boat trips, wildlife drives, bush walks and bird watching.
ethics
Conservation
As well as supporting school curriculums, Mweya Safari Lodge also sponsors Wildlife Clubs of Uganda. This forms student clubs to take part in active learning activities that promote environmental education and conservation.
Commerce
The Muljibhai Madhvani Foundation's primary objectives is to promote and financially support scientific and technical education among the people of Uganda.
In operation for over 15 years, the scholarship programme is aimed at benefiting Ugandans pursuing either undergraduate or graduate studies at university level in Uganda.
Community
The Lodge, in partnership with USAID-STAR (Sustainable Tourism in the Albertine Rift) and the Pearls of Uganda Program, are working with the community to expand their local primary school to accommodate the rapidly expanding number of students.
Now more than 120 students attend the primary school in Kazinga Community. The Lodge ensures that 100% of donations (a $1 guest fee) are spent on direct project costs.