Located in western Uganda, just outside Lake Mburo National Park, Mihingo Lodge is an excellent value luxury eco-lodge.
Overview
Situated on 200 acres of private land, on a rocky bluff overlooking the park, the lodge is a rock, found wood and thatch construct. Consisting of a mess room, swimming pool, stables and 10 sleeping rooms, Mihingo Lodge is a beautifully designed – and beautifully run – establishment.
Owner built, owner decorated, the main lodge includes a bar, lounge and dining area, and is characterised by steep thatch roofs, low overhangs, open sides, low walls, long, curved stone benches, polished floors, a mix of camping and comfortable seating, reclaimed olive wood tables, bright cushions, pouffes and well chosen artefacts.
Food & service
The food is divine, and the feedback regarding service has been unremittingly excellent.
Rooms
Built on stilts and wooden platforms, in a variety of settings, and protected by thatched roofs, the sleeping tents of Mihingo Lodge include a good sized veranda, a twin or four poster bed, canvas chair seating and a separate bathroom – sink, shower and flush toilet. The decor is restrained and purposely rustic, with an emphasis placed on quality – of sleep, rest and relaxation – as opposed to a mass of artefacts, throws and rugs. Wi-Fi is available near the dining room and in the lodge's office.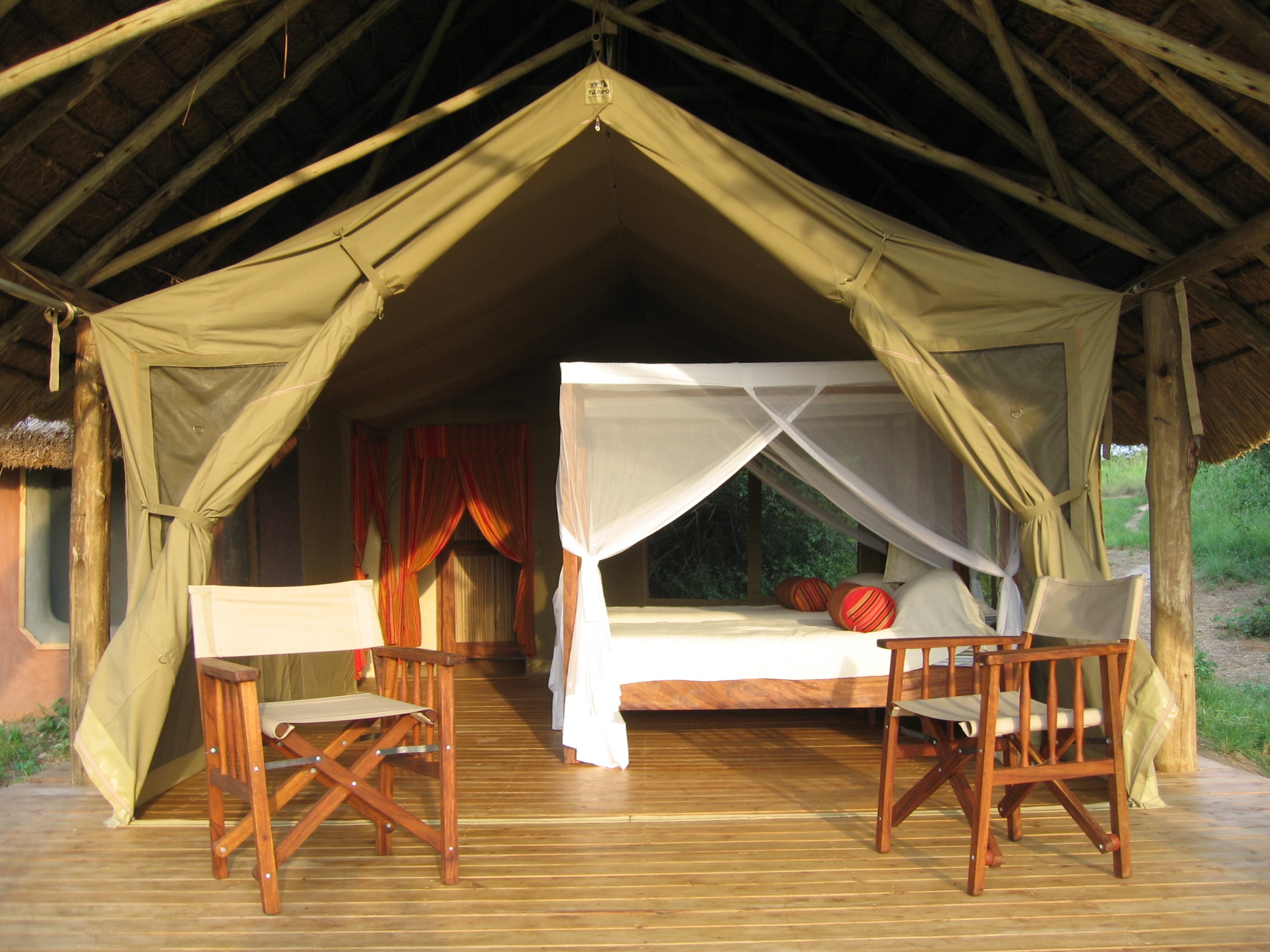 Activities
Activities at Mihingo Lodge include horse riding (for which it is well known), wildlife drives, guided walks, bush picnics, boat trips, massage and sundowners.
Impact
Conservation
The Mihingo Conservation Foundation was established in 2008, only one year after Mihingo Lodge opened. The Mihingo Leopard and Hyena Conservation Project compensates farmers for livestock killed by leopard and hyena in Lake Mburo National Park, on average compensating 150 kills a year. MCF also collaborates with the Giraffe Conservation Foundation to collect data on leopard sightings.
In total the lodge has about 120 solar panels, which powers all the electricity and water heating, and used as many local materials as possible during construction.
Commerce
Around 70% of all Mihingo's staff are from the local community, and the Mihingo Conservation Foundation generates about USD $20,000 a year which is invested into the community.
The Craft Project works with female groups to provide a guaranteed market for their goods in fine weaving and bead-work.
Community
The lodge supports 2 local schools and the health centre, providing materials and staff as well as transport for serious injuries.