0°
42'
7.29'' N
30°
17'
52.94'' E
Owner built and run, and located near Kibale Forest, Western Uganda, Kyaninga Lodge is a highly original and first rate luxury lodge.
OVERVIEW
A wood and thatch construct, strung out along a ridge overlooking crater Lake Kyaninga, Kyaninga Lodge consists of a main lodge and 9 sleeping rooms. The lodge is the result of owner Steve William's unrelenting 6 year pursuit of a very personal dream, and the raised log cabin design is all his; as is the exemplary craftsmanship seen in the build, from the peaked thatch roofing to the log walls, and finally to the eye catching raised platform.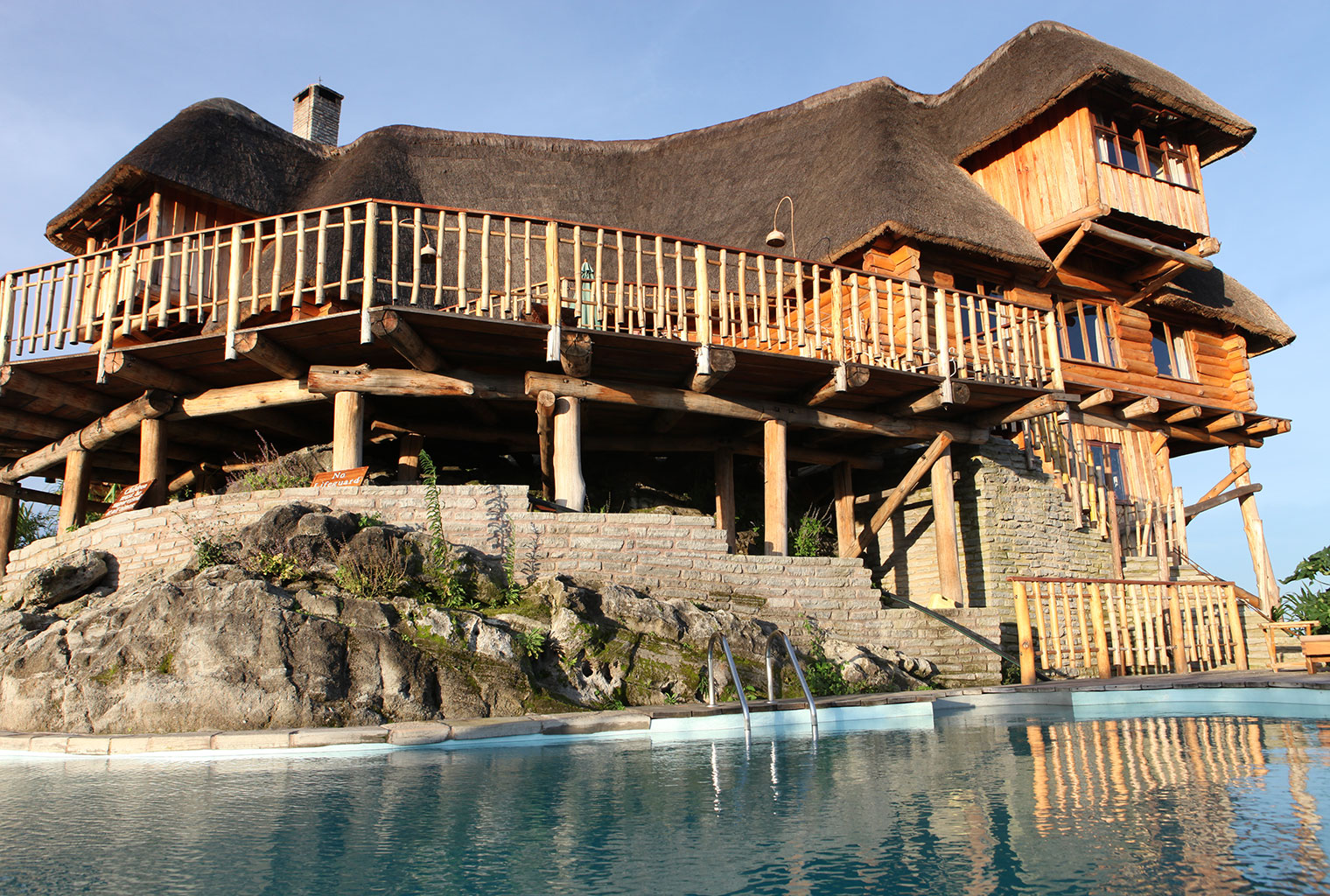 The main lodge includes a multi seating area and viewing points, a restaurant, bar, pool, croquet lawn and tennis court. Built around an enormously tall chimney breast, characterised by cavernous ceilings, long wooden walkways and acres of space, the seating and furnishing reasonably functional, the lodge is perfectly positioned to take in, on one side views of the lake and, on the other, the forest. Wi-Fi is available, with the quickest speed often found near the reception or dining room.
FOOD AND SERVICE
Much is made by returning guests not only of the service, which is friendly, professional and discreet, but also of the standard of the food. Locally sourced, often homegrown, it's fresh and cooked in a kitchen that knows its beans from its pulses. If you're there on a Sunday, look out for the roast – delicious.
ACCOMMODATION
Equally unique are the cottages at Kyaninga Lodge. Their peaked roofs, extensive balconies and raised platforms (very much in keeping with the main lodge's Mad Max feel) fall away along the ridge, the only difference between one or the other being position and view. Each room includes a double/twin bed, seating and en-suite bathroom.
Again, the quality of the woodwork is something else, as is the choice of woods; the basins, for example, are mounted on Mt Elgon Olive. Indeed, along with the comfort and quality of the bed and accompanying linen, the bathroom, its freestanding claw foot bath, powerful shower and excellent use of space, is very much a cottage highlight. All in all, a beautiful stay.
ACTIVITIES
Activities at Kyaninga Lodge include wildlife drives, guided walks, biking and cultural visits. Please be advised that while Kibale National Park and tracking the chimpanzees is under an hour's drive away, Queen Elizabeth National Park is over double that.
Ethics
Conservation
Kyaninga Forest Foundation (KFF) was established in 2010 to help local communities living near Lake Kyaninga and the surrounding Kyaninga Forest to manage the ever-increasing demand for natural resources such as firewood. KFF's invaluable work unearthed a multitude of other issues, and it attained NGO status in 2017 to address these.
In the last 7 years KFF successfully planted over 40,000 indigenous trees. This has – unsurprisingly – seen a dramatic increase in the abundance and biodiversity of many birds, primates, insects and lizards in the Kyaninga Forest.
Commerce
All profit from Kyaninga Dairy – which started as a trial operation before rapidly expanding – are either invested back in the dairy to grow the operation, or go straight to the Kyaninga Child Development Centre (KCDC). KCDC works alongside children in Uganda with disabilities to ensure all children can lead productive and fulfilled lives.
Community
KFF has two Child Development Centres serving two districts. Over 1400 children have been helped in the last 4 year by the centres, where 15 professional therapists offer physiotherapy, speech therapy, occupational therapy and special education training.