5°
49'
13.08" S
39°
22'
57.54" E
Located in the Zanzibari archipelago, on Mnemba island, and leading light from the AndBeyond stables, Mnemba Island Lodge is a stunning example of beach luxury at its very best.
Accessible only by boat, the island is privately owned, and activity is generally centred exclusively on the lodge – all of which means one's stay at Mnemba Island Lodge is a super private affair. A stone, wood and thatch construct, the lodge consists of a dining room, seating area, bar, multiple verandahs and 10 luxury bandas. Relaxed, laid back, well set out, the main lodge has open sides, peaked roofs and an interior design – local artefacts, Zanzibari art work, comfortable seating – that is both easy on the eye and welcoming. Inspired by a largely Mediterranean and North African palate, the food is delicious, and can be served inside or out.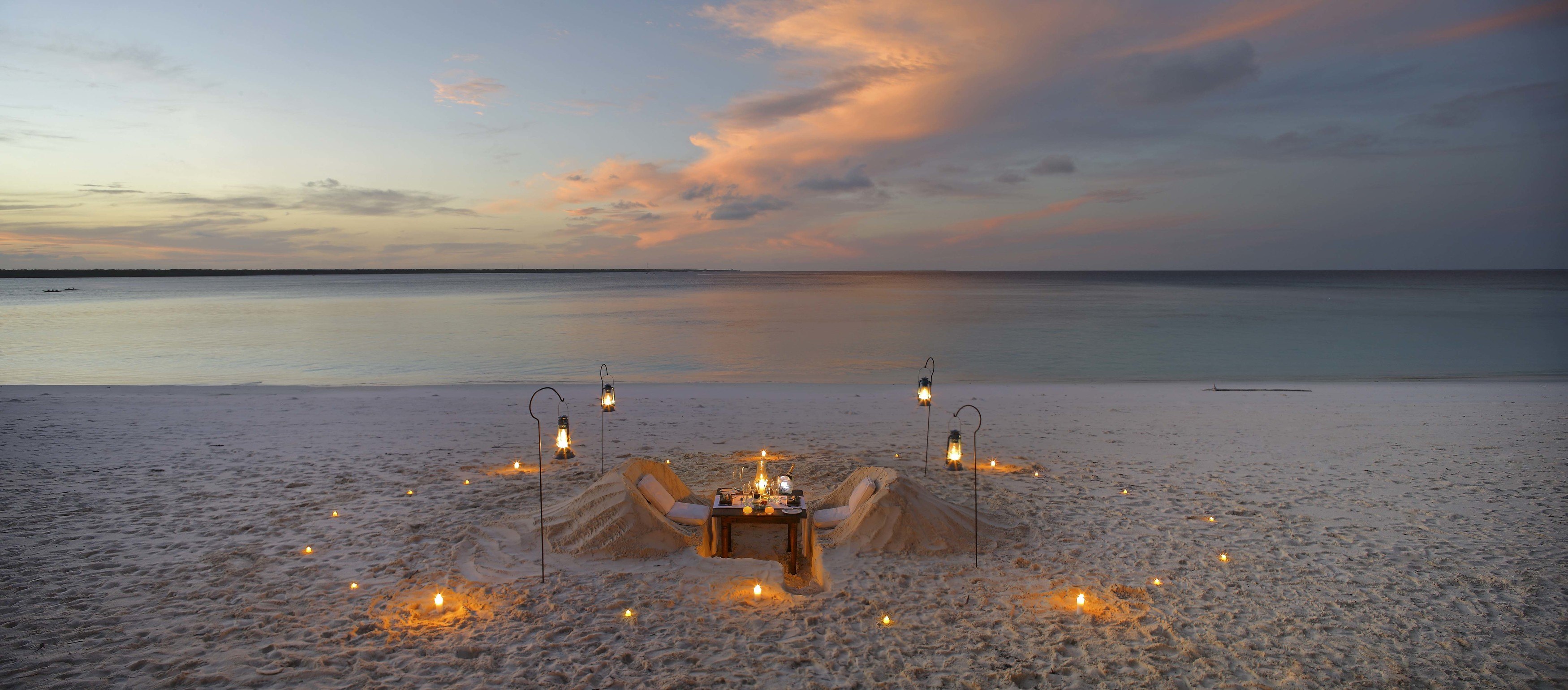 The bandas are beautiful. Set among the trees, at the water's edge, thatched and possessing its own private verandah, each is characterised by a large bed, rush matting, a wonderful bathroom, Swahili loungers and Zanzibari designed headboards. Much is made by guests of the little touches, the doves, the antelopes, the art, and of the floor and walls, which – in keeping with local practices – are covered in rush matting.
The diving off the island is world class, and the quality of instruction and dive kit is top drawer. Other activities at Mnemba Island Lodge include snorkelling, private dhow trips, beach picnics, kayaking, fishing, swimming with dolphins and windsurfing trips.
Concerned with the impact of its carbon footprint, Mnemba Island Lodge de-salinates seawater, sponsers local fishermen to protect the reefs, consistently highlights the plight of the green turtle and provides environmental-type support in two main island villages.
Best time to visit July through to March, with premium months October through to March (Kaskazi monsoon).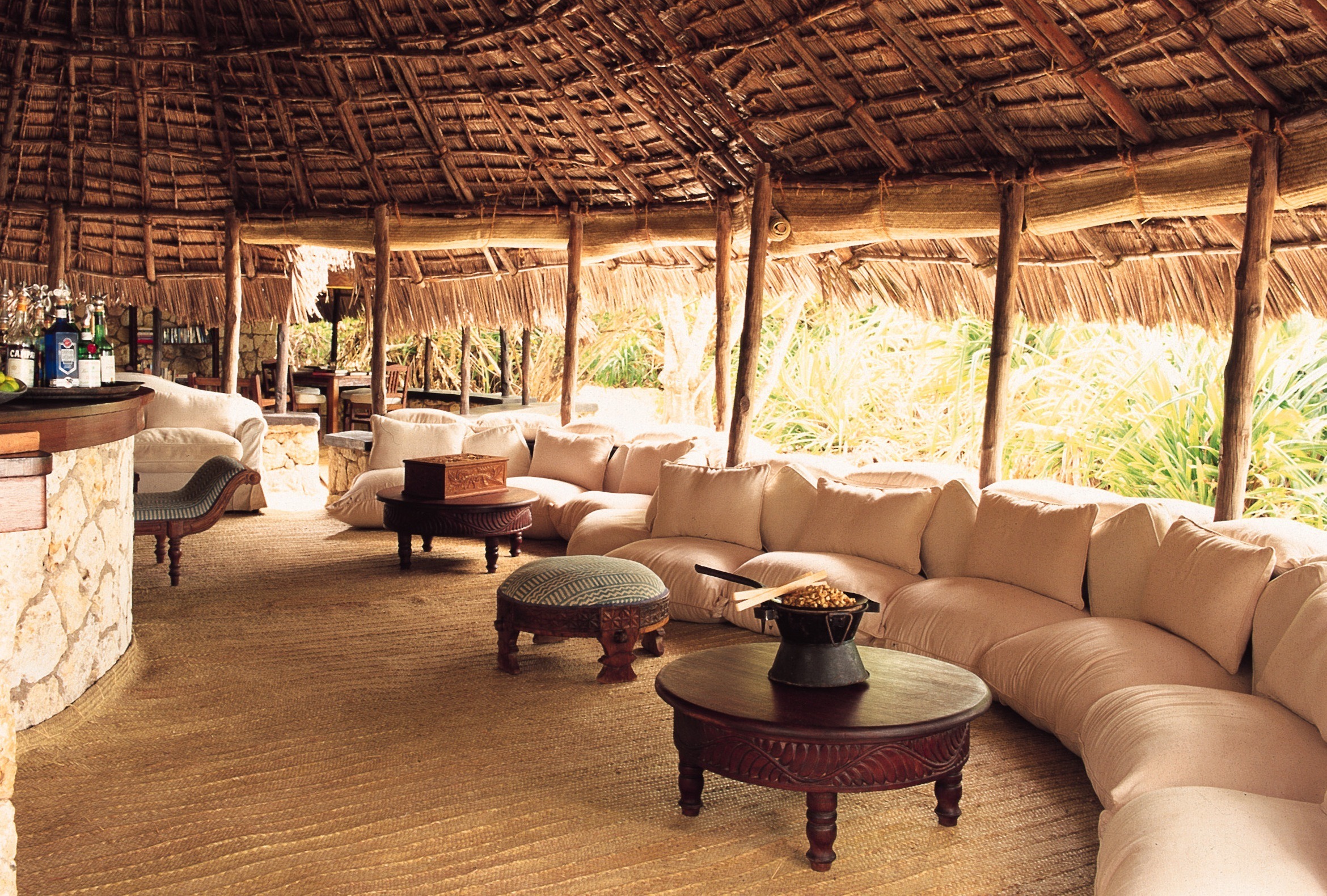 Ethical Information
At &Beyond we believe in taking a shared responsibility for our futures and those of our children. You may be surprised to know that we have a small physical footprint in terms of buildings and guests. Our entire group of lodges comprises less than 800 beds, smaller than a medium-sized city hotel, but we have a disproportionately large positive impact on the more than 3.5 million hectares (8.5 million acres) of wildlife areas we help sustain and the communities whose lives are interwoven with our business.
Our values are and always have been: "Care of the land. Care of the wildlife. Care of the people." They have become an intuitive part of the way we operate and are increasingly part of the reasons why our guests find their experience with us so rewarding.
We believe that all business can "take less" and "give more", and we apply this philosophy every day through actions big and small at the group's 46 lodges. Whether it's pioneering the re-introduction of an endangered species such as black rhino, facilitating the establishment of an income producing sewing co-operative in a local community or simply managing the vegetable peelings from our kitchens, we consciously look for ways to leave a positive legacy.
Every &Beyond lodge supports the conservation of wildlife and, at Mnemba, the group's only oceanside lodge, that includes the shores and the marine life in the surrounding waters.
Green turtle and humpback whale research is ongoing at Mnemba.
In November 2008, 76 sunis were captured on the Island and translocated to Zanzibar. Initiatives like this free up the habitat for the Ader's Duiker, one of the rarest species of antelope, of which there are only an estimated 350 in existence.
Education helps to break the cycle of poverty, allowing communities and individuals the opportunity to enhance the
quality of their lives. Investing in the building of schools and classrooms, training, bursaries and adult education are all
key focus areas of the Foundation.
At Mnemba, it has been our pleasure to host marine conservation lessons for an average of 60 schoolchildren every year.
The bulk of our delicious meals and snacks is prepared using produce that is cultivated, grown or caught by Zanzibari communities. Ingredients sourced locally include fish, honey, fruit, vegetables and eggs.
A preventative health programme, Positive Health trains staff members to become counsellors on health, nutrition and psychological wellbeing and caregivers for people living with life threatening illnesses such as HIV/Aids.
Through a simple innovation, we have helped address the challenges of water supply for local families with the introduction of innovative hippo water rollers. These are drums that hold 90 litres (25 gallons) of water and are easily rolled along the ground by means of a stainless steel holder, as opposed to the usual five litre (one gallon) containers that are traditionally carried on the heads of women and children.
Small things count for a lot at Mnemba:
• Beachwood is our firewood of choice, collected daily by &Beyond staff members off our beaches.
• The ongoing process of rebuilding guest and staff accommodaiton on the Island yields large quantities of mangrove poles which we also use for firewood.
• On the lighting front, we've reduced our paraffin usage without impacting negatively on romantic ambiances. Our generator selection is determined by guest occupancies; fewer guests mean that we opt for a smaller generator that uses less fuel.
• The geysers that spurt out soothing hot water function on solar power and the water is from the sea (the only natural water source), desalinated for guest comfort.