Located on Kendwa beach, in north-west Zanzibar, Kilindi is a very fine example of Africa's new wave of eco-luxury lodges.
Overview
Set in a large and mature garden, a stone build, and linked by a series of wooden walkways, Kilindi consists of a main lodge and 15 sleeping rooms (pavilions). The shared areas include a lounge, dining room, bar, swimming pool, spa and extensive veranda.
Design-wise, the lodge takes its lead from the dome-like structures that have for centuries marked Muslim architecture, the bright white exteriors designed to reflect the heat, the cavernous innards well suited to the task of harnessing the sea breeze, and of funnelling hot air up and out through its long glassless windows.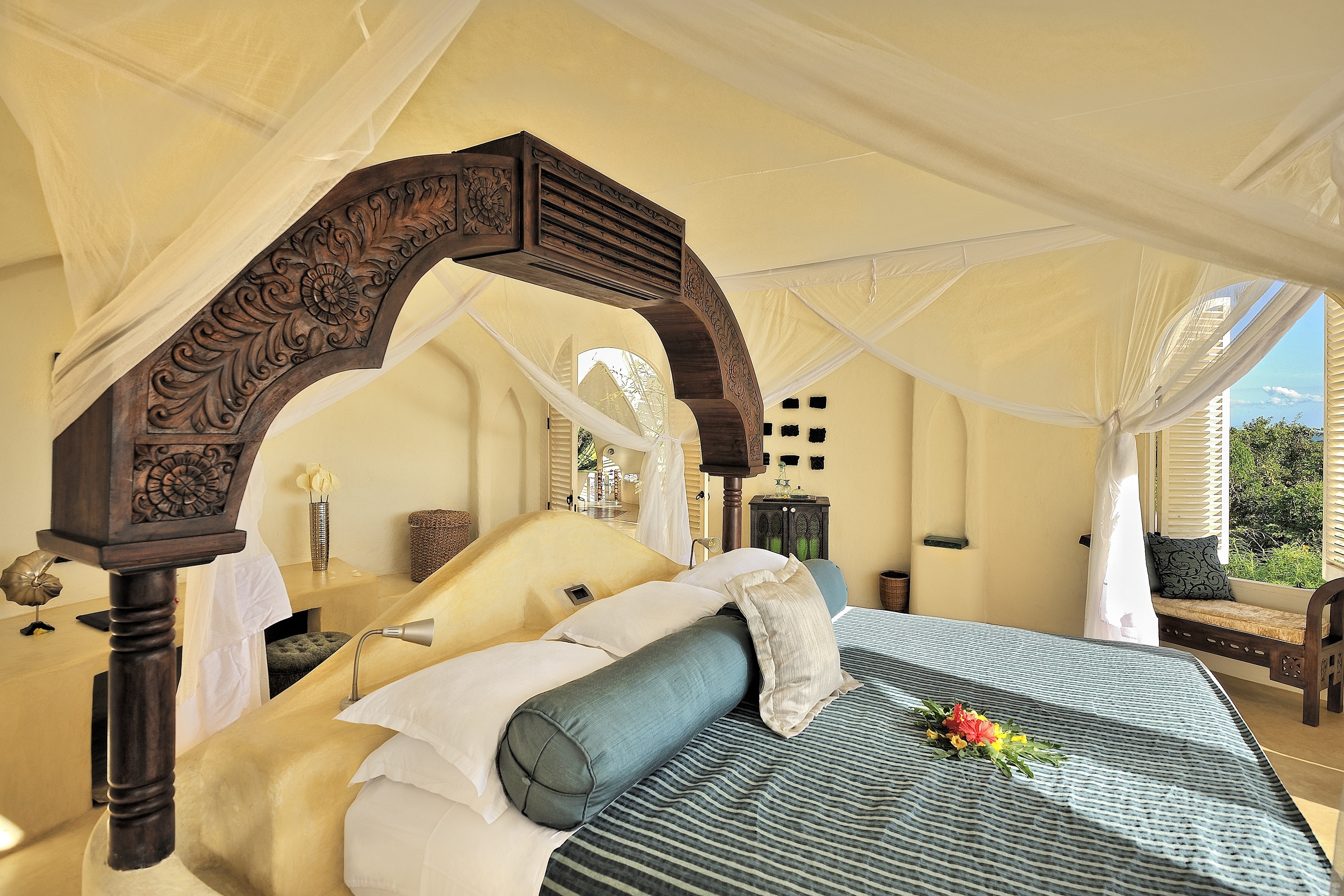 Food & service
Much is made – by the lodge, returning guests, everyone – of the food at Kilindi. Grown or sourced locally, great efforts are made to ensure fresh organic produce, and that meals are cooked and presented to the highest standards. The kitchen has been headed up by the likes of Richie Tewnion, who trained under Jamie Oliver and had a fine run as head chef at Bacchus. As a result, everything, from restaurant floor to plate to kitchen, runs beautifully; the service is a credit to the lodge, and its lofty aspirations.
Rooms
Inside, highly polished floors, uncluttered furniture arrangements and isolated pieces of art set the tone for interiors that are strictly – in the best sense of the word – thought through, the overall impression being one that in its clarity of vision matches the startling simplicities of the sand, the sky and the sea. Covered walkways provide shade, soften the borders between inside and out, and ornamental arches extend the idea of structure into the garden.
Secreted through the garden, their white domes visible above the green, Kilindi's pavilions are ideally spaced, the view of the beach obscured only by the odd palm tree trunk. Like the main lodge, the design here is purposefully minimalist, the aim being once again to create an ambience that both strikes a chord with the great outdoors and at the same time keeps the sun thoroughly at bay. So: lots of space, lots of shade, plenty sea breeze friendly doorways, windows, LED lighting plus cool cream coloured signature stone floors and features.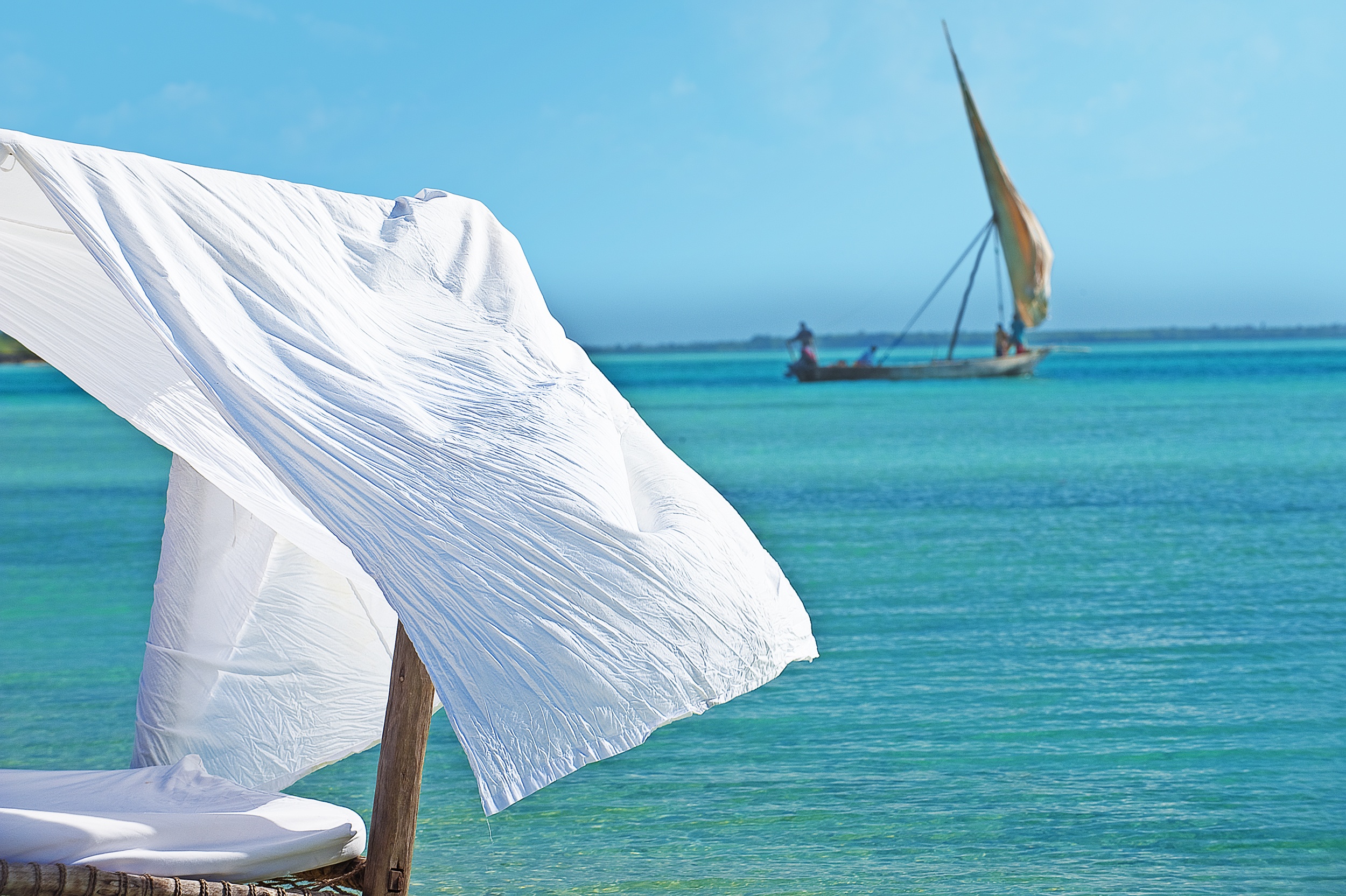 Each room includes butler service, a double bed, seating area, veranda, plunge pool(s) and en suite bathroom. All in all, fabulously fine rooms – big, unique and luxurious. You'll be spending a lot of time in them – guaranteed. Wi-Fi is accessible from the pool and restaurant.
Activities
Activities at Kilindi include diving, snorkelling, dhow trips, beach sports, swimming, spa, kiting and trips into Stone Town.
Please note that the beach is, as far as we are concerned, is one of the finest hideaway beaches Zanzibar has to offer. A gorgeous bay, free of seaweed, and susceptible to the most fantastic sunsets, it's a dream.