Remote and wild, Ugalla's tourism infrastructure is all but non-existent – which is also its joyous appeal. Nomad Tanzania's Expeditionary Walking Camp is the key to exploring the park's otherwise inaccessible and virtually unexplored wilderness, while still providing security and first-rate comfort.
Overview
Reminiscent of the great continental excursions of the 19th century, Expeditionary Walking Camp is a venture into Ugalla's vast landscape on foot, with the team carrying all equipment and supplies with them. Each excursion can support up to three A-Frame canvas tents which can sleep up to six guests, plus additional facilities such as bucket showers and drop toilets. Mobile phone coverage and charging facilities are (blissfully) limited, though a satellite phone is on hand for emergencies, as is a support vehicle if needed.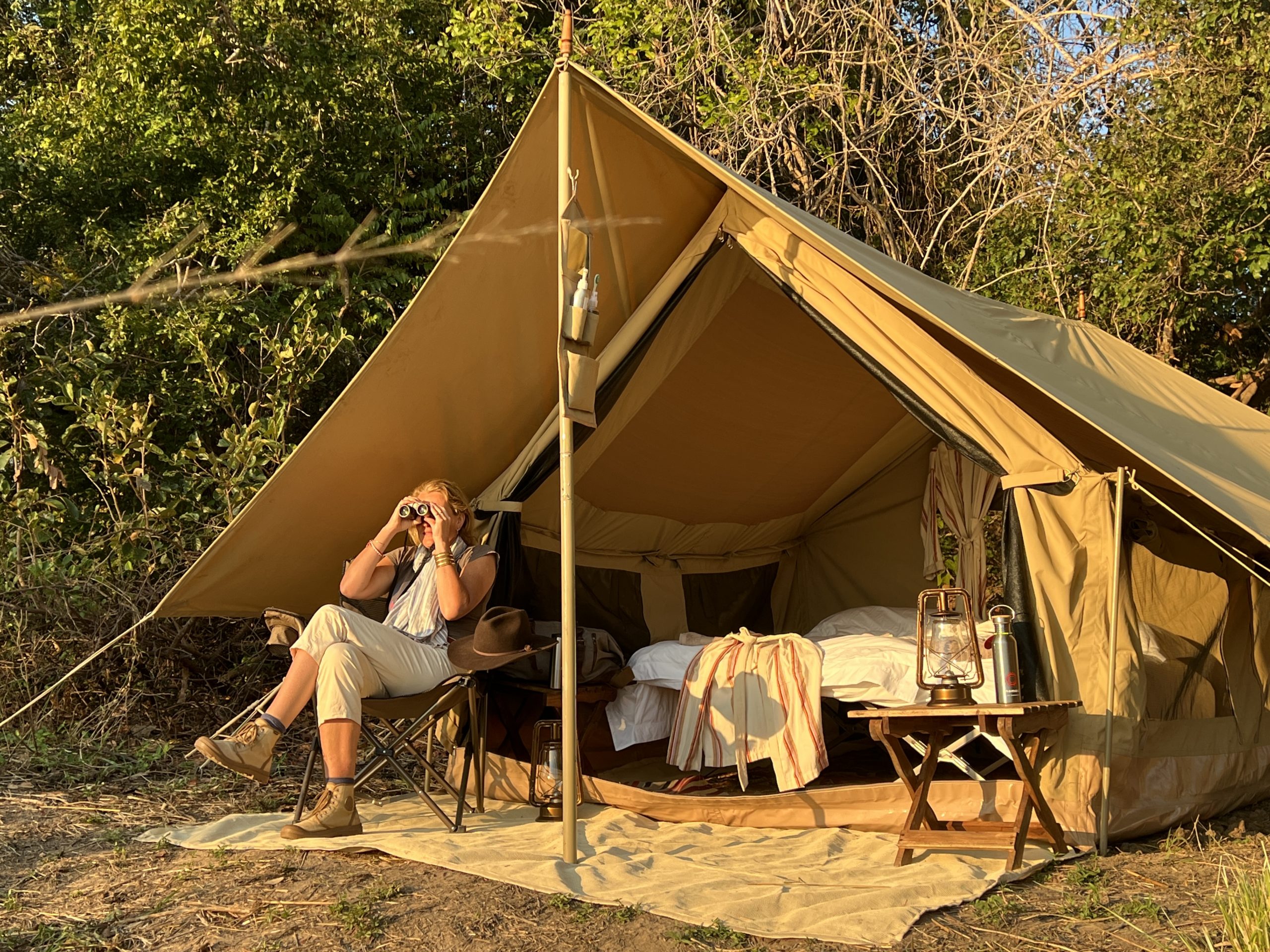 Food & service
All expeditions at Expeditionary Walking Camp are run and led by a team of seasoned professionals. Most notable is the lead guide, Prim Mlay. A walking safari specialist with over 15 years of experience, Prim is considered one of the best guides in the country. The wider team includes a chef who is adept at creating hearty meals over a campfire, a room manager to help with the nightly camp set-up as well as any guests' needs, and someone on hand for all meals and beverages.
Rooms
The traditional A-Frame tents at Expeditionary Walking Camp include comfortable cot beds with cotton bedlinen, gas lamps, and mosquito nets. Though for the ultimate immersive experience, guests are also welcome to sleep directly under the stars if they wish. Each camp also includes two short-drop toilets sheltered by a canvas canopy for privacy and two bucket showers where hot water is available upon request.
Activities
Walking itineraries at Expeditionary Walking Camp are usually set for three days. Walking begins at dawn, both so as to take advantage of this coolest part of the day, and owing to the fact that the wildlife is most active around dawn and dusk. A day's walking ranges between 3 – 6 hours, depending on the group's fitness levels, with plenty of opportunity to stop, watch, and learn about the surrounding flora and fauna. Leisurely meals and relaxing by the campfire at the end of each day are also a given.
Impact
Expeditionary Walking Camp's partner, Nomad Tanzania, is deeply invested in the communities and habitats they work with and within.
Conservation
Nomad's camps are often opened to health professionals as a base for serving local communities' needs. All staff receive free medical insurance.
Commerce
Nomad works with various conservation partners on shared goals, as well as with local community organisations on environmental aims such as reforestation initiatives.
Community
The company funds and supports small businesses, actively recruits from local communities, and provides training to help advance staff members' future career opportunities.