New, remote, Swala Camp is located north-eastern Tanzania, in Tarangire National Park, along the acacia strewn borders of the Gurusi wetlands.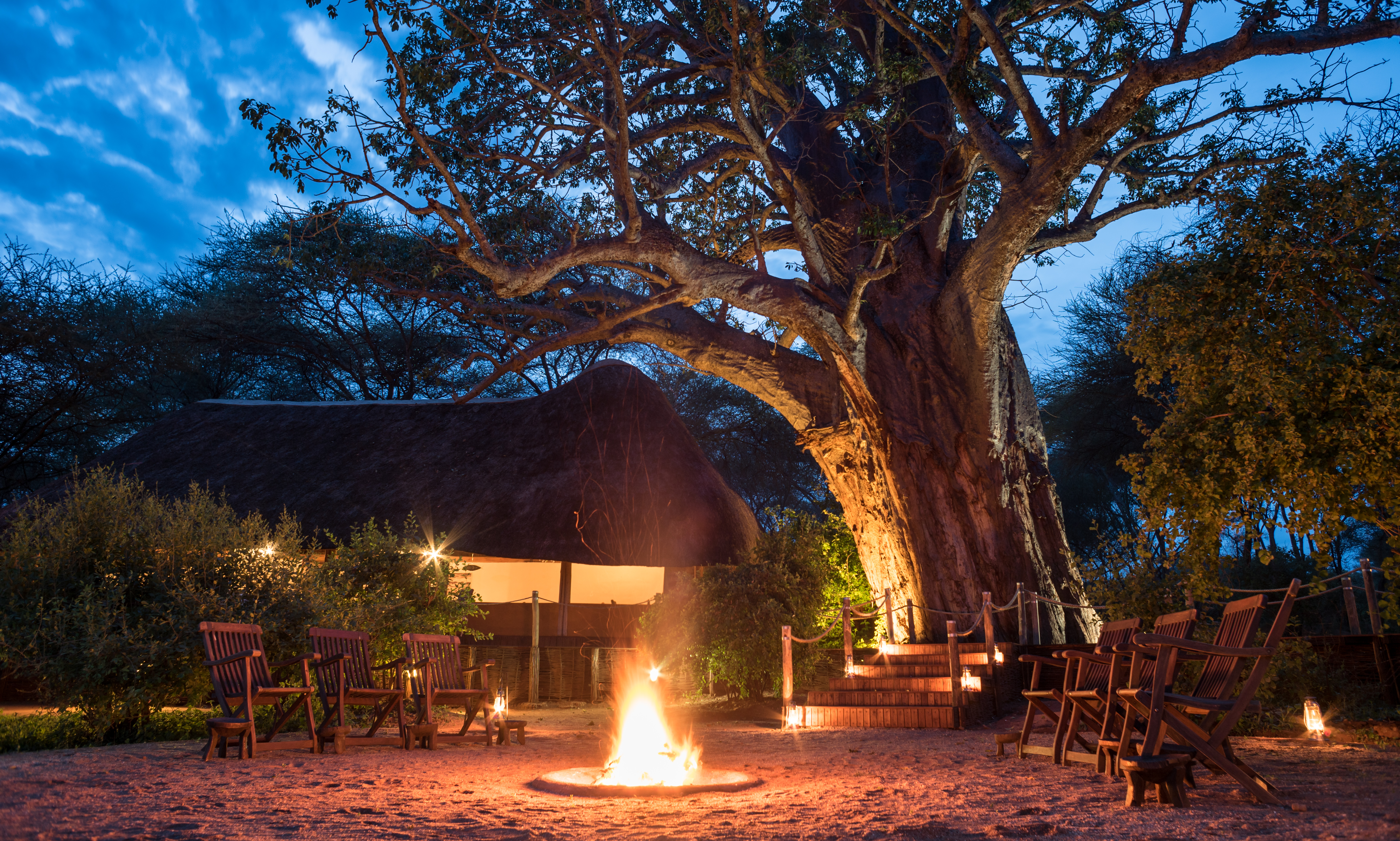 Built around the only waterhole in the area, Swala is perfectly placed for viewing resident game, and its shared areas make much of this opportunity. Constructed out of local materials, and following a mix of African and European design templates, the shared buildings possess peaked thatch roofs (whose edges reach down over low walls), polished floors and large open-plan rooms. Elegant, beautifully furnished, the main lodge consists of a dining area, a lounge and a well stocked library. Cool, inviting and naturally lit, it is complimented by excellent service and an exquisite cuisine.
Raised, and situated in the shade of enormous trees, there are 9 permanent tented bedrooms. Each, like the lodge itself, is designed along simple, clean lines, and possesses a double or twin bed, verandah, small seating area and separate bathroom. The colours are cream, beige, off-white. The bathroom includes twin sinks, showers and a flush toilet. Everything about the rooms' design suggests a real sense of space, of real luxury.
Activities at Swala include game drives, walking safaris, bush picnics, bird viewing, swimming (there is an infinity pool) and cultural visits. Travellers will be interested to learn that Swala supports a number of local community initiatives, one of which has resulted in a school being built.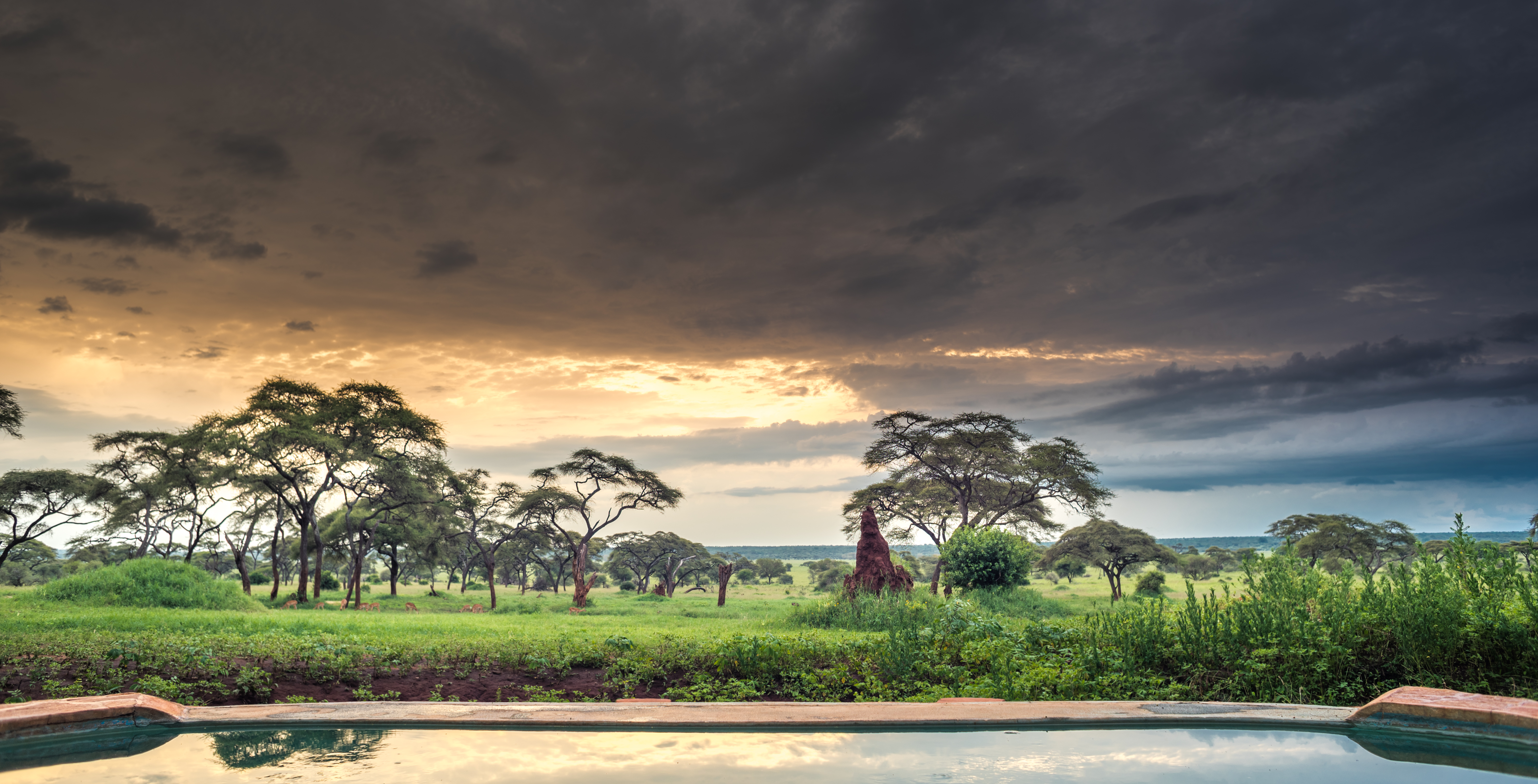 Ethical Information
SANCTUARY RETREATS TANZANIA'S CORPORATE SOCIAL RESPONSIBLITY
Sanctuary Swala camp focuses on minimising it's footprint on the environment and encourages sustainable tourism through community development and environmentally friendly practices. Sanctuary Retreats recognise that our staff are imperative to our success and have initiatives in place to offer a safe and healthy environment to work in.
The Company focuses its actions on each of these areas, and puts in place initiatives to enhance their relationship with the local peoples with whom the Company is in contact.
1. Community
• Sanctuary Swala works closely with the local people, offering employment and buying materials from local enterprises.
• As part of Sanctuary Retreats commitment to the local community, the staff and management team at Sanctuary Swala, have initiated a community project that included building the Gijedabung Primary School in the nearby village of Gijedabung, which borders Tarangire National Park.
• The camp organised the construction of classrooms and other facilities, paying local villagers to produce the concrete building blocks needed.
• Sanctuary Swala, provided Gijedabung School with a guttering system to enable successful collection of rain water.
• Sanctuary Swala has been instrumental in introducing tourists to the local communities and manages donations of books, equipment & furniture to the school and village by guests.
• In Tarangire National Park, Swala Sanctuary, initiated and provides ongoing support to a beekeeping project at the local village of Mwika.
2. Environment
Sustainable Tourism (Eco tourism):
• Swala Sanctuary assists Gijedabung School to provide a hot meal for the school children by donating seeds and implements to the local community thus providing employment and the ability for the village to produce their own of crops.
Climate change:
• With all Arusha based staff travelling on company buses, we limit emissions by commuting together.
• In the camps we only use compressed briquettes for cooking and heating water.
• The product is locally manufactured from agricultural waste.
• We do NOT buy local made charcoal as it encourages deforestation.
• Recently a Carbon neutral approach study was carried out in camp and shortly the additional guidelines and procedures will be implemented to minimize carbon emissions and further improve the "green" status of the camp.
3. Conservation
• Contribution to the conservation of animals outside of national parks through African People & Wildlife fund who educate the local community on how to obtain a balanced co-existence between wildlife and humans.
• The success of the Beekeeping Project encourages the local community to preserve the indigenous flora necessary for bees to produce honey.
• Waste from Sanctuary camps are sorted and recycled.
• Biodegradable cleaning products are used as to promote "green" composting under Tanzania National Parks management plan guidelines.
• Sanctuary camps have grease traps installed at their kitchens and vehicle wash bays.