Located in the Singita Grumeti Reserves, in the south west of Serengeti National Park, Faru Faru Lodge is situated 100 metres north of the Grumeti river, superbly positioned for both resident wildlife viewing and the migration.
Overview
A mixed material build – stone, wood, thatch and canvas – Faru Faru opened for business in 2007, and is still a relatively recent addition to area's fine collection of luxury lodges.
Inspired by pictures and descriptions of a 1950s botanist camp, the lodge is designed to both evoke another time. By choosing this particular time, an era known for its attention to interior spaces, it has – in its minimalist approach to decor and furniture –  a very contemporary retro feel about it, which makes a highly original statement about the what can be done with wild accommodation.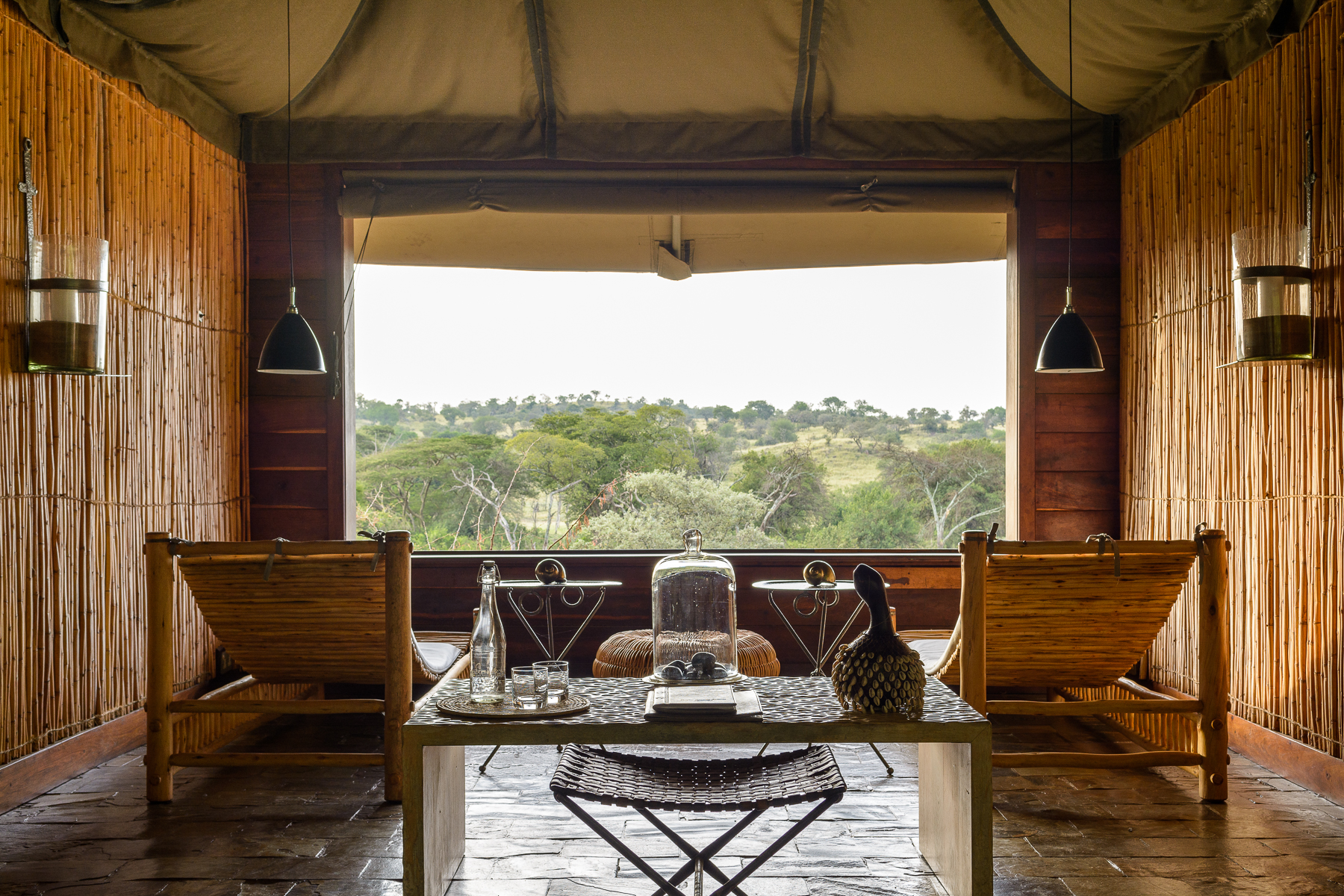 Food & service
The food is excellent, special diets are well catered for, and the service is unobtrusive; first rate all round.
Rooms
Consisting of a dining room, lounge, spa, library, shop, veranda, fire pit, swimming pool and room for up to 22 guests, Faru Faru manages to combine the weight of a reasonably large lodge with the intimacy of a smallish camp. Built on a bluff overlooking the river, and beginning with the pool, which follows the contours of the slope, it rises in a series of steps, all of which serve as viewing platforms. The lounge – polished floor, simple log seats, comfortable armchairs, open fire – acts as a welcome focal point.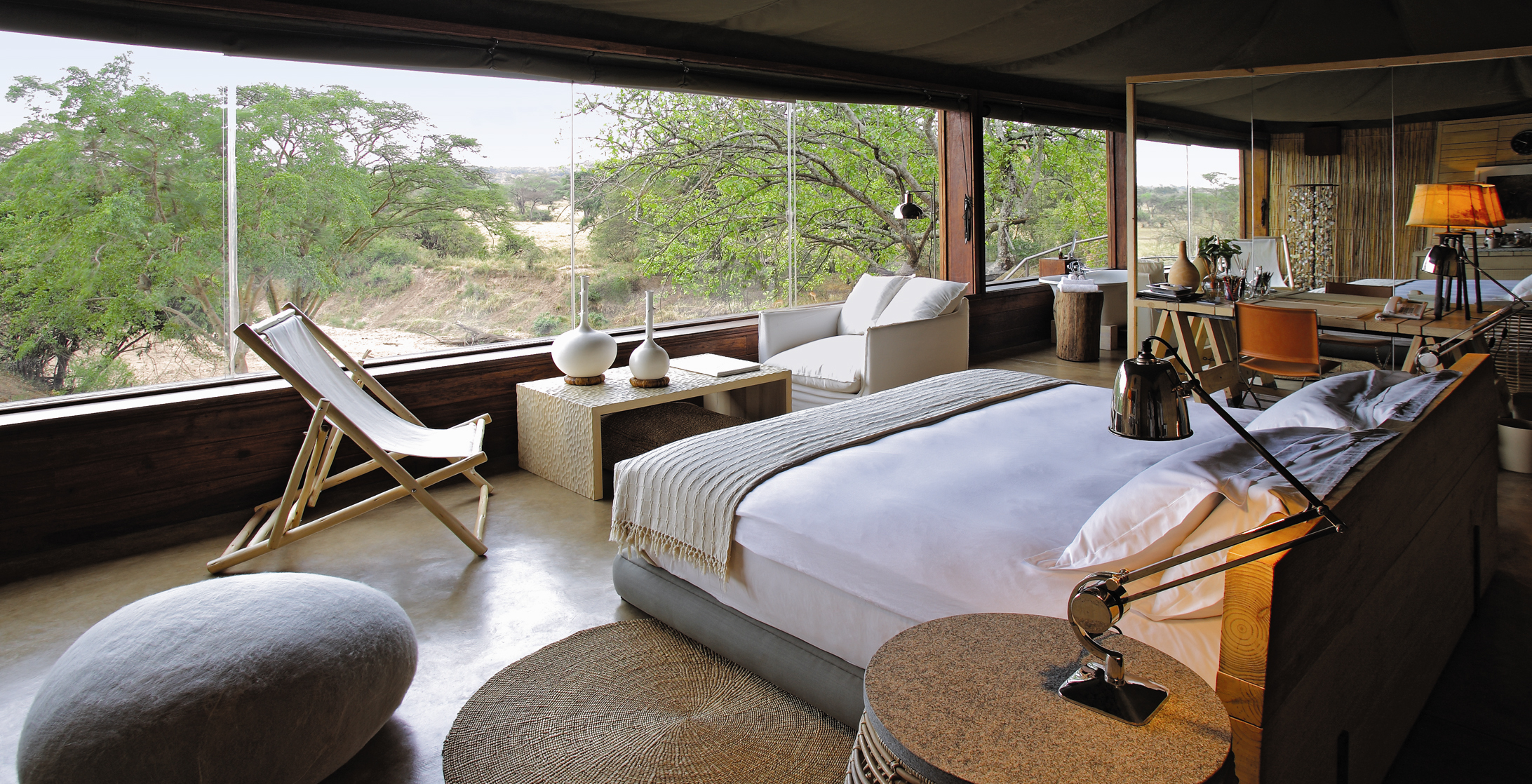 The 9 suites and Villa suite are discretely positioned up-slope, behind the dining room. While the Villa suite would suit couples travelling together, one of the 8 suites is large enough for a family of four. Very modern – air conditioning, Wi-Fi, drinks fridge etc. – and, like the main lodge, equally stylised, each suite is comfortably furnished, possessing a double bed, bath and flush toilets and a veranda. Much is made by guests of the botanist theme, and old books, artifacts and a telescope complete the room's charm. Large sliding glass fronts keep the night chill at bay, and provide outstanding views of the bush.
Activities
Activities at Faru Faru include wildlife drives, guided walks, bush picnics and spa facilities.
Impact
Conservation
Based in 12 scout camps and in 12 observation posts across the Singita Grumeti Reserves, the Singita Grumeti Fund anti-poaching team are formed of 120 dedicated scouts who identify potential issues and report anything suspicious, helping to keep the Reserve free of poachers.
Commerce
The Singita Grumeti Fund partnered with Raizcorp, a business developer, to encourage enterprise and innovation in the region. Beautiful carvings and jewellery – handmade by locals – are available to buy at the lodge, with profits going straight back into the community.
The Singita Serengeti School of Cooking (SSSC) was founded to educate bold chefs, promoting professional cooking as a highly skilled occupation that offers great potential for employment.
Community
The Grumeti Fund Community Outreach Program works with residents of the 21 villages bordering Singita Grumeti to help fulfil development goals. Issues such as education, enterprise development and water management are addressed as a team, catalysing the successful search for solutions.
Furthermore, the Environmental Education Center (EEC) was established to ensure that communities understand and benefit from the existence of the reserve, helping to secure the region's long term future.