2°
9'
14.38" S
34°
41'
8.34" E
Located in the Singita Grumeti Reserves, in the south west of Serengeti National Park, Faru Faru Lodge is situated 100 metres north of the Grumeti river, and is superbly positioned for both resident game viewing and the migration.
A mixed material build – stone, wood, thatch and canvas – Faru Faru opened for business in 2007, and is the latest addition to the area's collection of luxury lodges. Inspired by pictures and descriptions of a 1950s botanist camp, the lodge is designed to both evoke another time and, by choosing this particular time, an era known for its attention to interior spaces, it has in its minimalist approach to decor and to furniture a very contemporary retro feel about it, which – while not to everybody's taste – makes a highly original statement about the what can be done with wild accommodation.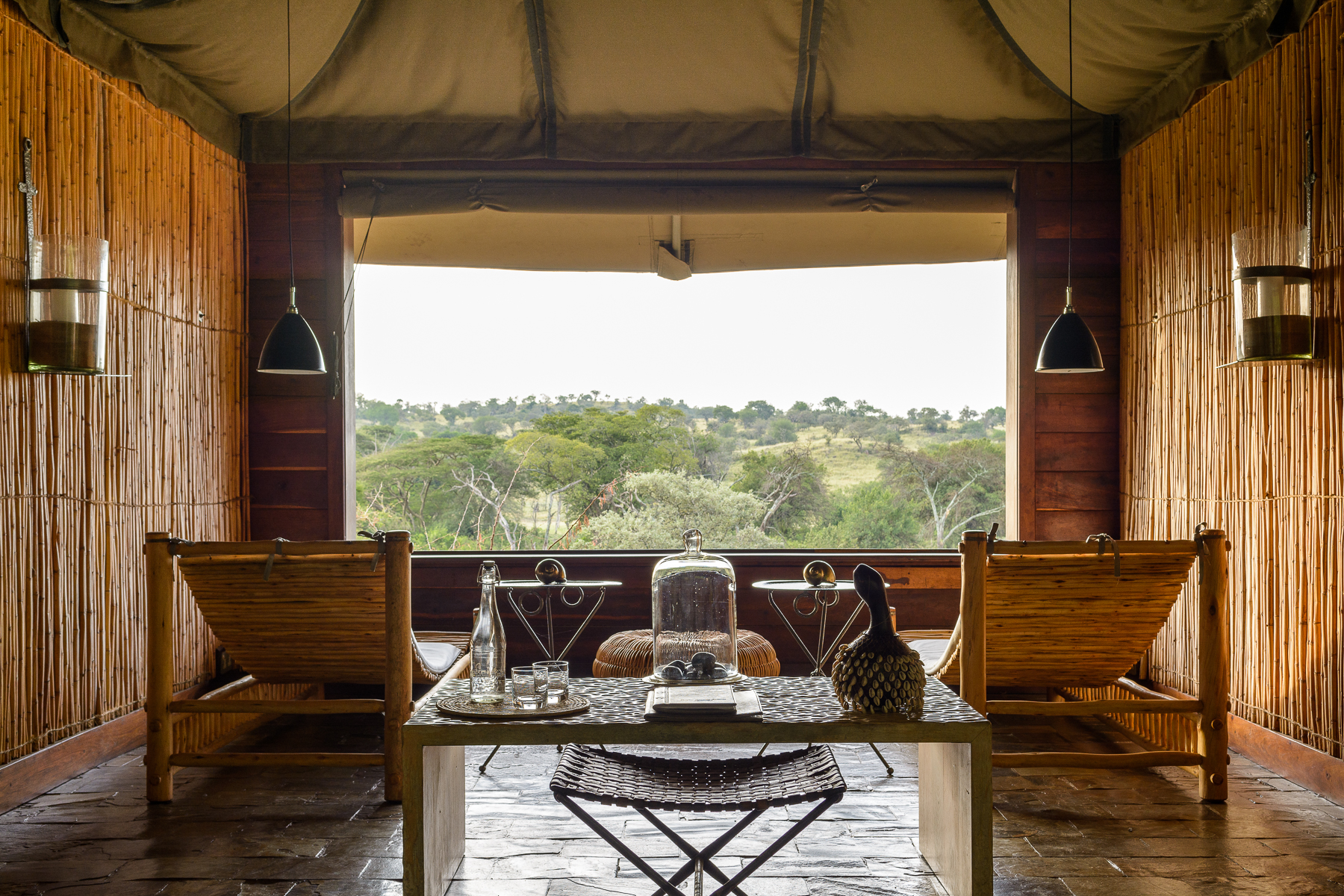 Consisting of a dining room, lounge, spa, library, shop, verandah, fire pit, swimming pool and room for up to 22 guests, Faru Faru manages to combine the weight of a reasonably large lodge with the intimacy of a smallish camp. Built on a bluff overlooking the river, and beginning with the pool, which follows the contours of the slope, it rises in a series of steps, all of which serve as viewing platforms. The lounge – polished floor, simple log seats, comfortable armchairs, open fire – acts as a focal point. The food is excellent, special diets are well catered for, and the service is unobtrusive, first rate.
The 8 suites and Villa suite are discretely positioned up-slope, behind the dining room. While the Villa suite would suit couples travelling together, one of the 8 suites is large enough for a family of four. Very modern – air conditioning, wi-fi, drinks fridge etc. – and, like the main lodge, equally stylised, each suite is comfortably furnished, possesses a double bed, bath and flush toilets and a verandah. Much is made by guests of the botanist theme, and old books, artifacts and a telescope complete the room's charm. Large sliding glass fronts keep the night chill at bay, and provide outstanding views of the bush.
Activities at Faru Faru include game drives, guided walks, bush picnics and spa facilities.
Ethical Information
Projects
Environmental Education Centre (EEC): A training centre fully funded by SGF where students (14-16 years) come and stay for six days getting orientation on various aspects of conservation and development and the linkages between the two. It is meant to gradually build a critical mass of local people who not only cherish conservation but well versed in the basics and linkages between conservation and development. All those who get trained at EEC are expected to establish conservation related projects in their schools; such projects include debating clubs, tree nurseries, essay competitions and the like.
Makundusi bee keepers: bee keeping is integral to nature conservation but also an income and employment generating project. COP is supporting many bee keepers in different areas of villages neighbouring the concession.  Organic honey is produced for a variety of consumers including lodges and company employees. It is envisaged that facilities and skills to make candles and soap from honey remains will be undertake soon.
Makundusi poultry project: a group of 3 women supported by the company. The company paid for the construction of a shed, provided seed capital and is supporting the group in developing management and business skills. The group is selling eggs to the company through a farmers association mandated to collate individual farmers produce and sell to the company.
Makundusi primary school: a public primary school owned by the government but built from scratch from a significant company contribution. The company contributed buildings and recently through a guest contribution the company set-up a mobile library.
Natta sunflower oil pressing project: sunflower seeds pressing project to get sunflower oil was wholly funded by Singita Grumeti Fund. The company further facilitate training of the group members on various management and business skills. The project has 16 members from the community. They sell their sunflower cooking oil to company staff kitchens, individual company employees and the wider market.
GHOMACOS (Grumeti Horticultural & Marketing Cooperative Society Ltd): this is a small centre with containers fabricated offices done by the company to provide farmers from neighbouring villages a facility to collate fresh produce (fruits, vegetable, herbs, eggs, beef) and a few industrial products and sell them to the company. Currently, SGR is the major buyer from GHOMACOS but plans are underway to get additional and alternative markets. The cooperative has 53 members all of them are member of the community. This is amongst major outlets through which individual farmers benefit directly from the company businesses.
Natta secondary school: a government owned public secondary school. The company has made various contributions to the school. It contributed through constructing of buildings, establishing a library, drilling a solar driven pump borehole. The company also set up a bio latrine cooking system. Other supports provided by the company are computers, water storage tanks, construction of a soak pit and related infrastructure.
Bugerera gardens: a beautiful valley with year round flowing stream used by local farmers to produce a wide range of vegetables, fruits, and herbs. The company supported farmers to establish small scale gardens and sell almost all their produces to the company through GHOMACOS.
Masegenya gardens: This is the same as Bugerera in terms of activities and environment. Masegenya farmers have in addition a pepper project sold mainly to farms protection project against elephants. Farms protection project uses pepper, sisal ropes, used engine oil and tattered clothes to keep away elephants from destroying crops in the farms.