One Nature Nyaruswiga is a luxury tented camp in the shadow of the central Serengeti's dramatic Nyaruswiga Hills, in Tanzania. It is a first-class boutique facility that offers impeccable standards of service and accommodation amidst expansive views of the plains and the wealth of wildlife that migrates through the area.  
Overview
One Nature Nyaruswiga is more akin to a top-end European hotel than a camp. The lounge and bar is a large tented area with oak flooring, high canvas ceilings from which hang tasteful chandeliers, and open sides that afford views onto the plains. A number of chic and comfortable couches and designer chairs are arranged across the room, many custom-crafted. Around the plunge pool and jacuzzi there are sun-loungers from which to enjoy the views. There is also an observation deck with two high-powered telescopes, and free Wi-Fi is offered across the property.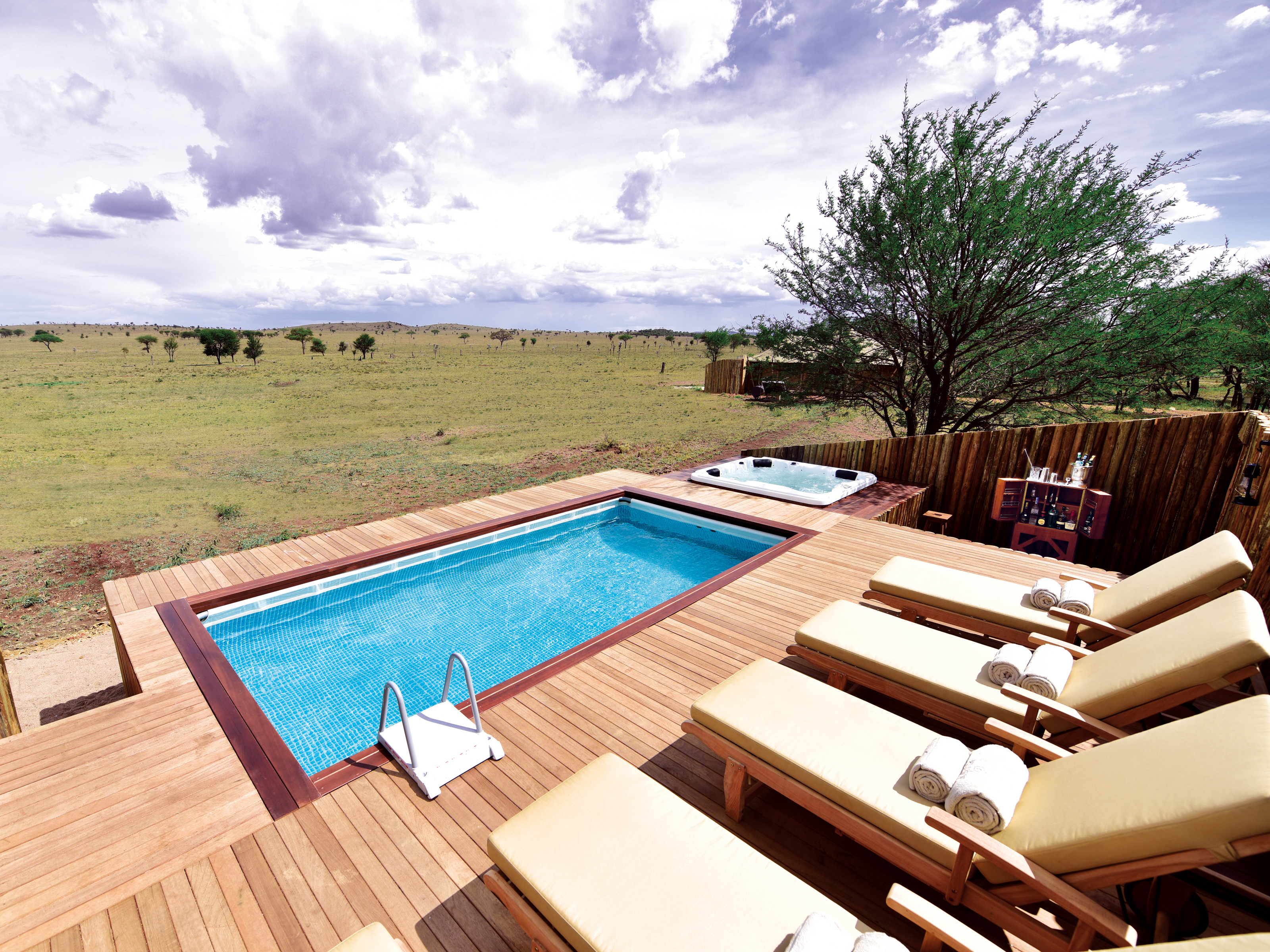 Food & service
The dining area is similarly classy, with dark wood tables and a range of decorations – maps and paintings in particular – that create a pleasantly old-world colonial ambience. Both the service and the cuisine at One Nature Nyaruswiga (the latter prepared by a chef of international reputation, catering to all dietary requirements, and tastefully combining contemporary techniques with local flavours) have been favourably compared to that available anywhere in the world – and with good reason.  
Rooms
There are thirteen tented suites at One Nature Nyaruswiga, including one larger family option. Each is set at a discreet distance from its neighbours, with a large furnished deck. The ambience is just-so: hard-wood floors, emperor-size four-poster beds with Serta Perfect Sleeper mattresses, wood-burning stoves and a range of bespoke furnishings that combine local materials – the poles keeping the canvas aloft are local eucalyptus – with classic European style.
The bathrooms include indoor and outdoor showers, freestanding baths, hand-hammered copper wash-basins, and every luxury one would expect, including first-class toiletries.  
Activities
Though the wildlife around One Nature Nyaruswiga is spectacular in itself, excursions (including wildlife drives, safaris by balloon and small plane, photographic trips and viewings of Ngorongoro Crater) abound.   
Impact
Conservation 
One Nature, with what it calls its 'Eco-Social Platforms', has a strong reputation for minimising its ecological footprint and working in partnership with local communities.