Perched on a rocky outcrop, the newest Legendary Expeditions project offers a stylish alternative to other high-end safari accommodation available in Tanzania.
Overview
Away from busy tourist areas, Mwiba occupies private land in the Serengeti. The varied landscape benefits from a river network that attracts animals and guarantees year round wildlife viewing. Because the land is privately owned, it is possible to take night safaris as well as daytime wildlife drives and walking tours. Specially constructed hides provide exceptional observation and photographic opportunities.
Food & service
The shared area at Mwiba Lodge includes a lounge bar, coffee veranda and library, while a slate lined infinity pool overlooks three springs, providing a panorama of visiting wildlife. Food-wise, skilled chefs can provide meals on request and as well as fine dining, Mwiba Lodge's trademark picnic high teas are the subject of superb feedback.
Rooms
There are ten en-suite tents at Mwiba, though 'tents' hardly does justice to the style and comfort of this lodge. Guests are indeed under canvas, but the rooms are furnished in a manner that brings to mind the elegance of style enjoyed by the likes of Laurence van der Post and Livingstone – with a contemporary twist.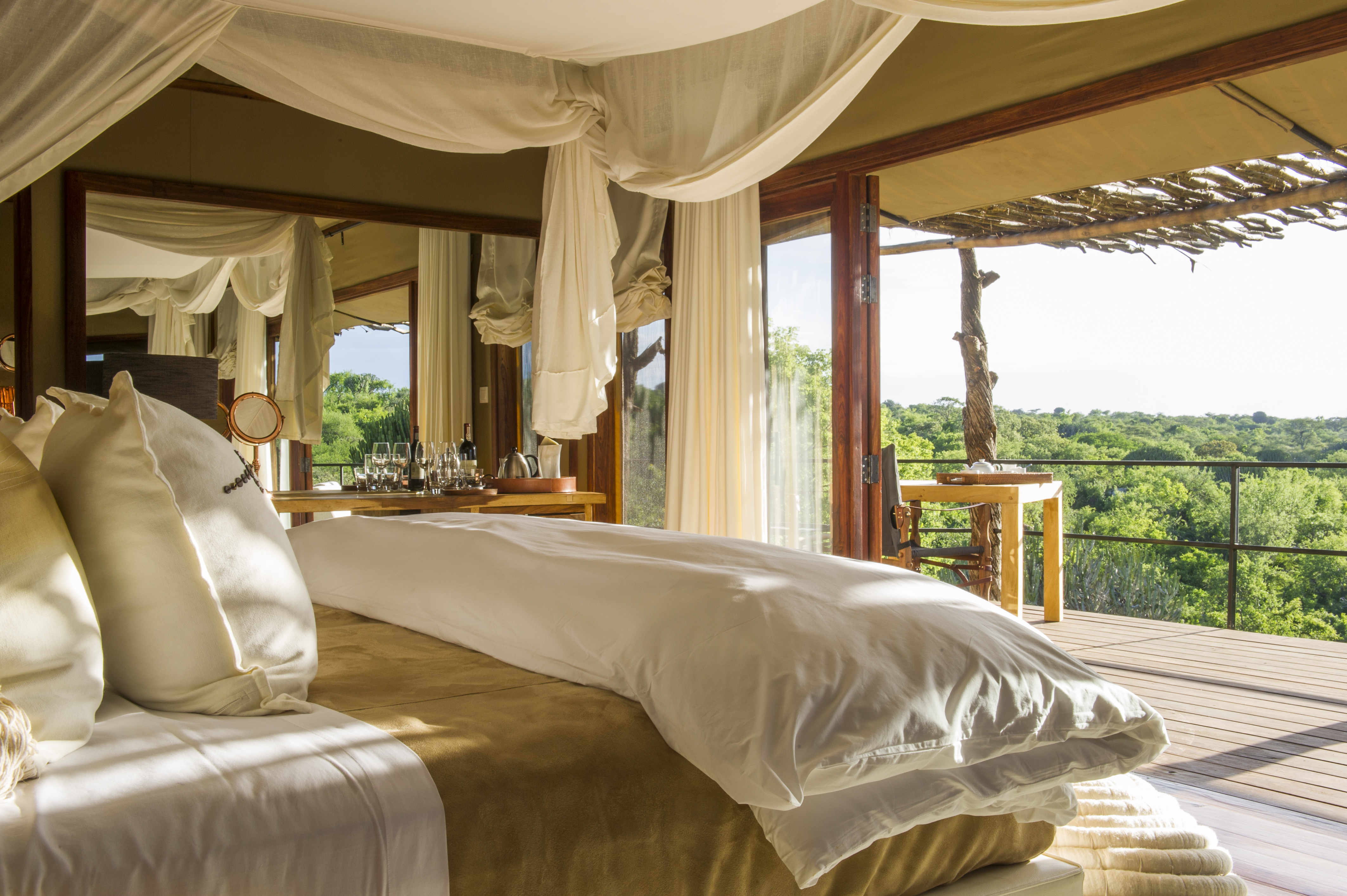 The natural colour scheme of wicker and pale suede creates a light and airy atmosphere and spacious design means one room flows naturally into another. The aesthetic of yesteryear is seamlessly combined with modern amenities including internet access and mobile connectivity, eco-friendly gym and 24 hour security. Private decks invite calm reflection and guests can refresh in both indoor and outdoor showers or chill out in generous-sized bathtubs with vintage-style copper fittings.
Activities
Activities include wildlife walks and wildlife drives, bird watching, cultural tours and massage treatments.
Impact
Conservation
The Friedkin Conservation Fund (FCF) operates at the Lodge, running the Mwiba Law Enforcement, an anti-poaching team – formed of 120 full-time field-based rangers – which protects the reserve from hunters.
Commerce
The Friedkin Conservation Fund assists small business owners with micro financing and business consulting services; helping to support long term self-reliance for the community.
Community
The Fund works in partnership with communities to build schoolrooms and teacher housing and to provide active students with scholarships. Furthermore, FCF's fully equipped borehole rig allows the drilling of wells in suitable areas which provides a reliable and safe water source – often rare in this region – for people living near the wildlife areas. The Fund also supports local health clinics by offering essential equipment and medicine.