Opened in August 2017, and situated beside Lake Nzerakera in Tanzania's Selous Game Reserve, Roho ya Selous is a fine example of modern accommodation constructed with nature firmly in mind.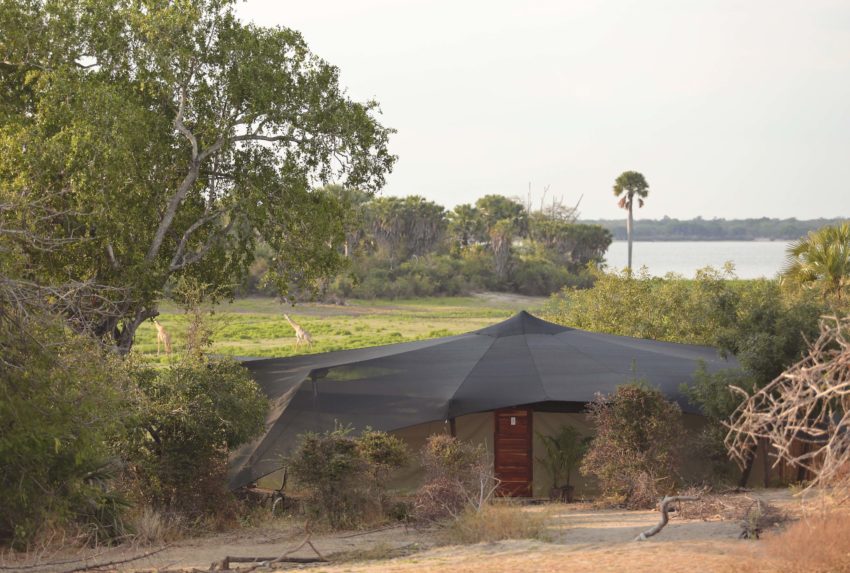 Overview
Its name literally translating to "the heart of the Selous", Roho ya Selous comprises of eight safari tents, an open-sided communal area, and a pool. The communal tent, made for relaxing after a hard day's wildlife drive, boasts Wi-Fi access and a fireplace, and is naturally the camp's centre.Characterized by muted brown and green colours and well-chosen pieces of furniture – the occasional campaign chair, for instance, or art depicting local wildlife – the camp's look and feel  is both practical and charming. 
Food & service
The staff are extremely hospitable and welcoming, while the food is divine. Each meal is prepared by resident camp chefs, and eating them communally is encouraged. For breakfast the guests have a choice between a light buffet-style affair and a more conventional cooked breakfast. Lunch – again buffet-style – often consists of fresh salads alongside simple, and delicious, main meals, while dinner is three courses, served – weather permitting – under the Tanzanian heavens.  
Accommodation 
The large tents offer an en-suite bathroom – which has both an indoor and outdoor shower – and large comfortable beds, alongside a veranda. Much anticipation surrounds the evening breeze cooling system, which prevents the interior of the mosquito net from getting too hot, a problem experienced travelers will understand all too well.  The tents' look and feel  is completed by dimmed lamps and safari seats..  
Activities 
Returning guests make much of the senior guide, Hamza, whose knowledge and enthusiasm inspires the wildlife safaris. Driving, walking, and boat safaris are all possibilities, alongside fishing and sundowners.