Opened in July 2013, and located on the southwestern curve of Lake Victoria, in the biggest island-based national park in Africa, Rubondo Island Camp is a an excellent eco-lodge.
Overview
Named as one of National Geographic's Unique Lodges of the World, and part of the distinguished Asila collection, Rubondo Island Camp has 8 generously sized chalets and a private treehouse, alongside outdoor hammocks, a pool, and a main lodge area where meals are served. Wi-Fi access is also available at the main lodge.
Food & service
The food – a delicious mix of homemade cakes, fresh salads, buffets lunches and relaxed evening meals – is served alfresco whenever possible, making the most of the camp's surroundings. Drinks are often shared under the stars at the roaring beachside fire, and the camp strikes an ideal balance between informal and orderly. The all-round service is fine, and the staff are more than happy provide cooking lessons for guests.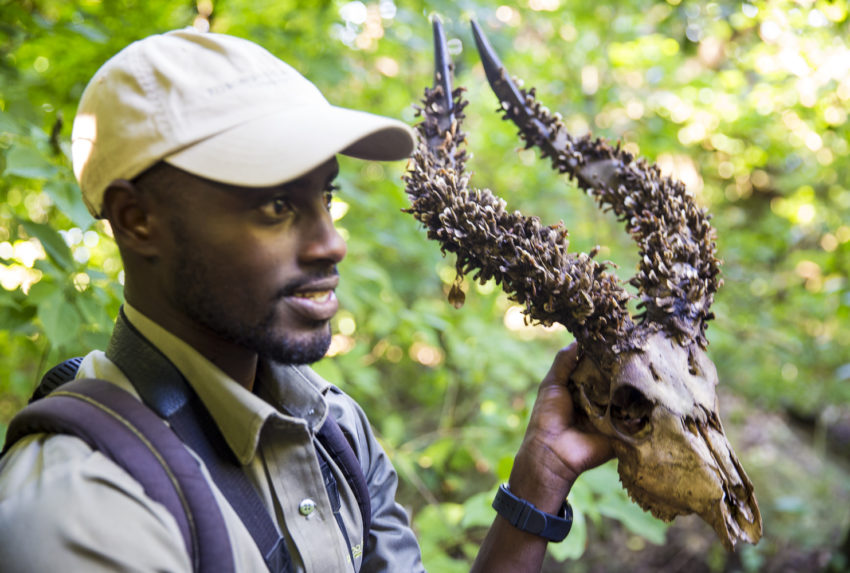 Rooms
Characterised by thatched rooms, domed ceilings and a safari-beige aesthetic, the rooms – built using local materials and methods – are a delight; at one with nature without compromising on comfort. The rooms are all en suite – hot water and flushing toilets – and each has its own a spacious private veranda.
Activities
Renowned for its range of activities, the camp offers forest drives and walks, boat trips – look out for the hippos and otters – fishing, bird watching and, for a limited time, a chimpanzee habituation experience, in which guests can shadow conservationists as they seek to accustom local chimpanzee to the presence of humans. Rubondo's massage therapists are also excellent, and offer guests a range of treatments in a location in the camp of their choice.
Impact
Conservation 
Asilia's aim is to structurally improve the prospects for the area. Turning Rubondo Island into a profitable sustainable travel destination will have many local economic benefits. Their efforts to habituate the community of 40+ chimpanzees on the island is a long task, but one that will ultimately ensure a steady stream of visitors. This is one way to secure the viability of this wildlife refuge for generations to come.