Very French, and located in the winelands outside Cape Town, in Franschhoek, one of South Africa's oldest towns, La Residence is a luxurious boutique hotel.
Overview
Situated in 30 acres of garden, orchard and walkways, La Residence is a relatively new hotel, a stone build designed along the lines of something one might find in rural France, complete with Moroccan decorative flourishes. With the straight, manicured lines typical of chateau grounds, the front garden is beautifully landscaped, its lawn split by a Versailles-like water feature. Lined by enormous palms, it disappears into one of the hotel's 3 public swimming pools, and then winelands beyond. All outdoor spaces are similarly considered, with brick flooring, bronze-cast sculptures and water features combined to create an impression that is opulent but never overbearing.
Food & service
With a kitchen headed up by an ex-Birkenhead chef, and a floor policed by maitre-ds, sommeliers and waiters who know the food inside out, the food is duly fabulous. Indeed, both the food and service is consistently commented on by returning guests, who often compare it favourably to Birkenhead, a South African luxury hospitality benchmark. The hall opens out onto an equally sumptuous terrace, and leads off to various lounging areas, all of which possess the same Bidenian signature, one that is eclectic, luxurious and balanced.
Rooms
Designed and owned by Liz Biden, La Residence consists of a main house, 11 sleeping rooms and a villa. The main house includes an enormous hall that serves as both dining room and main lounge, its marble flooring imported from India, the paintings, sculptures and decorative objects sourced in Europe, Asia and Africa. Marked by walk-in fireplaces, a vaulted ceiling and by its 4 foot chandelier, the feel is wonderfully palatial, and the food is equally good.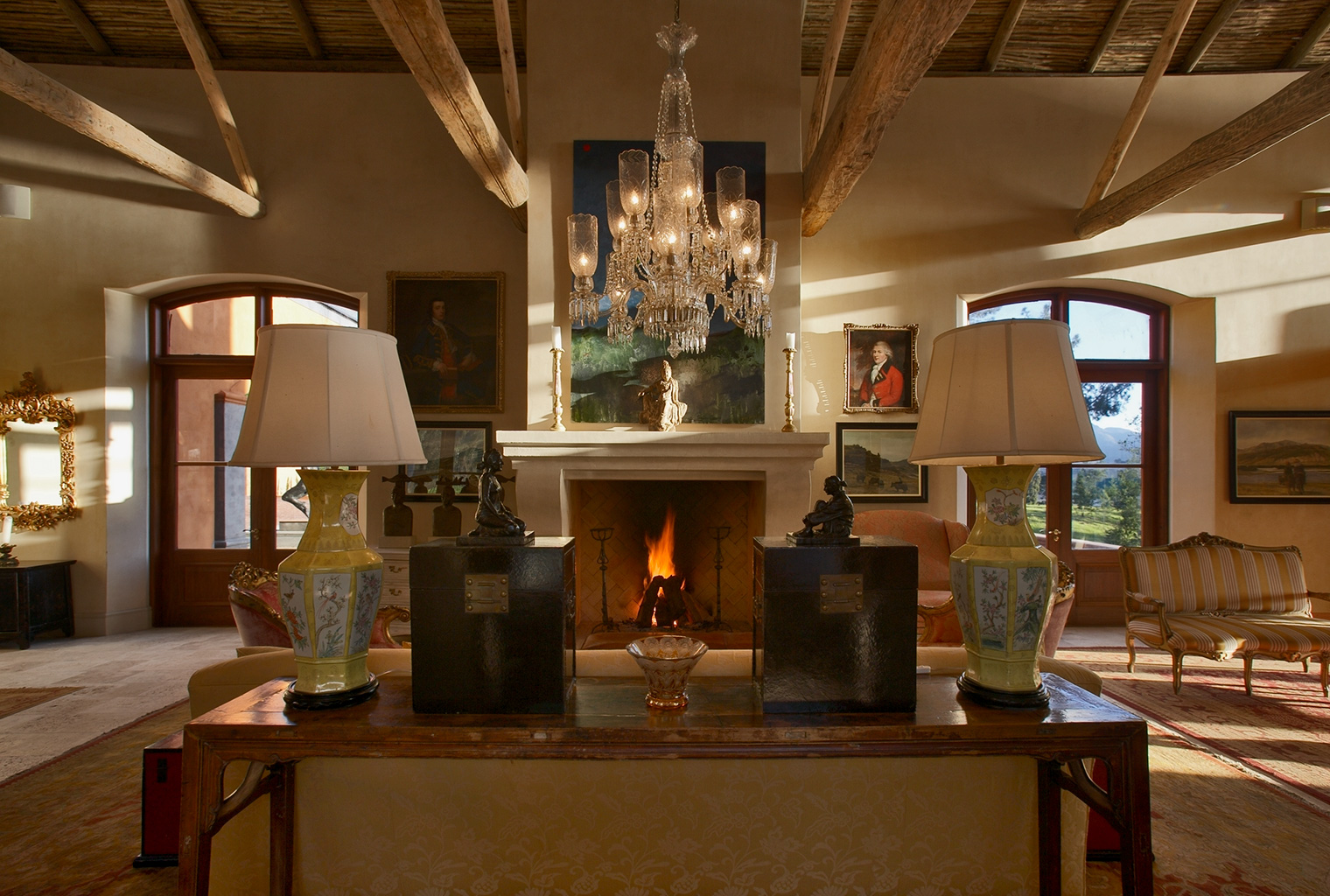 The suites are equally wonderful. With each possessing a different design, it would be impossible here to describe every one of the rooms. Suffice to say, each possesses a double bed, balcony and en-suite bathroom. The beds are extraordinary. One room has a marble four poster bed; another is set on a stone plinth. While the furniture differs from room to room, velvet studded corner sofas, chaise longues and antique writing tables are statutory, and the bathrooms make a feature of the bath, which sits centre stage, surrounded by sofas, storage chests and antique lighting. This mix of lounge and bathroom is brave, and great fun.
Activities
Activities at La Residence include wine tasting tours, golf, biking, walks, fishing, ballooning and horse riding.
Impact
Conservation
La Residence plants only indigenous trees on its land and the removal of alien vegetation is an ongoing project. Moreover recent pushes have been made to remove all plastic bottles and straws from use while honey is also produced on the estate for guests, which benefits the surrounding ecosystems.
Commerce
There is the ongoing task to empower local entrepreneurs through the continuing outsourcing of services and suppliers. In addition La Residence sources its kitchen ingredients from small-scale, local businesses that in turn has positive knock-on effects for immediate communities.
Community 
The Avela Foundation is a non-profit organisation committed to help children with burn injuries on their road to physical and psychological recovery. La Residence in association with the Avela Foundation aims to support burn survivors by setting up a caring centre in the Franschhoek area that is open to members of the local community.
La Residence also assists with Wes-Eind Primary School which is a short drive away from the hotel. The fundamental aim here is to expand the educational, cultural and extra mural activities offered to the children, helping their personal growth and development.