Located outside Stellenbosch, on an estate straddling Helshoogte Mountain Pass, and featured on Condé Nast Traveller It List, Delaire Graff Lodges & Spa is fast becoming one of South Africa's premier luxury destinations.
Overview
Once wine writer and maker John Platter's private winery and farm, Delaire was purchased by Laurence Graff, developed over 6 years, opened first as a winery and restaurant, and then, in 2011, as a boutique hotel and spa. Aiming at the very highest echelons of the market, Delaire Graff Lodges & Spa philosophy is grounded in the notion of the ultra-premier.
Designed by Pierre Borries of Palm Architects, and by David Collins (interiors), Delaire Graff Lodges & Spa is a stone and wood build consisting of a main lodge and 10 sleeping lodges. The main lodge includes reception, the Indochine restaurant, multiple seating areas, a shop, bar, conference rooms, library, spa, veranda and pool. Expansive, luxurious, the main areas look out over the estate, and are characterised by Graff's private art collection – Anton and Lionel Smit, William Kentridge Ndikhumbule Ngqinambi and Deborah Bell – and a range of especially commissioned furniture, including S shaped chairs whose colouring matches exactly one of the Kentridges. Super-luxurious, beautifully thought through, relaxing during the day, stimulating at night, the main areas are a real treat.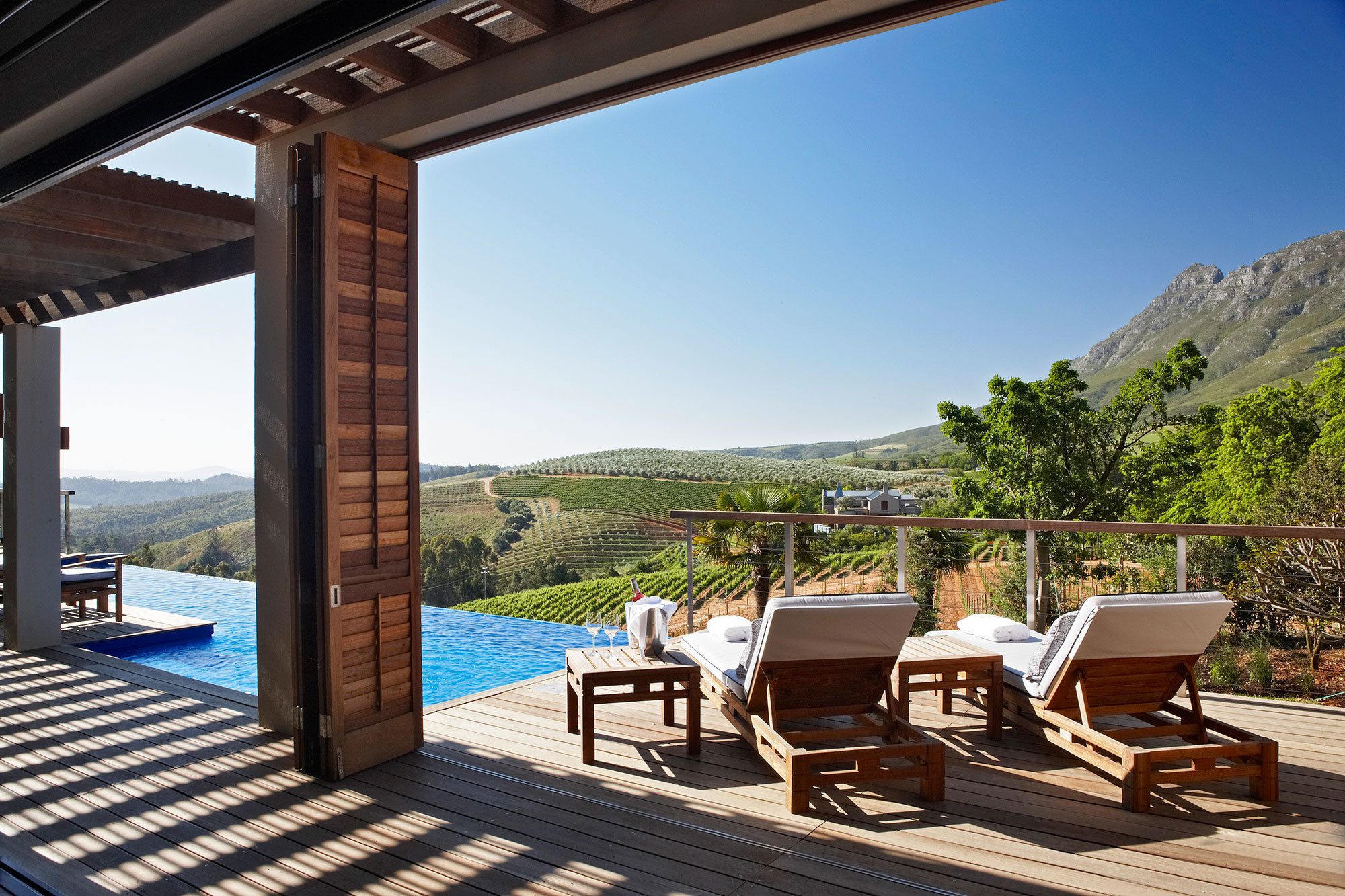 Food & service
And the same is true of Delaire Graff Lodges & Spa's drink, food and services. It goes without saying that the wine – local and imported – is exceptional, and that the estate's winemaker, Morne Vrey, is top drawer. The food – available at either the smaller, lodge based Indochine, or at the now world renowned Delaire Graff Restaurant – is first class. Overseen by Christiaan Campbell, who has worked with the likes of Raymond Blanc and the Roux brothers, an exceptional chef and huge fan of provenance foods ('sunshine cuisine'), the Delaire kitchen is already among the best the area has to offer – a phenomenal feat, given the standard.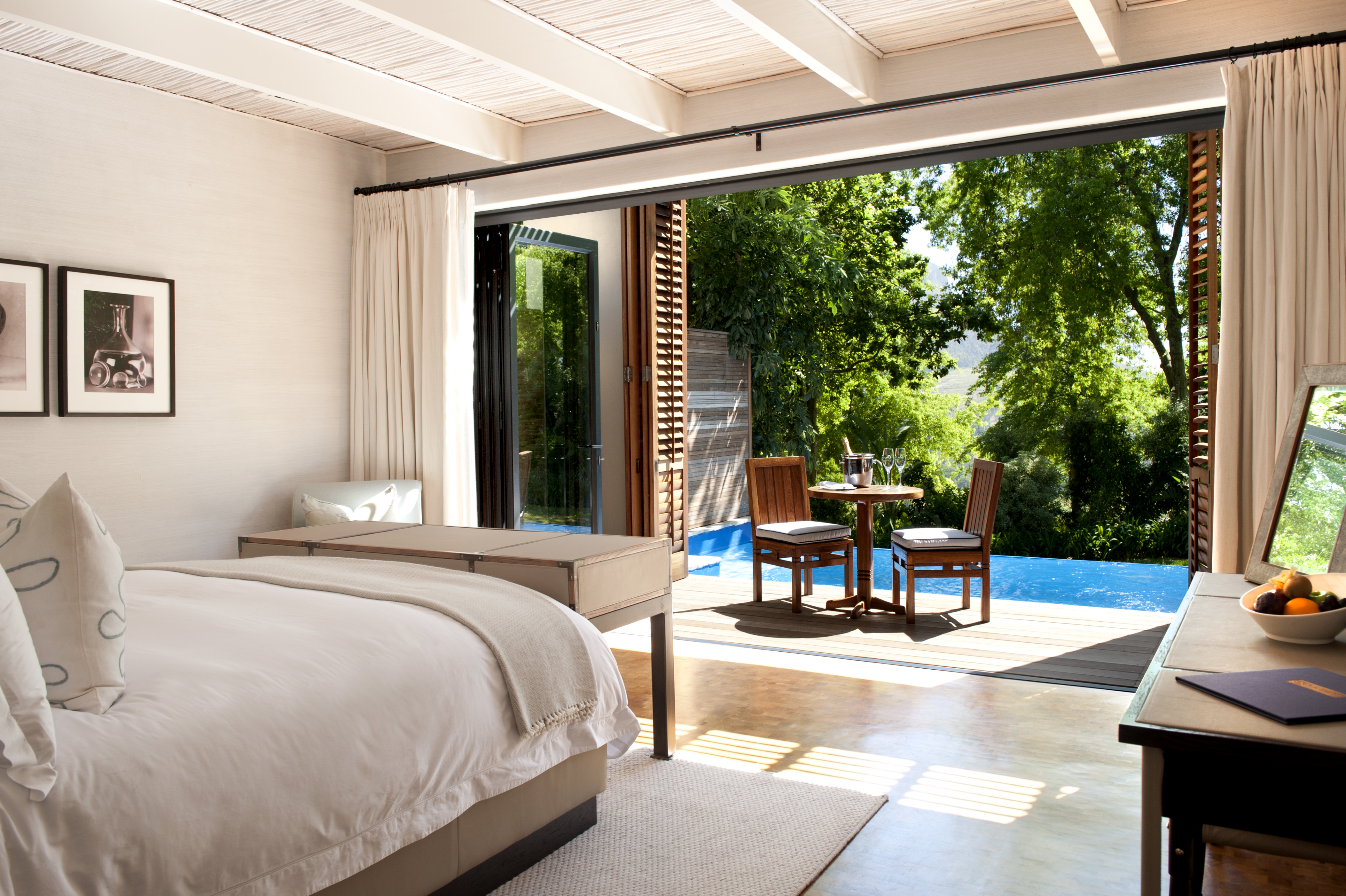 Rooms
Just as fine, the sleeping lodges at Delaire Graff Lodges & Spa are spacious, comfortable and super-chic. There are 3 classes of lodge: deluxe and luxury (8), and Presidential (1) and Owners (1). Each lodge consists of a double bed, lounge, veranda, en suite bathroom, pool, butler room and veranda, the views extending as far as Cape Town. The design is extraordinarily well observed. High ceilings, shuttered fronts, wooden floors and polished plaster walls compliment more of Graff's collection of drawings, paintings and photographs, a wealth of slumber seating and a veranda that would grace the covers of Vogue. The Owners and Presidential lodge are similarly beautiful, only bigger, with an extra bedroom and service perks.
Activities
Activities at Delaire Graff Lodges & Spa include wine tasting, walking and hiking.